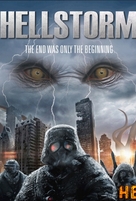 After the collapse of the world's financial system and a devastating world war, a group of mismatched survivors are forced to band together and battle a variety of unexplainable and horrific beasts that descend on their tiny makeshift community.
Hellstorm stars AJ Brooks, the internationally known, longest running WWE Divas Champion of all time. Brooks will appear along with her husband, Phil Brooks, also known as CM PUNK, the longest reigning WWE Champion of this decade and a renowned athlete, who is currently training for his debut as a UFC fighter. The two will appear together in this unprecedented, action-horror motion picture event where will they co-star together for the very first time.
The film also stars Mat Fraser (American Horror Story), Colleen Camp (American Hustle), Selene Luna (My Bloody Valentine), Kate Hodge (Leatherface: Texas Chainsaw Massacre III), Brian Goff (BorderCross) and is written and directed by William Butler (Madhouse). Nick Byassee (Stay Cool) is set as Producer and Emmy Award Winner Jared Safier (The Bay) is the Executive Producer.
Hellstorm is also Co-Produced By Robert Kurtzman, the Creator / Executive Producer of "From Dusk Till Dawn" and starts shooting in Ohio Mid November. Image Entertainment will handle Domestic Distribution and Highland Film Group is handling International Sales. The film is brought to you by Transition Entertainment in association with Safier Entertainment and Initiate Productions.