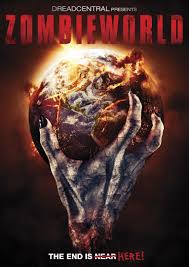 The good folks at Image Entertainment have teamed up with Dread Central to being us Zombieworld, and it'll be available on DVD & digital download on February 24th. Here's the official announcement and a short synopsis on this sure to be gruesome flick!
Image Entertainment, an RLJ Entertainment brand, in association with Dread Central announce the DVD and digital download release of Zombieworld. The no-holds-barred, post-apocalyptic film will be available on DVD for an SRP of $27.97 on February 24, 2015.
Zombieworld is a collection of short films focusing on survivors across the world as they struggle to overcome horrifying circumstances when a pandemic brings forth a zombie apocalypse. The collection of blood and guts is brought to life by a group of new and up-and-coming directors from around the world, including Adam Myette O'Brien, Adriàn Cardona, Cameron McCulloch, David Muñoz, Jared Marshall, Jesse Baget, Jonathan Brown, Luke Giudici, Paul Shrimpton, Peter Horn, Tomy Woodard, Vedran Marjanovic, and Zach Ramelan. Each director brings his or her take to a world of mayhem now populated with flesh-eating corpses. Among the brilliant shorts to be included in Zombieworld is Peter Horn and Jared Marshall's Dark Times, a blood-splattered scamper through the woods shot entirely in POV, where zombies, aliens and even Santa Claus make an appearance.
In Zombieworld, there is nowhere to hid, nowhere to run, the Zombie Apocalypse has come, and our world now belongs to the dead! From Ireland, Canada, Australia, Europe and all over the U.S., the bone-chilling news reports tell the same gruesome tale – walking corpses terrorize and devour the living. Only a few desperate humans find the courage to stand and fight for their last chance at survival. But the hordes of undead keep coming, and there's only one thing on the menu – us.
The DVD will also include the bonus short film "Marathon Apocalypse."