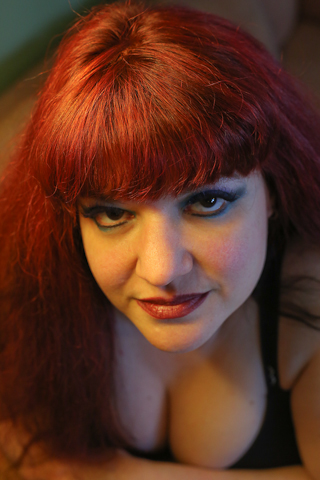 Why did you choose the multi-talented Nick Kisella to write with?
I met Nick at a movie premiere and we became good friends. He' s quite a talented writer. I loved Morningstars. I can't imagine an easier person to work with and honestly…I couldn't have done this project without him. I think he helped take this farther than I ever could on my own. His creativity
doesn't have boundaries…but he has realistic creativity. He makes sure there are explanations for everything in the book.
Tell the readers a little about yourself?
I've been a B-movie actress for several years. I love what I do. I've been in close to 60 films although my IMDB only shows 31 films. I've done some TV work including a blood drive commercial for NJN and my own TV show for a short stint on NY TV. I am a sculptress. I have my own line of one of a kind figures called the Little Replicants. I absolutely LOVE horror. I collect unusual horror themed dolls. I have three cats, two domestic short hairs and a Bengal and I love animals. I worked for a wildlife center for two years. I was actually their snake girl. I like Dark wave (mostly German) music. I love weight lifting.
Why did you decide to do the film FACES and can you elaborate what the film is about?
Tom Ryan approached me about the character of Beth in the movie Faces and I thought she was pretty awesome. I figured she'd be different from anything I'd ever played so…I decided it was a good role. Faces is about Frank Walker…a guy basically down on his luck…no job, no girlfriend, about to be kicked out until…he meets Charlie and then everything changes.
What are some of your favorite moments in Lilith's Apple?
I love the character of Lilith and I think most people will love her. I don't want to give too much away…but all of my favorite moments have to do with her.
What is the concept of Lilith's Apple and how did you feel when you saw the book for the first time?
Lilith's Apple is about Queen Lilith of Purgatory and her search for Evangeline, the daughter of Adam and Eve. I am still excited about the book. I don't think the excitement has quite yet gone away. Nick has a picture of adorable twins holding the book…and I think that is one of my favorite pictures of the book ever.
How do you feel about attending Chiller Theatre and what are some of your most memorable moments?
I love Chiller. I've been attending the convention as a guest for years as well as vending there. We have a wonderful group of people there. Kevin Clement runs an awesome show. There are so
many memorable moments…I don't know if I could just pick a few.
How has writing been different for you compared to acting? What have you learned as a writer vs.acting?
Acting is very physical and writing is very visual. When you act people can see what is going on around you but when you write you have to be more descriptive. You have to tell people what is
happening around you and your characters. You have to tell them what they look like and even what things would smell and taste like. You can do that with expressions in acting but in a book you have to put it into words your reader can understand.
You also have a business called Little Replicants?
Which Little Replicant has been the most challenging to take on?
Yes. The Little Replicants are 10 years old this year. i used to be a model kit sculptress and 10 years ago I realized that people only wanted to buy built and painted stuff. I was sculpting teddy bears in colored clay one day and I thought…why can't I do one of kind pieces in colored clay? And the Little Replicants were born. I named them after the movie Bladerunner. More human than human. Detailed creatures can be the most challenging although…I found out that trying to figure out how to sculpt something to look like a black & white movie is pretty challenging too.
What did you learn from Nick while writing?
I learned to be a better writer but honestly…I'm still learning. Nick is great with keeping everything to detail. He makes sure there is a reason for everything going on.
Halloween is right around the corner, what are some of your go to Halloween movies? I personally don't feel it's Halloween until I've seen the original version…of Halloween. I'll pretty much give any horror movie a shot but I love Pumpkinhead, Wishmaster, Alien, The Thing…all because of the creatures in them. I have different moods too so…I am one of those girls that will just sit and watch a slasher film.
Could you tell us about the next project you are working on?
I have 3 projects coming up but not for a little bit. I will be working with Patrick Devaney on an episode of Zombie Hunters : City of the Dead and he's asked me to be a vampire in PM/AM. I don't think either of those are starting until 2015. I am also working on another movie…I can't say much but the working title is Insomniac. I'll keep the Fan page updated as I get more info. I promise.
How can people purchase the book and a Little Replicant or one of your films? The book in now available through Amazon. Movies are a little more difficult since I worked with different producers but if they contact me I may have copies or may be able to direct them to the right person to get a copy from. All Replicants they can purchase through me. They have their own page on Facebook and their own gmail littlereplicants@gmail.com
What advice would you give to an actress, writer or entertainer in general?
I would tell them to follow their heart and live. It sounds stupid at first but…all I am saying is that if you want to be an actor, writer, musician, sculptress…go out and try. You never know what you can accomplish unless you try. Thank you so much for taking part in the interview. Feel free to add any photos you would like or websites you would like everyone to check out! Thank you, Janel