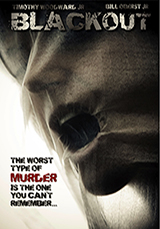 Apr. 17, 2013 – LOS ANGELES, Calif. — BLACKOUT, a psychological horror/thriller film starring Timothy Woodward Jr. and Hollywood's King of Horror Bill Oberst Jr. is the second film to be released as part of the multi-picture distribution deal between Gravitas Ventures and Sky Studios International.
The film is directed by Matt Hacker and is slated for release July 5th 2013 on Cable-on-Demand and various other VOD and IVOD platforms. Blackout will be released to over 100 million viewers nationwide via numerous VOD platforms including: Time Warner on Demand, Direct TV, Comcast, Dish Network, At&t, PS3, XBOX360, Netflix, Redbox Instant, iTunes, VUDU, CinemaNow, Google Play & Amazon Video On Demand, Finders Keepers, and is working with Woodward on several other projects.
The film follows a young attorney, Harley Roberts (Woodward) and a mystifying apartment supervisor Rommel Stanton (Oberst) when the bodies of several young woman who are distant and very close mysteriously appear in Robert's apartment. Harley Roberts soon asks his friend Alfred Lewis (Robert Covington) to help him regain his sanity and prove his innocence by helping him get rid of the bodies, but to his dismay it can potentially dig a deeper hole straight to his cell.
The film is written by Pia cook, dedicated to the twist of the story in Black Out.