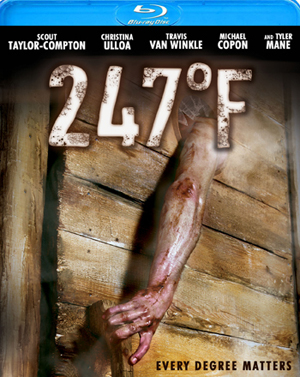 247°F is out this week via Anchor Bay Home Entertainment, and we have two Blu-rays to give away! The film is directed by Levan Bakhia and Beqa Jguburia. It stars Scout Taylor-Compton (Halloween remake), Travis Van Winkle (Friday the 13th remake), Michael Copon ("Power Rangers Time Force"), Christina Ulloa ("Charmed") and Tyler Mane (Halloween remake).
In 247°F, Jenna is traumatized when she is trapped in a small vehicle after a car accident, forced to observe the mangled corpse of her fiancee in the driver's seat until help arrives. Fast forward three years, Jenna and her three friends travel to a lakeside cabin for a carefree weekend. The fun quickly becomes a nightmare when three of them end up locked in a compact, hot sauna. As fear sets in and Jenna reconnects with the horror of "the incident," every minute counts and every degree matters as they fight for their lives in heat that is quickly approaching 247°F – the temperature when the human body expires.
To enter the contest, simply email me with "247F Contest" in the subject. Be sure to include your name, mailing address and zip code in the body of the email. Sorry international friends, but this contest is open to U.S. residents only. No PO boxes.
Entries will be accepted until October 30th, at which point two winners will be drawn at random. Good luck!