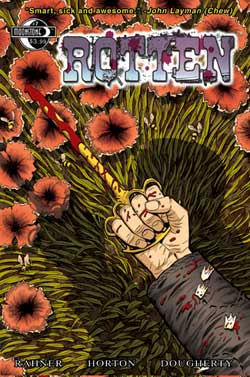 Issue: Rotten #7
Writers: Mark Rahner, Robert Horton
Artist/Colors/Cover: Dan Dougherty
Letters: Sean Konot
Logo Design: Rafael Nieves
Publisher: Moonstone
Release Date: August 2010
Pages: 32
Price: $3.99
"The acclaimed zombie Western epic with the topical bite returns! Agent Wade is fully recovered, lethal and armed with new tricks as he travels to an undead outbreak in the Pacific Northwest. But who could be prepared for the species he encounters? Agent Flynn looks for answers at a Chicago university where a hate-monger is whipping up a crowd against a new concept called "evolution." Oh, and the making of sausages is involved."
Artwork: 3.5 out of 5
All I want to start with is why I didn't give this artwork a 4.0 and that is because of the color. I don't know what it is that makes me want to see almost all horror books now in black and white, but it just seems to feel right. Alright so that aside, I can now begin to tell you that I really like the work of Dan Dougherty on this series. His characters are always great looking and I think he captures the time period very well. He also has a knack for drawing some Gore-Geous zombies. So my only downside has to be the color, it just seems to take away from the great artwork laid down before it.
Story: 3.5 out of 5
So it's been a while since I read an issue of Rotten, and it was honestly because I didn't find anything compelling me to come back to this series. Please understand that what is presented here may be something you are interested in, but it hasn't grabbed me yet. So I went into the issue with as open of a mindset as I could. I found the dialogue and plot easy to grasp and follow, even though I had taken some issues off. I felt that pacing was good, nice action could be found here and the time period seems to be taken into great consideration. However I just find it to still not hold my interest which I will go into more detail in the Dying Breath. Overall I can see why people like this book, it's very well done, but to me it's like reading Hack/Slash, I just personally can't seem to jump on board.
Dying Breath: 3.5 out of 5
At first I really thought I was missing something, maybe just that little extra piece of information that would make me want to read this series. Now I know what it was that was missing, my interest in this particular genre. If we go back almost a year ago when I reviewed issues #1 and #2 you can see that it was the story that kind of pulled it down. Now this was by no fault at all of the writer, and I mean that, I am just not into the Western style. So for me to approach this open-minded is not easy because of lack of interest in the time period and style. It would be like asking me to review a Superman book, when I have no interest or desire to do so what can really come out of it. So now I am way off track, but let me bring it all back in, I like the artwork. I see why this book works and why people like it. It's full of action and what reads as a very well crafted story, but to say it is appealing to me would be a lie. If you like Western style stories, read this. If you like Zombies, read this. Ultimately it comes off as the perfect mix of the two, and from what I have seen there are plenty of reviews and press on the title to prove that.
If you would like to buy or know more about Rotten #7 you can find it at www.moonstonebooks.com
Comic Review: Rotten – Issue 7