SYNOPSIS:

Paying homage to the classic slasher flick – featuring horny teenagers, worthless cops, a crazy war vet and a masked killer. Complete with VHS static, fake commercials and vignettes with horror hostess Candy Adams.
REVIEW:

I've watched my share of slasher films over the years that I've lost count. We all know that there is a formula to these flicks and we all know how they will end up playing out. They're predictable and silly yet many of us still love and watch them ritually. No matter how large the budget may be or even how small, these films have entertained us for decades. Is there really anything new they can toss into the mix to surprise us? I don't think they can but you never know. Maybe someday, until then, we have the generation of filmmaker that has grown up on the slasher film and wants to carve out their own little hole to be remembered by. "Kids Go To the Woods……..Kids Get Dead" may find a tiny place in history for having one of the most ridiculous and revealing titles ever and that's not a bad thing at all.
Casey (Leah Rud*ck) and her younger brother Scott (Andrew Waffenschmidt) are set to travel with their friends to a cabin for the weekend to celebrate her birthday. They head out to the middle of nowhere and despite warnings from the local store clerk Lloyd (Kevin Shea), they end up with much more than they bargained for. What was supposed to be a weekend for boozing and sexing, quickly becomes a weekend to survive when a gas masked killer (Joseph Campellone) watches their every move, waiting for just the right moments to strike and put an end to the teens.


I'm sure many of you are from the same generation that I am and still appreciate the personalities that would host late night fare on television. We all have our favorites, mine were always Joe Bob Briggs and Rhonda Shear from USA's Up All Night. I was introduced to so many gems from that era because of that show. So it was a nice treat to see that "Kids Get Dead" plays as if it were being shown from an old VHS tape. There are partial commercial segments as well as that of Candy Adams, a bubbly and beautiful host. A unique and fun idea that was always pleasant to watch.
The story itself was a tad frustrating. There are some interesting ideas in the film, several of which are never explained. What bothered me was the fact that it could and should have added another dimension to the film that should have been better explained and explored. At the same time, I don't think this was ever meant to be a single film. It feels like a first part, like there is the possibility that it could be a trilogy. If there are more films to come then I will just say I was left with a few questions that I would love to have answered.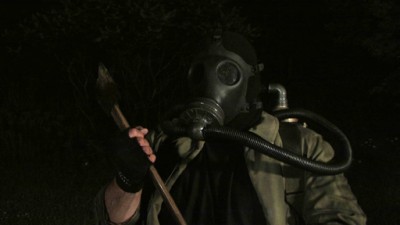 The cast worked well together as an ensemble. Some were better than others but as a whole, the group was entertaining to watch. With the exception of Scott, the other two male leads had some of the funniest moments while managing to still be two of the bigger douchebags to ever hit the screen (they're meant to be). I never tire of d*ck jokes and there were plenty of them here. One of them will be sure to get a pretty huge laugh that gives a new meaning to "Not on my face." There's plenty of blood and the film didn't look nearly as cheap as I would have expected.
I was surprised at how fun "Kids Get Dead" ended up being. There is a little something for everyone who is a fan of the genre. Lets' go through the checklist. Cabin in the woods, check. A group of teenagers (that look 30), check. An old man warning them of the danger, check. Drugs, booze, and sex (complete with bare boobies), check. And a masked killer, check. They're all there. Plus the added bonus of the VHS like presentation. Candy Adams is a blast to watch and I really hope we get to see her again. Director Michael Hall accomplishes what he set out to do and "Kids Get Dead" is an excellent way to re-live those memories of our youth. The ones that shaped how we view films today. ****(out of 5)

Kids Go to the Woods…..Kids Get Dead (2009)