Exclusive Horrornews.net Interview w/ Anthony DP Mann (writer/ filmmaker)
Movie: Terror of Dracula
How close is your story to Bram Stoker's classic?

Hi, Horrornews.net!
As a Dracula fan-boy myself, I hold the source material in such reverence! The film is very much faithful in spirit to Stoker's original novel. In fact, I'd suggest it's one of the more faithful adaptations in the past two decades. Naturally, there were certain areas (locations / characters) where liberties were taken, due to budgetary limitations… that said, I truly believe that our Dracula is very much in line with the original concept of the character, and I think we may have even succeeded at making the Count scary again!
Why did you decide to play Dracula?
I am primarily an actor, first and foremost, although I thoroughly enjoy the film making process – all aspects, from writing to shooting to editing. That said, by no means is this a "vanity project" (ha-ha!). I liken my involvement to a singer-songwriter who writes their music, then gets up on stage with a band and performs it… I had a specific interpretation that I wanted to give, and that's all part of my storytelling process. Every member of the Terror of Dracula family – from cast to crew – has a, essential role to play. Dracula is relegated (as is the case in the book) to a supporting part, and others (for example Terry Wade as Prof. Van Helsing, or Ilke Hincer as Quincy Morris) are allowed to shine. There's a lot of joy in that, too. Besides, I have played Dracula before, on stage and on radio — I never shy at the chance to play a baddie ;-)
What was your greatest challenge making "Terror of Dracula"?
So many challenges! I often joke to people: "Never make a movie!" – but I think I'm secretly a sadomasochist who enjoys the Hellish process of it all – the on-the-spot troubleshooting, etc. The greatest challenge, for me, was to create something where the cracks didn't show – something that I could watch and enjoy. Furthermore, trying to convince institutions such as the managing board at Fort Henry (etc) that we could produce a legitimate, respectable Dracula movie on a shoestring budget and with almost impossible time restrictions – without being laughed out the door — well, that was indeed a formidable task! To my own credit / all of the cast and crew – and those kind and patient folks I reached out to in the community – we did find many open doors to us, and we DID pull-off a great Dracula movie, that I take great pride and joy in watching .
Why did you decide to film in Kingston's Fort Henry?
Fort Henry is an incredible, historic location on the outskirts of Kingston (Ontario) where I live and work. It has all these incredible, limestone interiors and subterranean passageways – huge doors and battlements – it's actually a Unesco World Heritage site, and served as the perfect substitute for Castle Dracula, and various other authentic Victorian interiors. We were so lucky, and (once warmed-up to the idea) the powers-that-be at Fort Henry were so very obliging. What a treat! But spiders… oy, the BIG spiders… (shudder)
Tell us about the retro feel of your movie?
The film is certainly an homage to those classic horror films that I grew-up with on late night TV – the old Hammer / Amicus and euro features. In fact, I've added a title card that informs this film is the "forgotten" Dracula, suggesting it was produced at the same time as, say, the Franco or Hammer film adaptations, but lost amongst the shuffle. We've added aging and artefacting to give it a true 70s / almost grindhouse look. Even the title, "Terror of Dracula" – it sounds like an un-made Hammer title, doesn't it? How often have you heard it said "They don't make films like that anymore…"? Well, we just did.
What Dracula movie inspires you the most?
My favourite Dracula film of all time is Jess Franco's 1970 "Conde dracula", starring Christopher Lee. It was the first Dracula film I saw as a kid, and it has stuck with me ever since. It's certainly a guilty pleasure, but a wonderful exercise in what can be accomplished with a small budget and a passion for the source material. People either love or hate this film – I adore it… more people should see it. I'm also a huge fan of the 1977 BBC TV production starring Louis Jourdan… no finer Dracula adaptation has been produced.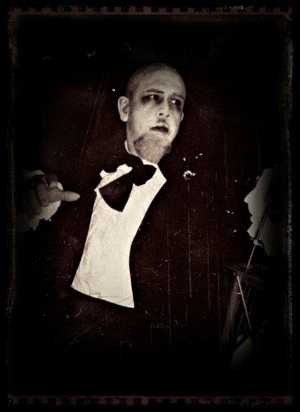 What was your proudest moment of making "Terror of Dracula"?
My proudest moment? There are so many. The fact that we got it done… the fact that a stranger from another country, Bill Bossert (producer) contacted me and offered to fund my dream-project — Bill and I have become great friends since, and I love him like a brother… the fact that audiences are responding so favourably to this "little film that could". I've no formal training in film-making, save for a life-long love of cinema… we not a studio production, and we had no intention of following the current trend of cruel, gross-out horror — we made an old-fashioned, indie horror film, and got it RIGHT! But, I think the coolest thing of all, is the fact that Fangoria Magazine is about to publish a 3-page feature article on the film. When I was a kid, all of my friends wanted to be on the cover of Sports Illustrated or Teen Magazine — I wanted to be in Fangoria. Well, now I'm there… how awesome is that?
Do you have any interesting behind the scenes stories?
When you are making a film like this, and treating the material so seriously, you're bound to have LOTS of giggles and crazy things happening behind the scenes. From a rogue bat that frightened the bezeezus out of Dracula (I'll never live that down), to staking and decapitating a vampire in a church basement (ha – try pitching that one!), roping my dentist into creating some vampire fangs for me (thanks, Dr. Morison!) to almost having the cops called whilst out doing a little guerrilla-style shooting at an un-used asylum (you do what you have to in the world of indie cinema)… it was an absolute roller-coaster! Too many tales to tell… and too many reputations that could be destroyed ;-) Ha-ha!
Where can our Horrornews.net fans see "Terror of Dracula"?
The film is currently available on DVD through our website (www.newdraculamovie.com) and on Amazon. We are always scheduling as many screenings as possible, as I'm a theatre Mann at heart — I love watching audience reactions first-hand. We want to find as many creative ways as possible, to ensure as many people as possible get to see "Terror of Dracula".
Do you think you would make another Dracula movie?
I'd love to return to Dracula – and I've even got a great idea for a follow-up film (heck, hammer did a ton of 'em!)… but I'd also like to explore some of the other classics. I'm very keen to do my own take on "Phantom of the Opera", and have even found an old theatre that would be ideal for the shoot! Fingers crossed "Terror of Dracula" opens that door – if we move enough copies, I'm hoping to team again with Bill to bring you more old-school horror!
Thanks to our friends at Horrornews.net for the opportunity to chat about "Terror of Dracula"… cheers!
Interview: Anthony DP Mann (Terror of Dracula)