MJ: How did you come up with the concept for Unscripted – The Hunted ?
MA: Being an old time horror fan and growing up idolizing the likes of Lon Chaney Jr. as the Wolfman, I wanted to bring horror back to its roots, the woods, the cold and the darkness. Reality camera work is so popular now, and what better way to put the audience on the edge of their seats than to write a screenplay and have it filmed with the camera we take on vacation. It amounts to attainability, this scary tale can and DID HAPPEN!
MJ: We're all familiar with some of the pitfalls in making a low budget horror movie, have you run into any problems yet during filming?
MA: That's a loaded question! Pitfalls would be an understatement when it came to casting this production. Either the actor didn't have any concept of what I was trying to achieve, or they liked to hear themselves talk and not me (the creator), or thought they could change what I say to them. Understanding the desire to make the movie to better themselves as well, or understand that this story will domino into some amazing opportunities to follow. Luckily for me, I now have a wonderful cast, make-up artist and music director. You need to live to learn, and then, you shall learn to live.
MJ: The make-up on Rhonda Jones looks incredible, who's responsible for putting that look together?
MA: The amazing make-up was done by Christoper Quinto, who I'm privileged to have amongst the amazing crew for the production. He not only is a wonderful human being, but as you can see, a talent that Hollywood will take full advantage of in the near future. I am going to have a page on my website www.unscriptedthehunted.com on the links page dedicated to Christopher's information and how you can contact him directly.
MJ: Do you have any interesting behind the scenes stories that happened during the making of Unscripted – The Hunted ?
MA: One funny thing happened when we were filming a scary scene in the dead of darkness lost in the woods. Not only did we really hear noises in the background but we really got a little lost for a few minutes. If anyone has been in the dark, cold woods in the middle of night and was lost, they would fully understand the severity of being scared sh*t! This is why I wrote and filmed this tale this way. It's going be scary just by the surroundings and terrain alone.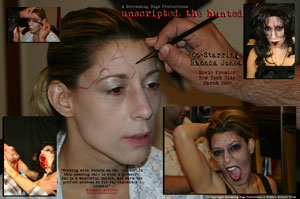 MJ: What your favorite scene in the movie?
MA: I have so many favorite parts and scenes, but the one that stands out would be the ending of the production! Amazing scene with Rhonda Jones ,Victoria Barth and myself! It's a bone chilling bloody scene, but sorry that's all I can say! You're going to have to see the movie.
Interview: Michael Alfieri (Unscripted – The Hunted)