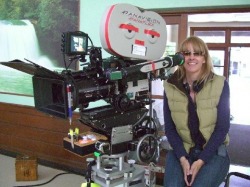 Mike Joy: I've been a fan of www.indieproducer.com for awhile now and when I read about the new www.kerrydavid.com website, I thought your film consulting services would definitely benefit some up and coming horror directors. I'm glad to have you here at Horrornews.net to talk about it. Why did you decide to start this website now? 
Kerry David: I've been mentoring filmmakers for over ten years, and this year one of my mentees was shortlisted for the Oscars with her documentary on women rebels. It dawned on me at that moment that I can really help filmmakers who are talented and eager, but lacking the experience I have. Also, over the years my friends and colleagues have urged me to start a film-consulting site as a mentor and it's been hovering at the back of my mind. Up until now, I've only been able to help people who know me or can get to me through six degrees – this was my way to handle that and the time seemed right; I have a documentary I'm about to release "Seeking Happily Ever After", a feature film releasing on September 24th (Like Dandelion Dust) and I'm just about to start filming my new reality TV show based around the Hells Angels! I started playing around with creating a website and was just really enjoying that process – once it was finished I had to launch! 
Mike Joy: Exactly what type of services do you provide through www.kerrydavid.com ? 
Kerry David: I've literally launched three days ago so I have no doubt that I will start tailoring the services I'm offering to my filmmaker's needs as I move forward. I based the current services on the needs that have surfaced through filmmakers I've already mentored and from questions I get through my filmmaker's website www.indieproducer.net. I'd suggest that anyone interested take a look at all the options because I can tailor most of them to fit each filmmaker's needs. 
I wanted to offer several levels of consulting at varying price points to suit all budgets. I've been in this industry for eighteen years now so I've faced almost every challenge imaginable. To that end I am consulting not only in aspects of filmmaking from development, pre-production, filming, post-production, distribution and marketing but also coaching and mentoring for the filmmaker or actor/crew member too with their careers and career choices. I can meet and consult on any related field from brainstorming your creative challenges to fixing your finished film and submitting it to distributors or whether to go the festival route or not! 
I will also be writing more of the informative articles that have been published so successfully. I have an article on my site called "Getting to the "Yes"" which informs writers, actors and filmmakers in general about specific things they can do to take many of the "no's" off the table. Not enough filmmakers realize the big picture and take everything too personally – and I try to open that up in this article. I'm continually surprised at the negative mind set against the executives, producers or powers that be in our industry. It really isn't like that. It's not that they are against the filmmaker – they want and need to make films and they are looking for great projects to make. There are some very specific things that you can do to help that process and I write about them. When you submit to a producer or production entity, they want to read the next great film. They aren't looking for reasons to pan your project. It's like I tell actors before auditioning that we really want it to be you when you walk into the room. For me casting is the least favorite part of the filmmaking process, I want to be out there filming! This article in particular was extremely well received, so moving forward I'll be adding more articles to the site along with the services listed. 
Mike Joy: "My Date with Drew" was made for $1,100 and saw astounding profits. The horror industry has had some similar success stories about movies made for little money that go on make huge profits. Both "Blair Witch Project" and "Paranormal Activity" come to mind. I don't want you to give away all your secrets but how can the little guy who only has a micro budget be a success in this game?
Kerry David: One of the many golden nuggets I took away from producing My Date with Drew was: don't chase the industry; make something great, unique and compelling and have the industry come to you! 
In many ways new and emerging filmmakers today have a much easier time of it than we had starting out because there's an array of inexpensive equipment available to use. Editing software such as FinalCut Pro isn't cheap, but it's way more affordable than the old Avids! I think that micro budgets force you to be creative. If you can make a great film with little to no money then when the money flows on your larger projects you will know exactly where you want to spend it and exactly how to spend it and where you can be creative instead. 
As you mentioned above, six years ago we made "My Date with Drew" for $1,100 with a camera we bought from Circuit City under a 30 day return policy – so we made the film in 30 days and returned the camera! We pooled our resources, used six degrees of separation and were as ingenious as we could be to resolve our quest! It's all about being resourceful and networking. I'm a huge proponent of helping your peers because as you all progress, it'll pay back in dividends. Some will fall away, some will slow down or film only as a hobby, but some will make it and if you all help each other out, that can work out down the line really nicely for everyone. 
Mike Joy: Do you have a funding recommendation that you can hint about?
Kerry David: There are a few new funding options like Indiegogo.com and I am currently using www.kickstarter.com for my documentary "Seeking Happily Ever After". Check out this link: kck.st/bV022F You can see how we structured it and you can see what we're offering people who want to help us reach our goal in return for their donations. It's been great for the most part. The most challenging part to date has been getting the word out to people beyond your immediate circle, to people who care enough to contribute. As you can see, we're nearly there but we're running out of time and another downside of this site is that you only get to keep the money if you reach your goal. You can keep more than your goal, but if you earn less the money goes back to the donor. As I'm writing this we only have 11 days to earn the last chunk and it's nail biting. One of the rules of the site is that you can't donate to your own project, which means you can't top up that last amount yourself to receive all the funds! 
Mike Joy: Do you think it's harder for someone not in the Hollywood, California area to get a movie made? 
Kerry David: I really had to think about this question because my immediate thought was yes, it is. But it's only hard if you're trying to get your movie made by a studio entity with top talent cast in it, AND you live outside of California (it's also hard if you live INSIDE California!) But the actual answer is no, you can make a movie anywhere in the world if you have the desire and tenacity to do so. Distribution for that film however is another beast entirely! 
Mike Joy: Since you've started the new website and your film consulting services, have you seen any horror scripts and movies come across your desk? Anything you can mention by name? 
Kerry David: I do get a lot of horror scripts. I can't mention them without the filmmaker's permission but suffice to say that I think screenwriters (new ones primarily) feel that horror is the easiest genre to write for, and find an audience. The truth is that the horror market is extremely oversaturated. I have a very good friend who is the President of Imagination Worldwide (Larry Goebel) and he is inundated with horror films and scripts because he has a foreign distribution company that attracts this genre by the trunk load. So yes, I get a lot of horror scripts, but sadly, not a lot of new ideas, a lot of rehashing old ideas. I'd love to read a really great, scary and fresh horror script! 
Mike Joy: What was it like working as a producer on the movie, "College Sucks" ? 
Kerry David: I have a project in development that Brian Herzlinger and Jay Black wrote called "College Sucks". It's a comedy horror, which they wrote as an homage to John Hughes and which is very loosely an imagining of a sequel to "Weird Science" -meets "Lost Boys"! I LOVE this project so much but getting into production has been illusive. We've actually lost two separate funding options so it's been extremely frustrating. We've already scouted all the locations in Seattle, WA and we've been qualified for the tax incentive up there (30%) but we're back to chasing the money. Our below the line crew is a filmmaker's dream. We've got two Oscar winners and our editor is the legendary George Folsey Jr! We've got Joel Hynek who won an Oscar as SFX Supervisor on "What Dreams May Come", Brian Sipes, SFX Make-Up guru from Benjamin Button to name just three! So far it's been nothing but awesome in terms of the process and I still hope to close funding this year. 
I'm not the typical horror fan. I've probably seen every major horror flick but I get so scared watching them – even the bad ones! I once burst into tears after seeing "The Howling", we were outside the theatre when some friends of mine pretended they were Werewolves and scared the crap out of me! But that was many years ago! My boyfriend brings back horror films all the time and my one request is that he tells me the story beat for beat before we watch it so that there are no surprises – and if something is about to jump off the screen he has to tell me in advance!
Mike Joy: One of the main elements of film consulting would have to be problem solving. You have experience on your side and no doubt a wealth of knowledge when it comes to dealing with the pitfalls of the movie industry. Could you give Horrornews.net an example of a problem that you've come across and how you solved it? 
Kerry David: I could probably write for the next 20 pages! There are so many, but here's an example that is also illustrative of being resourceful: Spoiler Alert!! During the filming of "My Date with Drew" we reached a point where we knew we had Drew Barrymore for sure, and her producing partner told us that we could have Drew appear on our One Sheet (poster) for the film – something we had never dreamed we'd be able to have and very exciting to us. The only caveat was that Drew had to approve the picture we used. 
Finding a photo of Drew that she would approve that we could afford proved to be a real problem. We hired an artist to paint a likeness but that didn't pass muster. We thought of so many solutions to the problem but none worked or ultimately felt right. Then I remembered a recent photo shoot Drew had appeared in for People Magazine. I tracked down the photographer who was in New York and explained what our film was about, told him that we were looking for a photo of Drew to use and could he sell us one of the outtakes from the recent photo shoot. He said YES! 
We then started looking through the unused photos from his shoot and found one that we loved. Drew loved it too and I went back to negotiate a fee for it. $25,000! Well, for anyone who has seen our film, this was way out of our price range. So I said that we had $2,500 total in our marketing budget! Would he sell us the photo for that price and in addition we would give him a credit in the billing block of our film – it's something that we still don't think had been done before! He was excited at the idea of that – and so he agreed. So, not necessarily a brilliant negotiating tactic but it was resourceful and it worked; something that was of value to him, and was easy for me to offer him – win/win! 
This kind of tactic actually happened multiple times on Drew – when negotiating for our music we had received a resounding NO from one of the largest studio music publishing companies. We decided to go directly to the artist himself and we tracked the him down to his home (his mother picked up!) we explained our issue – that there was only one song that could possibly work in that particular moment and could we send the artist a screener of our movie so that he could decide for himself. The artist agreed with us after loving our film and actually called the President of the Publishing Company on our behalf and we not only got the song, we got it for the price we could afford! Sometimes this works, sometimes it doesn't; but as a filmmaker it's your job to at least try! 
Mike Joy: IndieProducer is currently running the 8th Annual IP Short Film Contest and it does have a horror category. Could we see the next Wes Craven or John Carpenter immerge from this contest? Perhaps… but what are the most important aspects if someone is considering entering their film? 
Kerry David: I hope so! We get all kinds of horror films sent to us for the Short Film Contest. Anything from animated horror – to full production, large budget, short films. We look for many things when choosing winners; it's not the amount of money spent on the film – EVER! We look for genuine horror moments, we look for great direction, the acting, and yes, the production value certainly comes into play, but it's the overall feeling that comes from watching a great horror film that wins the day. We have a contest going on now and I'd love to see more horror films submitted. It would be great to break the next Wes Craven or John Carpenter! 
My aim with all of our contests (IndieProducer Screenwriting Contests and Short Film Contests) is to get the best work in front of people who can actually hire the winner to make a film, or get the winner to the next stage of their career. We've had so much success with our past winners, two have gone on to become Oscar nominated and multiple screenwriting winners have gone on to win writing assignments and gain management or an agent after winning. It's our one and only goal: to get them exposure and recognition. 
Mike Joy: Now, I can't let you go without asking you to name at least three of your favorite horror movies, either past or present will do. Thanks a bunch! 
Kerry David: Only 3? Ok – "Shaun of the Dead", "American Werewolf in London" and "Wolf Creek" can't help it, have to say "Alien" and "Aliens" too! 
Mike Joy: Are there any other projects you would like to announce or anything else would be like to plug? The floor is yours. 
Kerry David: Just the newly launched film consulting & mentoring site: www.kerrydavid.com !!!!! 
Thanks so much! Kerry