Our friends at Bloody-Disgusting.com have shared some great news, especially for those of us who live in the NYC area. The New York City Horror Film Festival is returning this this November! And it will be celebrating it's tenth anniversary after the untimely death of it's founder & visionary, Michael Hein.
I've written about the profound loss that the horror community felt when Michael passed away last year. I'm not going to recount that here, far better to celebrate this incredible announcement & share it with all of you!
John Marrone has all the info here on his blog "Closer To Death". Read on & if you're a filmmaker with a film ready for submission (Short or Feature length), please make note of the website & consider submitting your work to the festival!!
Good Luck!
Back in Black – The NYC HORROR FILM FESTIVAL
1:00pm, January 23, 2012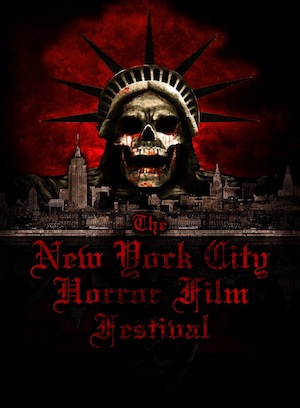 The NYC Horror Film Festival returns this 2012!
November 8-11th at Tribeca Cinemas NYC
The lament of New York in 2011 was the loss of Michael Hein. The founder, heart and soul of the NYC Horror Film Festival, passed away last year much too early – and his loss was felt heavily by everyone who'd ever met or known him. As a result, the NYCHFF did not happen last year.
But Michael LOVED horror, and it showed in the festival he brought to New York City. It was always a generous and uncommercialized public party where fans and filmmakers came together to cross roads, share drinks, and admire it all. Everyone that knew him KNOWS that he would have wanted to festival to continue in the very same spirit.
That is why his family and friends are proud to announce that the NYCHFF is back to celebrate its 10th anniversary this Halloween season!
Filmmakers! The website is active, up to date, and accepting new submissions for the 2012 season. The deadline to enter is this summer!
For more information visit THE 2012 NYCHFF OFFICIAL WEBSITE HERE: http://www.nychorrorfest.com/
VidiVici TV – NYC Horrorfest from angelita mendoza on Vimeo.
This is a great announcement. Im personally elated to know that the NYCHFF will continue thanks to those closest to him. Mike's absence will be missed sorely every Halloween – but seeing the festival continue keeps a part of him alive, where we can all meet and celebrate and remember – and I'm thankful for that for more than a couple of reasons.
ROCK ON! I plan on seeing every horror fan in the New York city area this year for ONE HELL OF A PARTY!
~ John Marrone – CLOSER to DEATH
Back in Black – The NYC HORROR FILM FESTIVAL
1:00pm, January 23, 2012