Extra! Extra! Tingler Loose in Louisville!
Horror Hosts are as well-loved these days as the monsters they present on television. Zacherley, the Cool Ghoul is my personal favorite but they do abound. One such character presents himself as Dr. Gangrene and runs amok periodically when he gets loose from the TV studio.
The actor who gives the good Doctor voice is a native of Nashville, TN. I tracked him down on the internet when I heard of a strange occurrence at the 2006 monster con known as Wonderfest and held in Louisville, KY. Underwood is a big part of the con and come May of 2010, he'll be at it again.
Jessie Lilley: Larry, how did your interest in classic horror develop?
Larry Underwood: As a kid it seems I was interested in horror as long as I can remember. There was a show on weekday afternoons in Nashville called "The Big Show" where they showed all the Universal classic horror films. They would have a Creature week, where they'd show all the Creature from the Black Lagoon films, or a Frankenstein week with all the Frankenstein films. That was my first introduction to the Universal monsters and I was hooked! I was also a big fan of the horror comic books, and remember buying as many as I could as a kid.
JL: Where did Doc Gangrene come from?
LU: I started a cable access show in 1999, and the character came to life because of a strange coincidence. Around that time the TV show ER was really popular, and I was getting stopped on an almost daily basis and told, "You look just like that guy on ER." Well, that guy was Anthony Edwards, and his character was Dr. Green. So I thought, why not do a play on words and make my character Dr. Gangrene? I work in a hospital in my day job, and have lots of friends who are research doctors. I asked them for spare equipment, beakers and flasks, etc., and they came through for me, so making the character a mad scientist just seemed the logical thing to do.
JL: Who were your influences?
LU: At the time I had only really seen a couple of hosts – Sir Cecil Creape, who was our local host in the 70s and I had seen as a kid; Elvira, who of course we all knew from her national show, and Joe Bob Briggs from TNT's Monstervision. I later got a chance to see lots of other hosts, but at the time I started that was all I had seen. So those three, and the hosts from the horror comics would be my influences, I suppose.
JL: Where did the concept for the live show come from?
LU: A few years ago I attended Wonderfest as a guest for the first time. I hosted the movie "The She Creature" along with special guest Bob Burns. The next year we hosted several short movies of Bob's, including an episode from the original Ghost Busters TV show he stared in as Tracy the gorilla. That year he appeared at the end of the show as Tracy the gorilla, and his wife Kathy appeared as Miss Shock, a character she had played years earlier on a horror host show called Shock Theater in Texas.
I had done a series of spook shows in Nashville and really loved them. They were really successful and a lot of fun, so I talked with Dave Conover, the Wonderfest organizer, about bringing the live show there and he thought it was a great idea. One movie I had always wanted to do live was "The Tingler." It is just custom built for this sort of thing, so we made plans to show it in 2006.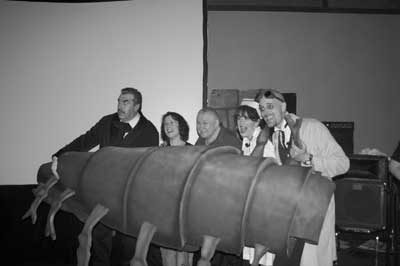 JL: Did Bob Burns know about this ahead of time or did he wing it?
LU: We had talked several times about my plans for the show and he knew all about it. One thing I had wanted to do was rig the first row of seats to vibrate like William Castle did, but we never came up with a cheap enough way to do it. I almost went and bought a bunch of little vibrators from an adult store and wired them to the bottom of the metal chairs! That would have really been a story to tell!! But we decided to scrap that idea due to cost, and I spent the money instead on building the giant tingler. Bob saw the beast for the first time about an hour before the show. John Goodwin, the CSI makeup artist, played my associate Dr. Princent Vice in the show. He made an incredibly gruesome looking scar that was sewn up with shoestrings, and he pre-attached it to Bob's back before the show. That way we could show the audience our handiwork post-operation. Great stuff!
JL: Is it a traveling show?

LU: Naw, I can really only do about one show a year, and Wonderfest is it. Like I said, I have done several spook shows here in Nashville. They are a lot of fun. I love live theater and audience reaction.
JL: Who made The Tingler you used?
LU: I did. It was built our of foam and hot glue, and my friend Eathen Allen, who actually wore the costume in the show, helped paint it, which we did with spray paint. It was actually really durable since I made it out of thick foam. I left it in Louisville and one of the Wonderfest staff kept it. Who knows what future adventures are in store for it – I'd guess it'll make a Halloween appearance or two in the future.
JL: Thanks Larry, for taking the time to enlighten our readers. I'm sure they'll all be down to Wonderfest in 2010 to see what you do next.
Interview: Dr. Gangrene – Horror Host