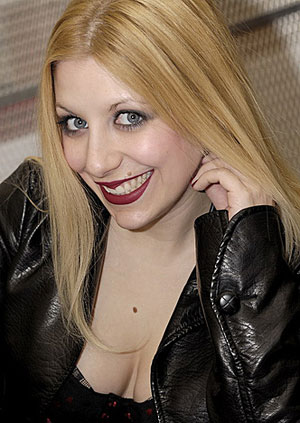 Ever wonder what you get when you mix beauty, blood, and blonde hair? Well I thought that same exact answer! Haha That is until I sat down and talked with Raine Brown. Trained in classical acting and staring in a Shakespeare group to screaming and kicking major ass in the horror genre, Raine has and can do it all. So check out a little more about Raine Brown as she gives horrornews.net a piece:
Check out Raine Brown's HorrorNews.net Vamp Gallery
Thank you for talking with me today! How are ya?
I am very well thank you! Just relaxing and excited to be talking with you!
Well it?s a pleasure to have you!
Why thank you again! It's a pleasure to be here!
Let's get to it!
You have been in the business professionally for about 10 years now but you started out with the Hudson Shakespeare Company. Tell us a little about your history there.
The Hudson Shakespeare Co. is a great little company- I believe they still do shows, but when I worked with them we did Shakespeare in the parks of Hoboken and Jersey City in New Jersey. It was an awesome crazy time. I got to play some of my favorite roles of all times, the heroines of Shakespeare- but we did it out side in the middle of these city parks and there were always wacky situations. I mean we were performing, and there would be dogs walking into the scenes, sirens going off, and thunder storms raining on us. Also we would basically do costume changes right outside in the middle of the parks. It was def. a boot camp for acting. If you can do classical theatre and keep you concentration in those circumstances you can act in any situation.
So what gave you the drive to quit theatre and head into the movies?
Well I never really quit theatre. Actually I just did a few theatre festivals in NYC last year including the Fringe Festival and the Sam French Festival. I love theatre and will always love to do it. There is just no substitute for a live audience and the experience of performing a story and moving along with the character's journey from start to finish in a chronological order. That is how I was trained and what I love. However, I have been very lucky to get involved with film. It is just the way things are that film is more accessible to more people. The DVD is available and anyone can watch it at anytime and it is preserved for all time. Theatre performances are so hard to get the audiences to go to. Also, you work so hard a have such a long rehearsal process and the audience attendance is not always what one would hope for. Also, with film, you can finish one in a few weeks and then be on to another film. While when you commit to a play, you have a few weeks or more of rehearsal and then you have months of performances (hopefully) and honestly I have just been too busy going from film to film to have time to delve into a full length play in a few years. I will again sometime soon.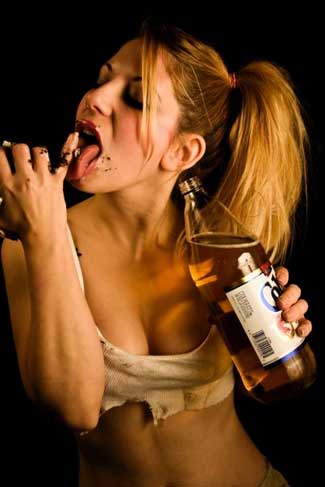 You have been in over 20 roles in your professional career. Tell us, who are your fav co-stars at this point?
Well I have a ton. There are so many of the people that I have worked with that I had such an excellent experience with that we knew we wanted to work together again. Actually most of the people I have worked with, I have done or have plans to work with again. I don't want to start listing because I know I will leave someone out, but most of them are my top friends list on MySpace or crossed referenced on my IMDB page.
Why?
I have been luck to find some really talented and positive people. It's kind of like we attract each other since we have the same goals and want to make really good films and have a blast doing it!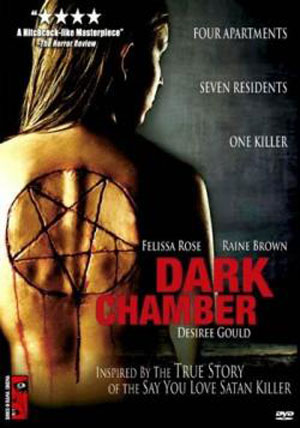 Worst? Haha
I'll never tell. (insert creepy Britney Murphy voice here) I don't like to talk bad about people especially in a public forum. As I said, I have been pretty lucky to work with really cool and interesting people and have yet to have a true horror story on a film set,.(yes pun intended) There were a few working environments that were not as great as the others but all of my projects have definitely been worth doing. But a bit of gossip, there was on person on set who was a drug addicted depressive kleptomaniac- so that was fun!!!!
Which role have you played that was your favorite to do?
Well I always find something I really love about each part that I play. I would have to say 2 of my favorite roles have been in films that I have done recently and that are not even out yet. I loved playing Amy in the film Beast and also my character Ashley in Sculpture. Amy is a tough, take no nonsense, tom boy. I really got to play a different type of character and also worked on an awesome action sequence. There was an element of comedy but also some serious butt kicking. Then the character Ashley from Sculpture. She is an artist, who comes back home, and due to an abusive past she has tried to escape, has begun to have a mental break down and separate from reality. There was a lot of psychology and back story to work with. I loved the challenge of playing all the complexities of this woman. Also up there were my roles of Nina in Barricade, Toni in Aunt Rose, and Christine in 100 Tears – which I just one best supporting actress for the Tabloid Which
Awards- thank you very much! :)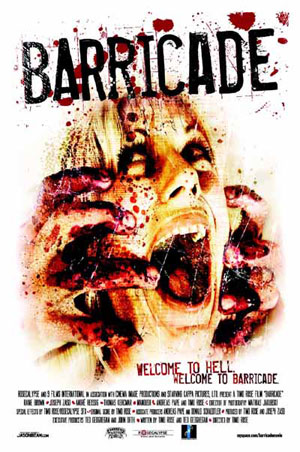 A lot of ignorant people think that being a beautiful 'Scream Queen' equals no brains. What would you say to those pricks? haha
Ha Ha!!! Yea it is a crazy over generalization. But I guess that it what happens when you get labeled. While there are many examples where this may be true, again not to mention any names, that is like totally not the case with me, like totally. No seriously, I sometimes cringe at that label of "Scream Queen" because it does come with the connotation that you just run around and show your boobs. Again, there are many examples of this, but I guess I don't necessarily fit into that category. I have worked really hard to become an accomplished actress and I really respect the craft of acting and filmmaking. I love the opportunity to work in horror and the genre has been so exciting to work in. I love that the stories and characters can be so out there and creative, but I also like to branch out and enjoy other genres and I also look for scripts where I get to really act and work on something new that I haven't done before.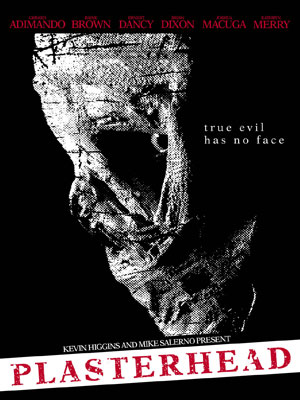 Among your acting talent, you also model. I have seen your work with Jason Beam, who is brilliant by the way, what's it like working with such great talent?
I love Jason. He is awesome both as a person and an artist. We did a piece together called Faustina. You can see it HERE or link to his site to see more of his work www.jasonbeam.com. He is currently redesigning my website and we are developing another art piece together. He has designed the Covers for my movies Barricade, Darkness Surrounds Roberta, and Beats. I am hoping he will do more soon.
What are some of your fav films?
Wow- the short list- Eternal Sunshine of the Spotless Mind, Garden State, Heaven, Good Will Hunting, Candy, Elizabeth, Perfume Story of a Murder, Romeo and Juliet, Stay, Catch and Release, Notes on a Scandal, The Jacket, The Machinist, Memento, Girl Interrupted.. I could go on…..
Who are your fav actors/actresses?
I love Kate Blanchet. I think she is so wonderful and talented. She totally transforms. I also love Johnny Depp (ok so does everyone) Angelina Jolie, Charlize Theron, Sam Rockwell, Giovanni Ribisi, Heath Ledger.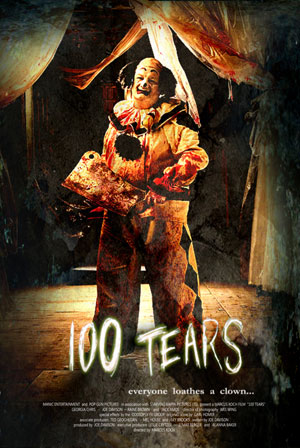 Major influences?
Acting wise, definitely Uta Hagen. If you're and actor and don't know who she is you need to read her book, "A Challenge for the Actor" which is the expanded version of her 1st book "Respect for Acting". The book is the best book on acting that I have read. I was lucky enough to see her in a play on Broadway before she died, and I tell you, she was like 80 something with such energy and talent. I can only hope to be working and that lively when I am her age.
What advice do you have for young 'scream queens' trying to break into the business?
Well it would be my advice for any actor. Learn you craft. Go to class. Audition your butt off. And especially for young girls starting out, never do anything on film, or off film to get cast for that matter, that you are not comfortable with. Don't get sucked into the idea of wanting to be an actor because it seems glamorous. Filming is not glamorous. It is rewarding and fulfilling, but it is like getting through a war sometimes. The glamorous part is after you shoot and you go to the screenings and the conventions. The work is not and should not be easy it should be emotionally and physically draining. It is enjoyable, but in many ways very difficult. Oh yea, remember to have fun doing it!
So, ya gotta tell us, What's next for Raine Brown?
It appears 2009 will be a busy year for me and I am looking forward to it. I am soon off to England to film the lead in Brain Cell. Then I will be filming the lead in Don't Look in the Basement. I am in talk for a few other films including Pacific Grove, Emeralds of Darkness, Stronger then Death, Torture Chamber, a TV pilot and a few untitled films. Also look for the films Beast, Psycho Holocaust, and Sculpture to be released on DVD in 2009. There will be more updates and information on those projects on my website and myspace page.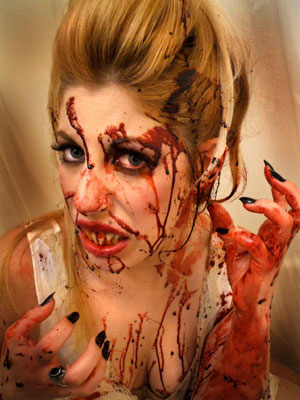 Thank you so much again for stopping by and giving us a piece!
You want a piece of me?? You want a piece?? Ha! And no Thank you! Anytime!
If you wanna check out more of Raine Brown go to:
www.rainebrown.com
www.myspace.com/rainebrown
Thanks for joining us! From myself, Raine Brown, and all of us at horrornews.net…
Interview: Raine Brown