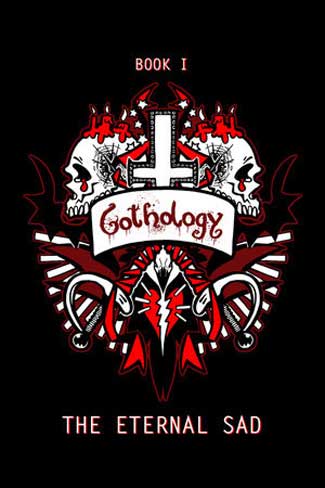 Decapitated Dan: Hey Guys. Thanks for taking the time to talk with me about Gothology and other projects your working on.
Jack: Thank you for taking time out for us.
Justin: Yeah, we really appreciate it.
DD: First of all lets talk about you. Who are you and what do you do?
Jack: Jack Sullivan, art student, co-founder/editor/contributor for Gothology.
Justin: Justin King, publisher, writer and comic artist. And, I'm also the co-founder/editor/and a contributor for Gothology.
DD: How did you find yourself getting into making comics?
Jack: Comics are the best way for one person to tell a complete story. You're really only limited by your own abilities with comics, which is nice because I'm a bit of a control freak. I wanted to be a director for the longest time, but I got a taste of that and hated the bullsh*t and drama of dealing with actors and crew. Scheduling and teaching and all that. You can choose to work with others in comics, but at the end of the day you have the capacity to tell a complete visual story that purely reflects your ideas, and that's unique.
Justin: I have been drawing comics since I was around 6 or 7. I don't really remember the reason I started drawing them, but they were incredibly stupid and usually starred my cats. I got my first taste of producing comics in high school, when my friend Doug Harvey and I made a series about our lives in school and the main character was our friend Padro – who was literally like a giant 5 year old. It was a huge hit and somehow got circulated all over the school to the point where people I didn't know would come up to me and tell me they were fans. That was really what sparked my interest in comics and publishing.
DD: So what can you tell me about Gothology?
Jack: Gothology is a comic anthology series we started to help promote artists/writers we felt weren't being given the opportunities for exposure they needed, and we wanted to make five million dollars.
Justin: It is a series of comic anthologies. The Eternal Sad, which is the first volume, is already out, and the second volume, Misery Loves Company, is currently in production, and should be out in January of 2010 if everything goes well.
DD: What's it all about?
Jack: Gothology is, shockingly enough, themed around Gothic subculture, which translates to basically everything and anything dark. I'm not a goth and never have been, though some people might disagree with me on that. Which is sort of what makes it interesting. Goth is a lot like punk but more subtle. You're not if you say you are, and nobody knows what it actually means. Everybody calls everybody posers but they won't call themselves goths outright. It's interesting. Goth is a huge subculture, there's those Siouxsie and Cure fans with bigass hair, metal fans with too much makeup, teen witches, masquerade vampires, horror movie addicts, deathrockers, gravers, mansonites, mallgoths, corp goths, steam punks, etc. etc. Basically if you wear more black than colour and like dark sh*t, someone somewhere thinks you're a goth, and someone else thinks you're a poser. It's hysterical. The books are a little tongue in cheek from our end, but we do run a lot of great dramatic/serious material as well. Diff'rent Strokes.
Justin: What Jack said. It sort of jumps all over the place in terms of styles and content, and it has something for everyone. We were very afraid all the artists would either take it way too seriously, or just the opposite where it turned into one giant Goth burn-fest. Luckily it has a very nice mix of both, and they all fit together surprisingly well. In The Eternal Sad, for instance, you can find comics about a crow's unrequited love, a blind and deaf pair of conjoined twins, a haunted doll, a group of cats that are too goth to sit out in the sun, a girl trying to resurrect her beloved cat, and all sorts of other ones – 25 more to be exact. So, as you can see,there is plenty of variety.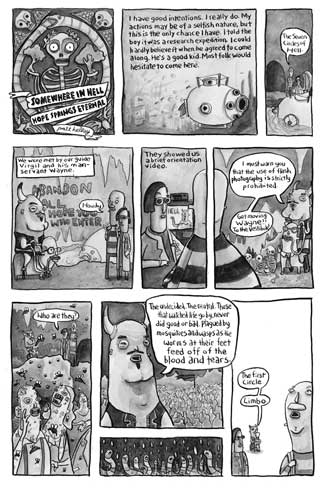 DD: Where did this idea of putting this together come from?
Jack: Myself and Justin had wanted to start publishing comics for awhile, and one night we were talking and conversation turned to goths we knew in high school. I didn't really know anyone that called themselves goths, but a bunch of them totally were. Totally were. The same really went for both of us, as we kept talking we put it together with our want to publish an anthology, and Gothology was the result. Honestly it started as a joke, but it's way funnier now that we've actually done it.
Justin: Yeah, we both wanted to publish comics. I had actually been trying to put together a publishing company for a little while beforehand, and I found out that a lot of other companies got their start by publishing anthologies. I loved the idea of getting up and coming artists the exposure they deserved, but at the same time thought it would be way to difficult to put one together. Eventually, I sucked it up, and decided the good would out weigh any difficulty, and started putting together a food themed anthology. A while after that, Jack and I came up with the idea for a Goth themed anthology from what was just a random conversation about the goths that were to the recent revival. We both thought this would be a brilliant time to release a Gothic themed anthology, and it took over as the anthology DAPshow Press would release. Luckily, none of the artists really got past concepting stages, and gladly switched to the new project.
DD: What are you hoping readers can take away from this collection?
Jack: We want readers to be entertained and to find new artists and comics. There's a ton of comic artists out there and a ton of comic fans and everyone has an audience that'll get them and an artist they'll enjoy. I think the anthology properly represents the gothic subculture with great accuracy, it's hugely varied in theme and content, and I guarantee everyone and anyone can find something they'll enjoy somewhere in it. It might be a little bit much, but I'd also like for people to gain a sort of appreciation for a much maligned subculture. The majority of the contributors aren't goths themselves, but they'd all been influenced in some way by some facet of what falls under the umbrella.
Justin: I want readers to finish the book and think it was a good comic anthology. A lot of anthologies have a bad rap for having sh*tty comics and being poorly put together, and we knew this, so we put forth a lot of efforts to make it great, to get great artists, and we also tried to do some original things with how it was read. Hopefully readers enjoy it as much as we do, and there are comics in it that they want to come back to and read again.
DD: Can you talk a bit about your experience putting this collection together?
Jack: Putting this together was way fun. Basically we just got to have fun and traipse around as this sort of anonymous super goth. With all the descriptions and invitations we were writing I'd kind of mastered the art of gothspeak. Sorrowful litanies issued from the depths of a sympathetic twilight's womb blah blah blah. It's not as easy as it looks, but for a while I had a problem not doing it.
Justin: It's a lot of work, but that makes it a lot more fun at the end. It is a bit weird, while putting this together, I started thinking and feeling more and more like a goth.
DD: How did you go about finding all of these creative teams?
Jack: Astral projection. We abandoned our corporeal forms and sent whispers into the ether, knowing they'd reach the ears of the deserving. AKA we used the internet. We set up a metric ton of accounts on as many social sites as we could find. The biggest boon was DeviantArt which got us the majority of our contributors through stupid creepy comments, mostly posting things like "We see you know the darker side of the unending sorrow of life, join us in our misery." More often than not we just told people "You should be in me." under the book's account, which worked well. Our advice: If you want people to take interest in your projects, make vague sexual passes at them, while posing as an inanimate object. But honestly, we sort of set up a persona for the book and tried to suck people in with that. The way we presented ourselves really helped us I think.
Justin: We also sent out emails and messages asking artists to join in. Those were generally presented normally, so that the artists didn't think we were insane and would take the invites seriously. Although, a few still didn't get it and thought we were accusing them of being Goths and would get all butt hurt at that thought. Which in reality, probably DOES mean they are Goths.
DD: Can we expect more collections from you in the future?
Jack: We have two more volumes of Gothology in the works that we hope to have out by 2010, and are planning a series of themed spin-offs, starting with Night of the Living Gothology, which will be a zombie themed book. Big things on the horizon for sure.
Justin: In addition to the Gothology series, DAPshow Press has some other books coming out next year, including The Gonk, by Sarah Fowlie, which is about zombies. Also, I am planning on turning my original Gothology comic, Hardcore Fetish Boys, into a web comic to be published on DAPshow which will hopefully be published alongside some other web comics.
DD: What comics are you currently reading?
Jack: A lot of Zuda stuff, Zuda's really cool free comics. At the moment I'm reading through Azure and Supertron, and am way into I Rule The Night and stoked for RockStar. A bunch of Japanese horror comics as well, Franken Fran has been my big obsession for a while now. Way cool medical horror comedy drama.
Justin: Mostly indie comics. I've pretty much given up on the big boys, although DC has done a great thing with Zuda. I have also been a huge fan of Crayon Shinchan for a while, and like to read through volumes of that during my free time.
DD: So in summary give me a quick recap on Gothology and why fans should give it a try.
Jack: Gothology is as rad as it is sad, it's got a variety of up and coming comic talent, there's something for everyone, and we haven't made five million dollars yet.
Justin: If you like to laugh, if you like to think… if you like action, if you like drama… if you like to sit in a dark corner while listening to depressing music – Gothology has something for you.
DD: Thanks so much guys. I hope people can jump on board and check out this project. I know I was really impressed by it and can't wait to see what else you can put together.
Jack: Thanks for the support, Dan. Don't forget, fangs out.
Justin: I am glad you liked it. Thanks.
If you would like to buy Gothology: The Eternal Sad or read more on what the book is all about please go to books.dapshow.com/gothology/
Gothology Co Founders