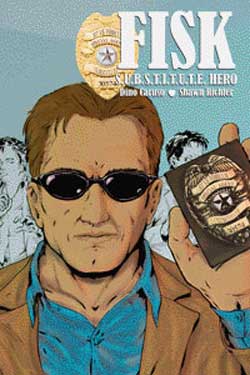 Issue: Fisk: S.U.B.S.T.I.T.U.T.E. Hero #1
Writer: Dino Caruso
Artist: Shawn Richter
Publisher: Caruso Comics
Release Date: 2010
Pages: 28
"Mr. Fisk braves a science lab full of dastardly duplicates in The Case of the Photocopy Clones."
Artwork: 3.5 out of 5
This is a good-looking black and white book, except for one thing, there is not really any depth too it. There is some shading here and there but other than that, just black and white. I'm not complaining at all, as a matter of fact in most cases it works here, I just think some middle tones may have come off a little better. The character designs look great from panel to panel with some nice lettering work.
Story: 3.5 out of 5
I have to admit that I didn't know too much about this book going into it. I was actually really pleased with the end result. First of all the S.U.B.S.T.I.T.U.T.E. breakdown is very clever. That in itself lends to the rest of the story being a good read. I do think that maybe some parts were a little longer than they could have been, but in the end I think they were necessary for going from start to finish.
Dying Breath: 3.5 out of 5
In all honesty this book was a lot of fun. It does what any good intro issue should do, by introducing the reader to the cast and giving them a little back story. The action in this book was probably the highlight though. I think that what I was able to walk away with was some mystery and definitely some intrigue into wanting to read the next issue for sure.
If you would like to buy or know more about Fisk: S.U.B.S.T.I.T.U.T.E. Hero #1 you can find it at http://www.carusocomics.com