Going out to dinner is an event millions of people partake in on a daily basis. Families and friends catch up on old times over burgers and fries. Luckily for horror fanatics, there are places for them to hang out with relatives and enjoy some "monster" scenery.
There are medieval restaurants with knights and maidens roaming around as you enjoy your bread and ale. There are café's that feature jungle animals watching you devour your steak and potatoes. Why not enjoy your dinner with zombies and mad scientists? Now a day's people are looking for ways to enhance their experiences. Just look at all the movies featured in 3-D. Dining out is fun and is one of the best ways to experience something new and different.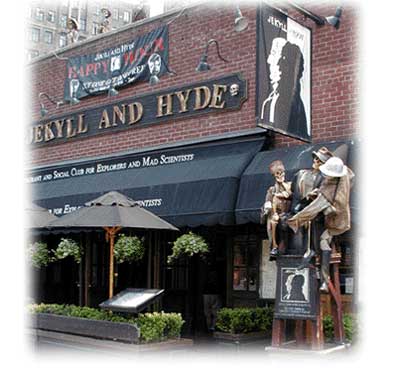 The Jekyll and Hyde restaurant and bar opened in 1991 on 91 7th Avenue in New York City and was created by a man named D.R. Finley, according to an article written for Hauntworld.com. Finley talked about why he chose the Jekyll and Hyde theme in the article. "I am a big fan of English history and wanted our stories to be based on the classic monsters of old Europe. It also represents everything that man is concerned with including the search for immortality and the struggle between good and evil," he said. The bars unique name offers a hint of what actually goes on behind the doors.
The restaurants official Web site offers this on the home page: "Jekyll and Hyde is a haunted restaurant and bar for eccentric explorers and mad scientists where guests can eat and drink among the unusual and the bizarre." There are characters such as Professor Shroud and Dreadworthy the Butler who walk around mingling with the patrons. The site also mentions the use of special effects to set the right "horrific" mood. Jekyll and Hyde also features a specific background story about a scientist who is obsessed with the two natures of man and uses experiments to further his obsession. The menu includes items such as Create-Your-Own-Monster burgers and The Mummy, a sirloin sandwich.
Another experience oriented restaurant is The Slaughtered Lamb Pub which was also created by Finley. The name is synonymous with the 1983 film "An American Werewolf in London." The two main characters stop to rest at the pub and soon after leaving are attacked by a werewolf. According to its official Web page, The Slaughtered Lamb Pub was originally located in northern England. The pub itself creates an old fashion feel with its wooden booths and unique use of lycan memorabilia. There's a werewolf room and even a dungeon. A skeleton perched at the top of the pub is what greets eager customers as they enter the lair.
The sign for the pub features a creepy wolf baying at a full moon. Werewolf pictures are featured on walls. There is even a wax figure of a young woman being bitten by a werewolf. All of these elements create an awesome experience for horror fans looking for a more creative and entertaining way to have a meal. It caters to those who are willing to go beyond the norm and step into a new world.
There are other restaurants located throughout the U.S. and even other countries that have dedicated themselves to pleasing horror enthusiasts. Hey, we need a place to unwind and relax too.
Who knows what else is in the works? Maybe a zombie themed restaurant where "real life" zombies walk around taking customers orders and delivering brains on silver platters? Ok, maybe not brains, a cheeseburger will do just fine.