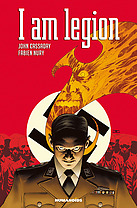 Issue: I Am Legion
Writer: Fabien Nury
Artist: John Cassaday
Letters: Crank!
Colors: Laura Martin
Publisher: Humanoids
Release Date: 2011
Pages: 184
Price: $19.95
"World War II rages as two supernatural entities pursue collide in a conflict hinged on ideologies and the lives of men. The outcome will decide the end of the war itself! Beneath it all, the Nazi pursue a project called "LEGION," centering on a young Romanian girl with powerful abilities."
Artwork: 4.5 out of 5
Have ever seen a movie where you wondered what it would look like as a comic book? The way that the art team came together to present I Am Legion did just that. This book looks amazing. The artwork is near perfect on ever single page. Add to that the colors, inks and letters and you have one GORE-Geous book. I have to seriously highlight the way that Cassaday chose to show the "transformations". I won't spoil it, but it was done right. The action scenes had a great visual pace, and the down scenes were full of emotion. This is so close to visual perfection in comics.
Story: 4.0 out of 5
I really didn't know what to expect from this book. Sadly reading the back cover I saw the word Nazi and was just like, "Oh man not another one." However I was wrong. There were times in this book that I felt moved at too slow of a pace, however the horror mythos that they chose to approach in this book was done in a new and very unique way. I honestly can not get over how I want to know more about what I didn't see in this book. There is so much more to be told with some of this cast. The inclusion of the Dracul family and they way they were brought into this was fantastic. The slow points could be too slow but the action scenes picked them up and carried this book to an amazing finish.
Dying Breath: 4.5 out of 5
This book was not what I expected, and learning that it originally came out in 2004 made me mad I didn't check it out then. Luckily I was able to get my hands on it now and I loved it. Was it always moving at the right pace, no, but for the 2 hours I took to sit down and read it I was highly entertained. This is a movie put on the comic page. So much depth in the story and presented with the correct visuals just means a win-win in my book. This is a book that needs to be on the shelves of horror, drama, mystery and war comic fans around the globe.
If you would like to buy or know more about I Am Legion you can find it at www.humanoids.com
I Am Legion