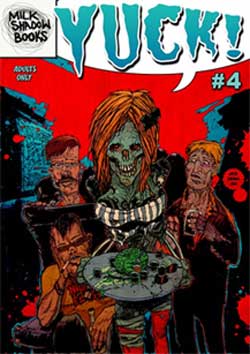 Issue: Yuck #4
Creators: JP Manzanares, Tom Motley, Jason Paulos, Anton Emdin, Chirstoffer Saar, Ben Smith, Jase Harper, Matt Emery, Craig Collins, I Laurie, Lark, Frank Candiloro, Scarlette Baccini, Johandson Rezende, Karpeles Jacek Zabawa, Mr. Slime
Publisher: Milk Shadow Books
Release Date: 2011
Pages: 36
Price: $4.00
Artwork: 4.0 out of 5
Welcome back to the worlds best Down-Under-Ground comic! This is yet another Gore-geous version of Yuck!, but also the most visually twisted if you ask me. So what do I mean by that visually twisted comment? Well this issue has the same adult imagery as the rest, but towards the end, there were these 2 very odd images that have left me in a state of saying "Huh?" It's not a bad thing just a mind scratching wonder. The stories look great one after another and that's all my eye's were really asking for.
Story: 4.0 out of 5
16 shorts! 16!! This book is full of stories that range from the sexy, the dirty to the down right correct. Correct? Yeah the correct from a religious stand point. From the horror side of things there is really only one story that fits and it's yet another fantastic round of Millennial Monsters. All I can say is poor Drake. I loved these stories, but I do caution you again because they are adult in nature. Three of my other favorites were My Lotto Jackpot Fantasy, Kid Brother and Degrees of separation. Just funny stuff all around.
Dying Breath: 4.0 out of 5
I have to say that Yuck! is not yucky. It's funny and I want to read more and more. While I do say you need to be in the age range, you should be checking this one out. So lets all get on a plane together and fly over to Australia so we can buy these by the truck load and bring them back here to the States. I say check it out, I think you will check it out too, because when the head knows whats right you will too.
If you would like to buy or know more about Yuck #4 you can find it at milkshadow.wordpress.com/