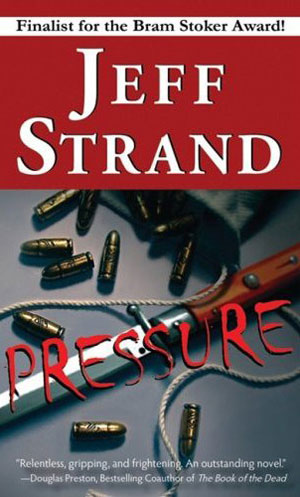 PRESSURE
Written by Jeff Strand
Published by Leisure Books
Publication Date: 2009
Format: color – 323 pages
Price: $7.99
There are times in your life where you're looking for that one of a kind novel that will keep you at the edge of your seat, well let me tell you about one novel titled, Pressure. It's written by an author who manages to capture his readers' attention by writing the most terrifying scenes that could possibly be conjured up. It often makes me wonder about horror writers these days, it makes me wonder how in the name of Hell are they able to come up with what they've written. The novel was very good, from the very first page until the last page.
There were a lot of ups and downs within the pages of Pressure, not that it's bad. I think it's very good, the characters' relationships to each other were well written, it made you feel a sense of compassion for what each of them went through. Even when writing about the antagonist who's one sadistic son of a bitch. In every horror novel I believe there should be that one memorable villain that we can come to despise in the story for the actions he commits and the character of Darren Rust does commit some really unspeakable actions throughout the book.
It often makes you wonder what people are actually capable of doing. If you're looking to find out how truly sick and disturbing they are, go ahead and read Pressure, you'll find out for yourself just how low a person could go. The actions that are depicted by Darren and what he puts the protagonist, Alex through are enough to make you cringe and hope that this sadistic f*cker gets his just deserts. I didn't have a problem with the pacing, the pacing was nicely done.
I'm amazed at how the author was able to span from childhood times to adulthood through the eyes of the protagonist, Alex. We get to learn a lot about him and his childhood friends where he had the misfortune to live at a boarding school for doing a simple childhood stunt. We get to see the many joys and happiness that Alex goes through in his adventure in the book, we get to see the many heartaches and trials and tribulations he has to endure at the hands of someone who claims to be his friend but wants to turn Alex into what he is and that's a deranged psychopath.
Some of the scenes written in Pressure are a bit unsettling, even in the childhood sequences of the novel. The author manages to do this well, Jeff Strand has had some experience in the world of horror and he knew what he was doing when he wrote Pressure. Because of the violent nature of this book, that shouldn't be the reason why you won't decide to pick up and read it. There is a great sense of morality written within the pages of the book.
You get to feel all of the pain and suffering the characters go through in the book, you get to experience all of the heartache and loss that the protagonist goes through. That right there makes Pressure one hell of a horror novel. Jeff Strand has a natural talent for being able to convey all of the raw emotions that a person could feel within Pressure. He isn't afraid to show the dark side of humanity at all, he isn't afraid to take us by the hand and lead us down a dark tunnel where some of the darkest horrors are just waiting there in the darkness to frighten us at our very core.
This horror novel was written with every ounce of passion that came from Jeff Strand's imagination, that's another reason why this book is well done and why I really enjoyed reading it. The deep characterization alone is enough to make this book worth every penny. I would definitely read another one of Jeff's books, anytime.
Available from Dorchester Publishing Company