Exclusive Horrornews Interview – A Skylit Drive guitarist Nick Miller:
How do you think your music would identify with horror fans?
Our music can sound pretty scary. If Cory and Brian's screams don't scare you at any point on our new album, Identity on Fire, there might be something wrong with you.
How was the band, A Skylit Drive, formed?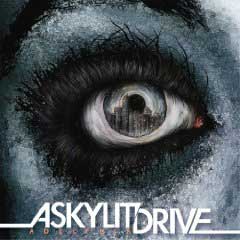 Most of us have known each other basically all of our lives and have been best friends since middle school. Once middle school hit, we were all listening to the same music that ranged from New Found Glory to Thursday to Refused. We started a couple bands between Brian, Joey, Kyle, and myself. When high school hit, we were all little rebels and all we wanted to do was be in a rock band. The first time we saw Cory we knew we had never seen anyone with a style like that, and our whole vision was to be different, so naturally we knew that crazy looking dude was going to be our drummer. So we stole him. Jag hit us up after finding out we needed a singer for our first full-length, and once we heard him hit that first wild high note, the rest was history
Tell me about your writing process and where you get your ideas from?
The songs start out on guitar. Usually I'll bring a very simple idea or a cool riff to the guys and we build from there. Definitely a group effort and collaboration. Once the song is done, sometimes Jag will bring lyrics and/or melodies to us and sometimes some of us will sit down and write some lyrics and melodies together. In the end, everything works itself out being a collaboration which is great because it has made us all closer and more cohesive as a band. So maybe Joey won't suck as bad.
What would you list as the highlights of recording Identity On Fire?
Working with Cameron Webb was an honor and a HUGE part of the album. Having enough time to work on it was a highlight. And honestly hanging out with the dudes everyday and making music with them was one of the highlights of my life, not just the album. Everyone worked so hard and we all really respected eachother and what we were bringing to the album. Just becoming even better friends with my already best friends was my highlight.
I grew up on 80's music. Is there any 80's band that you look at as an influence?
I love the 80's. I seriously think I was accidentally put in the wrong era. My mom gave me her Def Lepard tape with my new tape player for my 8th birthday and I having been all about being bad ass and not giving a sh*t ever since! I knew I would be in a band the second I listened to that tape. Thanks mom, and also a special thanks Motley Crue!
I want to know the bands favorite horror movies?
We all love horror movies… Friday The 13th… we quote Silence Of The Lambs all day "oh waaait.." Halloween… we love it all.
Well, speaking of horror, have you guys ever had any "horror" stories from being on the road?
We have stayed in a haunted hotel in Texas, and this is no joke, our van has been broken into and burglarized, which is like breaking into our home… We took a tour through an old abandoned slaughter house in Virginia I believe. That was the scariest experience of my life.
Do you have a favorite venue where you like to perform?
I have a few faves. I always dig the Boardwalk in Sac because it's such a close intimate show and that's our hometown which always rules. I love the School Of Rock in New Jersey. The Norva in Virginia. Every House of Blues.. There are so many more its hard to pick a favorite!
What is your favorite song ( either your own or another artist )?
I have so many favorite songs… Smashing Pumpins – "Disarm", Underoath – "It's Dangerous Business Walking Out Your Front Door", Skrillex – "Scatta", Wiz Khalifa – "This Plane", Refused – "New Noise". Those are just a few I could seriously name off 100…
What's next for A Skylit Drive?
Tour with Underoath and Thursday starting January 20th, and the release of Identity On Fire which on February 15th. Other than that, just doing what we do and getting rowdy across the world, 2011 style.