For Twilight fans everywhere, here's an exclusive sneak peak of some steamy photos during Bella & Edwards honeymoon scene in Breaking Dawn. Over Thanksgiving the director, Bill Condon, teased fans with a separate shot from the scene in question of Bella's hand clutching some feathers. And he also had this to say about the scene.
"It's one of the most anticipated scenes. I spent a tremendous amount of time thinking about it. The anticipation is part of it, and you want to play with what people expect and maybe subvert it a little and surprise them."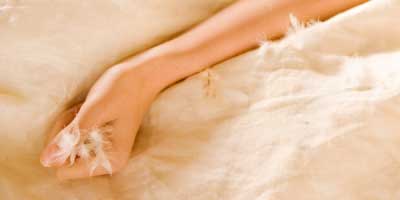 Part 1 of Breaking Dawn, which is being filmed simultaneously with Part 2, will be released in theaters on November 18, 2011.