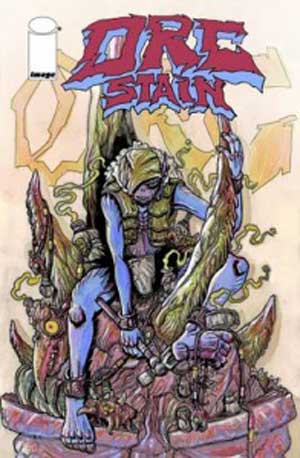 ORC STAIN – ISSUE1

Creator, Writer, Artist & Colorist: James Stokoe
Published by: Image Comics
Publication Date: 2010
Format: Full Color – 36 pages
Price: $2.99
"A one-eyed orc with the ability to find the weak spot in any structure has started to notice cracks in the endless war and conquest of orc existence. JAMES STOKOE, who won over hearts and minds with his space trucking cooking adventure Wonton Soup, brings you his first ongoing series. Frontline green slaughter comics in full orc color."
Artwork: 4.5 out of 5
Wow! Well okay hold on let me try to rephrase that…WOWZA! There that's much better. This issue is amazing in detail, color and just all around fantastical beauty. Sure I am making up words but, when there aren't words to describe something, that is what ya gotta do! This book has that look that it should be in an issue of Heavy Metal and by all means do not think it is for all ages, because it hits that mature audience market too. The characters and the world around them are so detailed that you could spend hours just looking at the panels. Hands down amazing issue here.
Story: 4.0 out of 5
While the art just hits the ground running the story seemed to build as it went along. The dialogue took me a little time to get used to but I got the hang of it. I love what is going on here, as I was brought into this vast world of monsters and everything just seems to contain so much evil. The idea of using actual creatures as safes was so cool and yet so disturbing. I am hooked and can not wait to see where this goes, because I think that there are almost endless possibilities in this world.
Dying Breath: 4.0 out of 5
The artwork may have taken off out of the gate, but the story sure did catch up fast. I can not even begin to dive into how much I am looking forward to issue 2. Be once again know that this is a mature book and the closet I can come to a similar idea would be within the pages of Heavy Metal. The idea here is unique and fresh which just leaves the possibilities so wide open. This is one I will be on board with for a long time. Check this book out.
If you would like to know more about Orc Stain you can go to http://www.imagecomics.com/