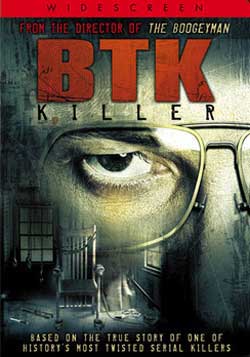 SYNOPSIS:
After claiming a string of innocent victims in the 1960s and '70s, a serial murderer dubbed the BTK Killer — for "bind, torture, kill" — simply stopped his rampage and mysteriously disappeared. But when his handiwork resurfaced 30 years later, police were finally able to nab him. This grisly account of his high-profile carnage and capture is based on the true story of Dennis Rader, one of the most notorious slaughterers of all time.
REVIEW:
Written by: Ulli Lommel
Directed by: Ulli Lommel
Starring: Gerard Griesbaum, Eric Gerleman,Danielle Petty, Nola Roeper, Crystal Nelson, Emelle, Ricky Love and Christian Behm
Hell-o again, True Crime Buffs. This is one case that I honestly cannot say that I have followed since the beginning as with so many others. When this killing spree started, I was negative two years old. For those of you that have already done the math in your head, two years before I was born. This killing spree started in January of nineteen seventy four. I picked up on the case as it resurfaced in two thousand four… the resurfacing and second round of this killing spree. I am talking about Dennis Rader, also known as, The B.T.K. Killer. Right away, the story interested me, so I picked up at his arrest and learned in reverse.
Dennis Rader was a family man, a father, a church group leader, Cub Scout pact leader, Dog Catcher, a security alarm installer and a torturous, cross dressing, fetish motivated Serial Killer. This darker career lasted for a span of over three decades, before he was finally apprehended. His signature was rope marks, usually around the neck. He wrote letters to local news stations in hopes of national coverage He once asked them how many people he had to kill to gain national attention. He would also go one to tell them that demons told him to kill and he already had his next victim planned out for prey. Rader wrote this letter under the fictitious pen name, "Bill Thomas Killman… or "B.T.K." to a local newspaper. Another small packet of letters were mailed shortly afterwards to a local Wichita television station. This one was written in chapters. The first page read The BTK Story. This was basically a series of stories taken from various news sources on the BTK Killer. Later, another packet was sent to a local newspaper. This one had a return address with the name Thomas B. King… or "T.B.K."
Later, he wrote a long letter which was basically his life story. Still, not a soul knew his true identity. He also lead the Police Force on a macabre scavenger hunt throughout the town of articles or belongings of his past victims. It was later determined and revealed, because of the Method of Operation, that B.T.K. Was in fact, not the initials of someone's name, but the initials of operation… Bind, Torture… Kill. His own family member was the one who showed the kindness to submit her DNA to help free him from a charge in the past and the one with the courage to turn her own father into the police, to show them who he really was… and had been for years. Three decades to be exact.
I just wanted to give you a little more detail on the killer, himself. This film, B.T.K. Killer does not. The film itself is only half way true and a lot of fabrication. It skips back and forth through time periods… From the seventies, to the present. The film makers claim that he makes "reality Horror" in the commentary. Later, the term is switched to "Terror Films." I guess they are trying to create their own sub-genre (such as Lucifer Valentine's "Vomit Gore"). Terror Films, I can see where they are going with this one… Reality Horror, I totally disagree. They go on to say that the term, "Reality Horror" does not reflect the subject matter, but the cinematography, editing and way in which the film was presented. To me, if it isn't true, then it is not "reality Horror." Although this film is based on the true story, it is far from the truth (such as a few others out there).
They go on to brag about how the production company (in which I will not name) puts out four films a year, and works on several productions simultaneously. In my opinion, you can almost tell this fact by the feature "presentation" itself. A few of the same actors play a few different characters (and everyone of them are featured in at least one or several more by the company). There is a major difference between putting out four films a year and four good features a year. This film in particular had its good points and bad points. It is one of the more entertaining in their series of Serial Killer films, besides the painful fact that most of the story is false. I think that if you're going to make a film based on someone's life, base it on their actual life and not hat your imagination can whip up to tell a story.
The acting, for the most part is horrid. Some of the dialog is loaded with extra cheese as well. The music score is set to go along with the thoughts in Rader's head as he repeats his publicly known name… (imagine Beavis and Butt-Head going… "dun…dun… dun… dun dun dun" behind each letter…) B…T…K…BTK. That is the score. Very cheesy and fails to set any kind of atmosphere. He also repeats this three letter identification throughout the movie. If I heard the line "B…T…K… BTK" with that score one more time, I was going to bind, torture and f*cking kill myself. The film makers said they wanted something controversial. I guess that's why they added the random Faces of Death style slaughter house footage. They said that they wanted to put a moral message of eating beef in the film as well(?). The slaughterhouse footage is some of the film's most graphic scenery. Trust me animal lovers, you'd probably get more of a thrill watching the people tortured and slaughtered like animals throughout the film. In the this adaptation, he also tortures his victims with animals such as snakes, scorpions and worms… and a dog. The one part they based on actual fact was the taunting of the television station via postal mail.
The Gore Score is quite high. This is mostly due to animal torture. The scenes with this approach are probably the hardest to swallow. The human slaughter is decent, but I think it is mostly human binding and torturing… and animal killing.
There film was sent back and forth to the MPAA (Motion Picture Association, the Rating Board) to get an R rating. Four or more scenes had to be cut and shortened to receive this certificate. The editing was awesome for the most part (one of the films best features). There are spinning camera shots that fade in and out, overlap and some cool bondage shots (I think its sexy. Not in an abusive, painful manner… but the visuals). The film (and camera used) looks cheap, but they say it is supposed to look that way (then again… all of their films that I have seen look this way).The DVD Special Features include a commentary with the Writer and Director and Jeff Frentzen and a trailer gallery.
I guess overall, this film is worth checking out once. If you are a stickler for fact and realism (such as myself) and know what really happened… You might be let down. Other than the acting, score and some of the dialog, and if this were an absolutely fictional person, case and occurrence I might think the movie was okay. I did like the filming aspect of the whole ordeal. With that being said… I give this film, BTK KILLER, TWO HORNS UP.