SYNOPSIS:
Lorraine and Mark enter the world of witchcraft where Mara foretells the future and helps them remember their past lives. When a series of mysterious murders begin to occur, they turn to Dr. Helsford fort advice.
REVIEW:
I'm going to make an observation from watching "Blood Orgy of the She-Devils", this movie is ripe for a remake and it could actually be pretty damn good if it was done properly. As the film stands, it is a ridiculous mess. The story is thin, acting is rotten, the effects could have been done on a Commodore 64, and the title has no relation to the story. So keep in mind that there are no blood orgies and no she-devils. It's kind of sad if you think about it. This is one of those movies that have been on my radar for quite some time and just never made my way to it, until now. I hate using the term "so bad it's good", in this case it is almost correct. "She- Devils" was directed by legendary schlock-master Ted V. Mikels, who helmed classics like "10 Violent Women", "The Corpse Grinders", and "The Astro-Zombies" (which starred the late John Carradine and the amazing Tura Satana. Those films were a bit more fun for me, though there are enough highlights in "She-Devils" to make it worth a view with friends and some brew.


Mara (Lila Zaborin) is a witch that leads a coven of scantily clad mavens that partake in dance numbers as part of incantations that end in human sacrifice. That is just a side gig for her since she also works as a medium, helping people discover their past lives. She also has time to work as an assassin that uses her mystical powers as a means for getting the job done. She does what she is supposed to do for a client, who in turn doesn't want to leave any witnesses and brings in the muscle to take her and her sidekick Toruke (William Bagdad) out. Well you can't keep a good witch down and within moments she is back, ready to exact her revenge. At the same time Mark (Tom Pace) and Lorraine (Leslie McRae) along with their teacher Dr. Helsford (Victor Izay) are fascinated by the wicked witch and spend most their time trying to distinguish the white arts from the black arts. Of course, everything must come to a climax when they get to close to Mara and her mavens and it is going to take a magician sorcerer just as strong in order to fight the evil.
With a title like "Blood Orgy of the She-Devils" I was expecting blood and boobs aplenty. Don't be fooled, there isn't a single breast to be found but watching the scantily clad, all natural young ladies grinding around the fire was a pleasant treat. Mikels knows where to place a camera when they are in a room though the film does remain tame. And to make it even more worth your time, it really doesn't take up much of your time. It runs about 74min and helps make it a fairly entertaining b-movie experience. Some of the acting is hilarious though I will have to give it up for Lila Zaborin who may have been over the top but she also embodied the character of Mara and is a blast to watch.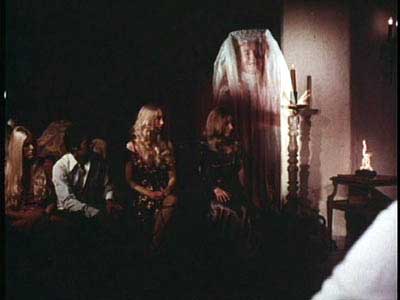 Every single effect in the film is laughable, from the green mist, the electricity shooting from the fingers that looked like hands in front of lights or something, and the ghost in the séance. Just an awful film but I will admit that I will be watching this again. There are some moments that made me laugh out loud, though unintentional laughs, and a story that, if the script had been better hatched, held my interest. I'll be honest, I enjoyed watching the scantily clad mavens dancing and gyrating was pretty easy on the eyes. There is something about women of the 70's that I still get excited over. I think it was the fact that they didn't look like sticks and bones and no artificial parts.