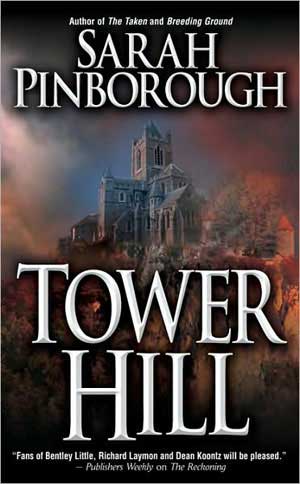 TOWER HILL
Written by Sarah Pinborough
Published by Leisure Books
Publication Date: 2008
Format: Color – 320 pages
Price: $7.99
Dorchester Publishing's horror imprint Leisure Books are actively supporting British horror writers like Sarah Pinborough and Tim Lebbon and that's gotta be a good thing; spreading the word of international horror to mass-market English-speaking audience.
Well, not to put a dampener on this noble quest, but Sarah Pinborough's most recent Leisure Books novel TOWER HILL continues in the footsteps of the totally-annoying IN THE DARK (Richard Laymon) and the totally-lacklustre DARK HOLLOW (Brian Keene) – in my book that's THREE STRIKES AND YOU'RE OUT.
I love real horror. I remember a time when X-certificate horror actually meant something. Who can forget the vampire eyes of Christopher Lee? When you were supposed to be unnerved and disgusted by a horror title, cowering behind the couch. Imagine THE EXORCIST done now, there'd be an anodyne corporate team of multi-cultural parapsychologists in fast-cut cameos spitting their intellectual pontifications onto slim-line touch-sensitive laptop screens the general public won't see for another five years. The music'll be sorta generic and aiming for pulse-raiser.
TOWER HILL has all the staple elements of dietary horror we the consumer needs, right? It's got the sinister painted cover. It's got the New England setting. It's got the college. And the church. Should be a winner, right? Wrong. That's been done. To death. You're a writer? You're a writer of horror? Always stay away from archetypal corporate imagery. You are worth more than that. Get off your knees in front of that demon. Pick up a f*cking shotgun. And start to paint YOUR PICTURES of real literate horror the reader will never want to throw at another wardrobe. Something you can, as a human being, be proud of having penned.
Dumping a self-mutilation scene from somewhere past the middle of the book in as your opener doesn't really help my patience either – not when I'm waiting for the HORROR to start for nigh on 200 pages. It's an adult book – so scare me already. But no, it continues on in its amazingly twee mid-Atlantic fashion about french fries and goin' t' church and cardigans. And you're thinking, "Where's the horror?" I mean really. It was a real struggle to plough through page after page of (admittedly well constructed sentences) of the most banal filler I can ever remember a book containing.
"Ball-less, soul-less, spirit-less, corporate little bitches, suckers of Satan's c**k, each and every one of them." that's what my superhero Bill Hicks used to say about family safe rock 'n' roll. And he was right. There's nothing worse than a product that panders to the lowest common denominator of a supposed mainstream audience. And that's all this book does; to its detriment. No wonder the genre as a whole is falling apart. It's almost like horror writers no longer want to share personal visions with six billion global readers. Your common-or-garden horror writer knows what his daddy says he should write and he's a good little boy, or girl in Sarah's case.
In fact, I've got absolutely no idea what's happened to horror since I read William Peter Blatty's EXORCIST and LEGION. That was real horror reading. Clive Barker's books rocked, yeah sure. But what's the best thing I've read that's even comparable in recent years? Well, I have to go right back to Whitley Strieber's COMMUNION. Hell, even Strieber's vampire books were good in comparison. I recently read a novella by David L Tamarin called PEACHY LIKE NIETZSCHE and that completely blew me away – I told him so and he granted me the insane pleasure of the knowledge that he's expanding it into a full novel. Yeah, that'd rock. That'd be real contemporary horror.
Fuck the reader, Sarah; it's your genre, not theirs. You're an English woman, let that through in your books. Don't try to please a publisher, don't fear the reader. He's supposed to feel shocked, insulted, terrified by your book, not ambivalent to your written-by-numbers effort. And later scenes show that if you let rip you could really rip the pubic region bare with the power of your prose. Just go for it.
But then I remembered back to my other all-too-intimate soujourns with Leisure Books and it all started to make sense and I knew what Leisure were trying to do, and it's a genius plan; they're ever-so-softly breaking into the teen market via their titular HORROR arm; they're gonna phase out adult horror over time and make things like TWILIGHT the pinnacle of what scarin' should be like. Horror is no longer, it's just elements of horror prettified for mass consumption. I mean, after all, it's a dumbed down public out there, no more so than the spoilt teens, mentally injured by their mobile phones and sodium fluoride in their drinking water, to whom this book is really being pitched by the publisher.
Available at AMAZON