previously published -10.21.08
The Insomniac was off to the Toronto After Dark Film Festival to get some of the color of the festival and to check out some new flicks. The Insomniac was joined by horror diva Ms. Nikki for company and so I didn't have to talk to myself all the time; people do stare when you talk to yourself and have no phone handy to hide the fact. Wish those meds worked better, oh well.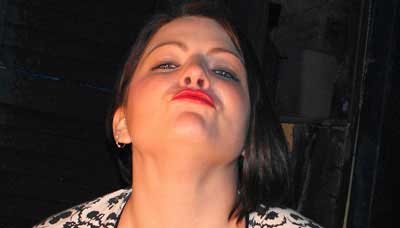 A last minute wild ride through many miles and construction made us late for the opening film,"Let the Right One In", which played to a sell out crowd. We collected our press passes from the very nice volunteers at the Bloor Cinema and headed to the Annex Wreck Room to mingle with the other guests who appeared to be mostly bloggers and fans. Big Screens played horror trailers from mostly the 60's while music from my misbegotten youth filled the club. After too many drinks from the lovely ladies who work the bar, there appeared a man on stage that was quickly duct taped to a chair. The act from the performance group "Circus of the Damned."
involved an extreme burlesque show with human stapling, lap dancing, gasoline and the pulling of duct tape from defenseless skin. A strange feeling of arousal and fear hit me like a ton of bricks. I am planning to have nightmares for many, many weeks. I would say Maverick call me, but if she did I would move so fast to Mexico no one would ever find me. You really need to see them for yourself. The party continued with the Parkdale Revolutionary Orchestra.
They are classically trained musicians who play a mesmerizing mix of orchestrated pop. Ms. Nikki while searching out all inappropriate men in the club find herself in the front row to get a taste first hand of the aggressive comedic styling of Jason Rouse who decided that Nikki looked like she liked to take it in the face and to have it come out her nose when she laughs. Nikki was laughing so hard she didn't know what hit her. Interested that my camera for the first time refused to take a picture with Jason and Nikki no matter how hard I tried. Tooo evil?
While at the festival we saw "Idiots & Angels", "Mirageman" and "Repo! The Genetic Opera." which were all first class films. The festival is growing and is a very serious film experience, which can only get bigger and better. All the films from the festival need your support and get ready to buy your tickets for next years' Festival.
I plan on reviewing Repo! in depth in the near future. Please leave me some cake; even festivals are better with cake.