Horror Talk with Travis Legge
Greetings, boys and ghouls!  My name is Travis Legge. I'm a horror filmmaker (my first feature, Raymond Did It is set to be released on February 11th, 2011)  and Internet junkie, who has recently had the extreme good fortune of taking the reins on Horror Talk. I can't begin to express how grateful I am for the chance to bring you the best in guts and gore every week. Rob Delamorte' set the bar pretty freaking high on Horror Talk and I intend to live up to that precedent by bringing you the best and bloodiest in Horror News each Wednesday. The powers that be have smiled on me this week, because we have a TON of post-Halloween goodies to share with you.

So, lets get this party started, shall we?
First on the chopping block: movies. The Halloween season is chock full of treats for horror fans, and this year was no exception. In the spirit of giving out goodies, Red State director Kevin Smith released a teaser poster for the upcoming film, which the IMDB synopsis describes as "A horror film in which a group of misfits encounter fundamentalism gone to the extreme in Middle America."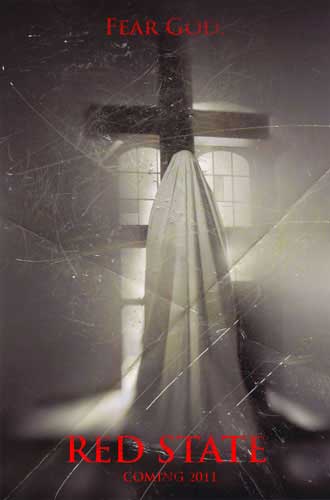 The poster, which Smith calls "The Holy Ghost", was created not by an advertising agency but by Red State producer Jon Gordon's assistant, Melissa Bloom. Smith has indicated some troubles with press outlets failing to fact-check about his films in the past on his twitter feed. While speaking of the film press in regards to Red State, he tweeted "If you wanna cover RedState, feel free. If not, totally cool: we're covered either way."
Well, Mr. Smith, I would LOVE to cover your film. I guarantee here at Horror Talk, we won't be publishing anything without having our facts straight.
Tim Sullivan, the genius behind the 2001 maniacs franchise and the featured director/judge on season 2 of VH1's Scream Queens has just begun production on I Was A Teenage Werebear, which is Sullivan's contribution to the Creepshow-style horror anthology Chillerama. Sullivan called his segment "the first VIBESEXUAL horror comedy musical mash-up of REBEL WITHOUT A CAUSE, TEENAGE WEREWOLF, HAIRSPRAY, LOST BOYS, CARRIE and TWILIGHT" in an announcement on his Facebook page. With segments being directed by Adam Green of the Hatchet franchise, Joe Lynch, the director of Wrong Turn 2 and Adam Rifkin, who brought us the KISS Army masterpiece Detroit Rock City, Chillerama promises to be an outlandish and fun gorefest.
It appears that The Devil in the White City, the book by Erik Larson which chronicles the activities of America's "first serial killer" H.H. Holmes, has been optioned for development by Leonardo DiCaprio's production company, Appian Way. Personally, I'm excited about this. Given DiCaprio's performance in The Aviator, we know he can portray someone who is incredibly off-kilter and with Shutter Island under his belt, we know he can tackle horror.
Holmes was a prolific serial killer operating in the late 1800's in Chicago. His final body count lost to history, some estimates credit him with over 200 victims. The hotel he owned in Chicago, dubbed the Murder Castle, was filled with secret passageways and hidden doors that permitted him to stalk his prey.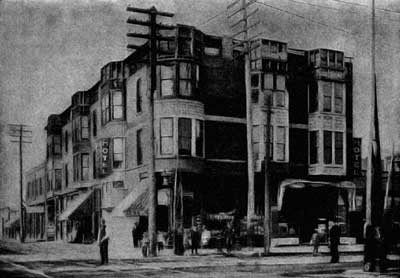 Quite frankly, I'm excited to see the infamous Murder Castle recreated on the big screen. Best of luck to DiCaprio! We will be watching!
When the name John Carpenter comes up, I drop everything and listen. Hot off the heels of his well-received return to cinema, The Ward, it has been announced that John Carpenter will be directing the big-screen adaptation of popular body-horror comic Darkchylde.
Now, I must admit that while I am a huge comics fan, I am personally unfamiliar with Darkchylde beyond its basic premise. The book reached its highest popularity during the big boobs/big guns/big aliens boom of the 1990''s (or the Image era as I like to call it) and many of the comics of that time just didn't catch my eye. Of course, now that Carpenter is firmly attached to direct the film adaptation, I suppose familiarizing myself with the book is in order. Fortunately digital issues of the comic ara available online through WOWIO.com. Unfortunately, as of yet, we have received no official word as to the U.S. release date of The Ward but as soon as I know, you will know.
Naturally, being Halloween weekend, horror film reigned supreme at the Box Office. The latest, allegedly final, installment of the Saw series, Saw 3D opened Halloween weekend, making just over 24 million dollars, and usurping the title of highest-grossing horror franchise, previously held by the Friday the 13th films. Maybe this news will light a fire under Platinum Dunes to resurrect the ill-fated Friday the 13th remake sequel…
Seriously, I'll direct. I work cheap. Honest.
Paranormal Activity 2 came in at second place in the Halloween box office, garnering 16 million dollars. While the pseudo-documentary franchise has a long way to go toward being the highest- grossing series in horror, they just might be the most profitable.
In television news, AMC premiered their new original series The Walking Dead to over 5 million viewers, which marks this as the biggest premiere for any original series on the cable channel. The ratings for The Walking Dead buried just about everything else this week and the response from both critics and fans have been overwhelmingly positive for the show. The perfect combination of Frank Darabont's direction, Greg Nicotero's stunning makeup effects, and Robert Kirkman's soulful source material have made for an incredible beginning to the series. I, for one, will be glued to my television on Sunday nights, eagerly devouring this series episode by episode. If you love zombies, join the horde and watch The Walking Dead. The Walking Dead airs Sundays at 10 PM/  9 PM central.
Between The Walking Dead and Darkchylde, horror comics are receiving an incredible amount of attention this week. It seems only fitting then that advance copies of Nick Tapalansky's Awakening Volume Two are making their way around the convention circuit. Premiering at New York Comic Con, the follow up to Tapalansky's critically acclaimed Awakening has met with rave reviews and rabidly positive fan response. Awakening is a noir inspired zombie tale with a creeping pace and incredible characters. Alex Eckman-Lawn, whose art perfectly conveys the gritty, creepy mood of the comic, is the graphic mind behind the look of Awakening.
To learn more about Awakening visit the Archaia Comics Awakening site . Awakening Volume Two is currently available for preorder on Amazon.com.
Speaking of horror comics The Horror! The Horror! Comic Books the Government Didn't Want You to Read! By Jim Trombetta hit the stands this week. This 304 page book collects several pre-comics code horror comics, chronicling the very images and ideas that were called to question in the 1954 Senate Subcommittee to investigate juvenile delinquency. As a huge fan of the old EC horror comics, such as Tales from the Crypt and Vault of Horror I can't wait to get my hands on a copy of this book.
The Horror! The Horror! Is available for order online at the Abrams Books website and includes a twenty-five minute DVD containing a circa 1955 television show that chronicles the alleged evils of comic books.
That wraps it up for this week. Thank you so much for joining me for Horror Talk. I hope you had half as much fun reading it as I did writing it. I look forward to your feedback, and I encourage you to visit the Author Site link below to see what I'm up to. Drop me a line, let me know what you think of the article, my work, or whatever strikes your fancy.
I would like to take a brief moment to wish a very Happy Birthday to horror icon Debbie Rochon.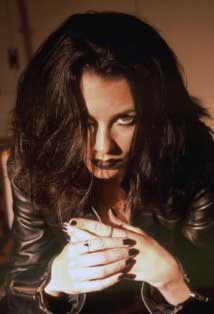 Horror fandom owes you more than you'll ever know. Thanks for continuing to be the baddest Scream Queen in horrordom.
Many Bloody Returns,
Travis Legge