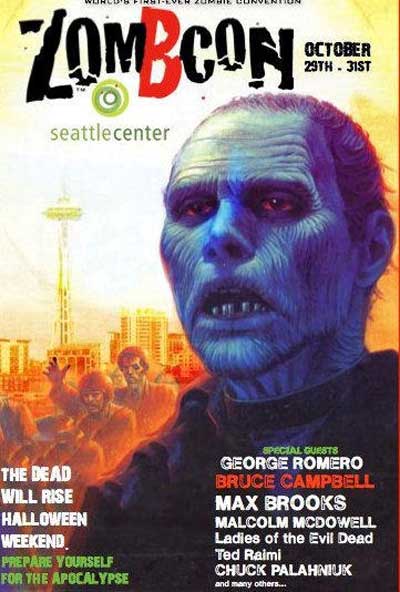 If you live in Seattle, Washington, then prepare yourself for the undead to arrive in your town this weekend with ZomBCon – a "convention of the living dead." The guest list includes George Romero, Bruce Campbell, Ted Raimi, Max Brooks (author WORLD WAR Z), Chuck Palahniuk (FIGHT CLUB), Malcolm McDowell (CLOCKWORK ORANGE), John Amplas (MARTIN, DAY OF THE DEAD), Terry Alexander (DAY OF THE DEAD), The Ladies of THE EVIL DEAD (Theresa Tilly, Ellen Sandweiss, Betsy Barker), Danny Hicks (EVIL DEAD 2), Timothy Patrick Quill (ARMY OF DARKNESS), and Sean "The Butcher" Smithson (writer, Fangoria, Dread Central, Twitch).
ZomBCon will also feature workshops, autograph sessions, seminars, Q&As, Zombie Research Society symposiums, a Prom Of The Living Dead costume ball, a Films That Ate Our Brain film series, readings by authors, a mass wedding ceremony performance by Bruce Campbell, and several red carpet galas.
You can check out more information about the con atThe ZomBCon Website.