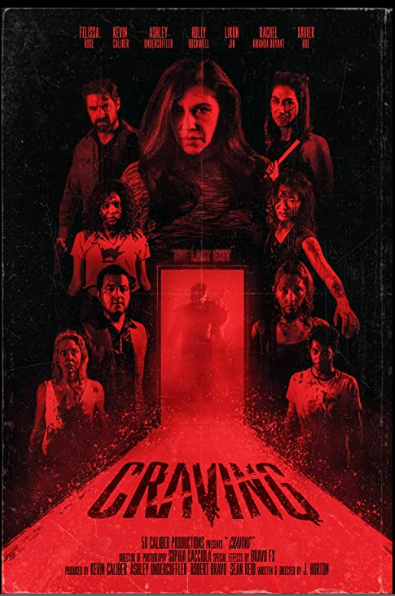 J Horton's new horror film, Craving staring Kevin Caliber, Rachel Amanda Bryant, Al Gomez, Gregory Blair, and Felissa Rose in a dramatic turn as a recovering alcoholic.
Craving will be coming out Spring 2023 from Indie Rights featuring great practical special effects and full on creature design by Bravo FX. Produced by Kevin Caliber, Ashley Undercuffler, Robert Bravo and Sean Reid and from 50 Caliber Production in association with World One TV.
Synopsis: A group of heroin addicts are besieged by a mysterious masked group inside a roadhouse bar. As withdrawl starts to set in, a secret one of them is carrying threatens to destroy them all.
Director J. Horton has directed over 20 independent feature films including Edges of Darkness, Deathday, Trap and I Want to Believe.
"Craving features some amazing de-aging effects. 'There are scenes featuring the same characters from 20 years prior. We were originally going to do it with makeup and lighting. But our digital fx guy said he could do it and boy did he. The work is seriously impressive. I've not seen anything like it on a movie at this budget level" – J. Horton
For more information:
Craving – Behind the Screams
www.facebook.com/groups/381144730458759