SCARE PACKAGE II: RAD CHAD'S REVENGE Now Available on Shudder
SCARE PACKAGE II is a meta horror-comedy anthology film, from creators Aaron B. Koontz & Cameron Burns, that immediately follows the events of the cult hit original.
The film is built around a core story that breaks off into four smaller segments with each moment geared to subvert a different set of horror tropes, and brought together by a promising group of up-and-coming horror filmmakers.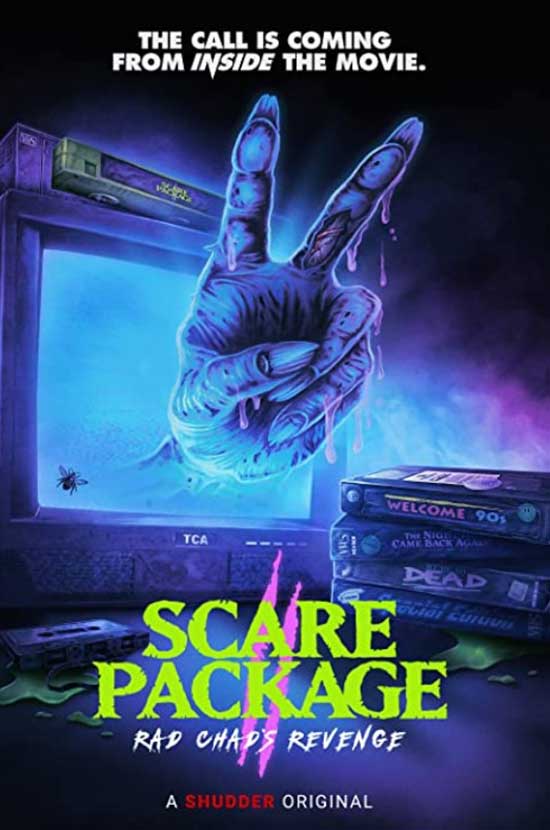 Please tell us a little bit about Scare Package 2: Rad Chad's Revenge, and how the idea manifested for you? 
Aaron- I knew that we didn't want to just go back to the video store and put more tapes in. That was the easy answer here and while it would be fun, I never want to do the easy answer. So we instead followed the story-line from the first, challenging us with different ways to present the segments at an even more meta-frenzy, if you will, and find ways to bring back folks that were previously dead. AKA, just like every other horror sequel out there. And then after watching how crazy the SAW sequels got, and connecting the indignation of someone like Jigsaw to our own Antagonist, only with their ire being the world not taking horror seriously enough (B-Movies, Elevated Horror etc.) and we had a fun new set of tropes to usurp.  
Scare Package was one of my favorite films. Do you think you will do a third one? 
Aaron- I would love to! I will say that I do have a "Rad Chad Trilogy" in mind here, that I would be delighted to have the honor to make. Just need enough folks to watch this one to give us a shot! 
What was it like working with Alexandra Barreto and Anthony Cousins?  
Aaron- are close friends and I saw her short LADYHATER and loved it. Once Ashleigh told me she was a horror fan I jumped at her being a segment director and boy, did she not disappoint! Alex was so calm and empathetic to her cast and really could pull these wonderful performances by creating such a welcoming atmosphere. And I loved the way she moved the camera made it have this energy that just really was a special experience. Alex is a huge talent and I can't wait for the world to see her Directing career to follow. 
Anthony we already knew from SP1 and we had become friends since, as he's also worked crew for us on other features we have produced. Anthony is one of the biggest horror fans I know and just has this wholesome sensibility to his approach with everything. He finds ways to appreciate the weirdness in horror and I just dig that so much! So, when we had the idea of doing an anthology first: creating a sequel to a segment, this became such a fun fertile play-ground for Anthony and his writing partner John Karsko to dive into. I will say that if we did get to make a third one, we would absolutely follow-up his segment again!
The cast did an incredible job. What was it like working with everyone?
Aaron- I feel so lucky to have the cast I do here. It's one thing to write all these crazy ideas but it's another to get people to actually do them! And I think what's so fun about everything SCARE PACKAGE is we create this little community where everyone is just down to clown, ya know? There are no egos. Just a lot of talented people getting together to make something special for no money. I loved the rules of the horror sequel where even if someone dies, you can just bring them back, no questions asked. But I also wanted to throw something wild at each of them, as well as the new actors. So Sam (Byron Brown) has to push his make-up heavy head through a TV, or Jessie (Zoe Graham) doing some big Michael Bay-esque stunt, or Jeremy King returning posthumously as Rad Chad on tape, but then also his character's cousin Bo Buckley, a South London Chimney Sweep enthusiast. It's just sillier and dumber and that's what makes it well, SCARE PACKAGE! And then to mix them with these impossibly talented actors just became such a fun and unique challenge. I mean, what other movie series can have Rich Sommer from Mad Men show up and then have him lose an arm in the opening moments of the film and stay with one arm the entire duration from there? Or to take that even further, skin alive the beloved Graham Skipper and have him also remain just a skinned hilarious character? Or ask legend Kelli Maroney to Vomit Acid onto my friend Jen Rader and then later get sliced into 5 pieces herself. It's just all wilder and wilder but when you have a group excited by those crazy challenges, you know you have a group that fits into the SCARE PACKAGE family. 
The effects are amazing as always; is there anything you can tell us about the special effects? 
Aaron- This is a staple of the SCARE PACKAGE movies and when we work with each segment director, we emphasize how important this all is. Anthony Cousin's really embraces this with his TNHCBA series alongside his creative partner Ryan Schadalee who is just a master at these complex pieces. The end of his segment was truly special. And then Rachelle Wiggins brought in M.E.G. in Australia to handle the cat kid at the end there and they just SLAYED it. We write in these big moments knowing how challenging they are going to be, and sometimes without a clue on how to execute them at first, but that's also when we know they will be special. For the main movie that I directed I brought back my friends David Greathouse and Nate Bright, both of which I worked with on THE PALE DOOR and they truly did something special here. On a page-by-page count, this was filled with gags. You have characters who themselves start every day as a gag (skinned, one armed that squirts) but then we have these huge kills like Maria Olsen's Bee Sting head explosion and they somehow managed to balance this and make each and every one just jump out from the screen at you.  
How did you get the cast prepared for Scare Package 2? 
Aaron- Ha, I don't know if you can ever fully prepare them for what this all will be. I will say that I think all of the cast minus maybe just the Ms. Kapowski role (Kelli Maroney) had signed on without even reading a script. I was working on this up until the last minute but everyone was just game either way. A god example of this is with Graham Skipper, who I just messaged and said "Hey I want you in SP2" and he said "Great!". And then I said, "…but there is a catch, you will get skinned alive and then remain skinned for the last 30 mins of runtime." To which he responded "Even better!" And everyone had this same mentality. Again, it's just a little community of misfits making this that I know no matter how wild my ideas get, they will be down. And that's such a freeing and fortunate place to be.
What are you working on next?
Aaron- I have my next feature that I have written with Cameron Burns and hope to start directing this year, a Sports-Horror-Comedy that I think is going to surprise some folks. The timing is getting tough on that, so not sure when we will start. But then aside from that I am also working on my first TV Series, so keeping fingers crossed that will get greenlit soon. Aside from that at my company Paper Street Pictures we have a number of exciting projects that I Produced coming soon including Emily Hagins' SORRY ABOUT THE DEMON 1/19 on Shudder. And then later we have the Fantasia award winning Sci-Fi THE ARTIFICE GIRL starring Lance Henriksen and Chris Stuckmann's SHELBY OAKS with just a rock-star ensemble cast that includes Camille Sullivan, Brendan Sexton and Keith David. Plus, a Christmas Horror from wonderful human Damien LeVeck called A CREATURE WAS STIRRING starring Chrissy Metz and Scout Taylor Compton. So we keep busy! But I can't deny, still itching to get back to finishing writing my idea for SP3, just hoping you all keep talking about it to give us an even better chance.