When boredom sets in and you fancy tackling a big boss or solving a puzzle, our smartphone devices are there to save the day. In fact, alongside listening to podcasts and scrolling through social media, millions of people are discovering the delights of mobile gaming. There are even some fantastic horror-themed games to sample, too.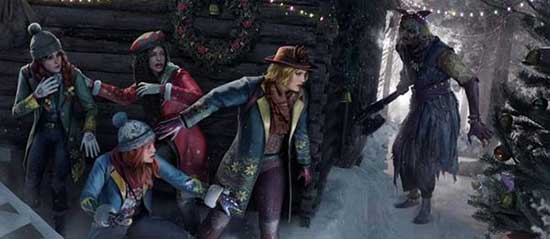 Smartphone gaming has certainly improved in recent times. Alongside the horror products is a diverse selection of titles that have most definitely led to a dramatically improved genre of gaming. For example, console-quality releases like PUBG Mobile are now making a successful transition to the mobile category of gaming. Away from the downloadable products are options like online casino games, with many mobile casino gamers opting to play Book of Dead as they enjoy the convenience of firing it up in seconds, before spinning the reels and potentially landing on symbols like Tutankhamen. Both these genres are supplemented by a diverse collection of products that have elevated mobile gaming's appeal massively.
Yet another inviting genre in the mobile gaming sphere is the aforementioned horror games. Over the years, we have seen a number of lazy cash grabs in the horror gaming world in general, but we aren't focusing on those rather forgettable releases. Instead, thanks to a number of horror titles that offer endless amounts of gore and chilling music throughout, let's assess the titles that are worth downloading on mobile right now. All of the games featured are available for download on android and iOS unless stated otherwise.
Horrorfield Multiplayer Horror 
Right now, team-based games are extremely popular. If you're in need of a horror-themed team game, then Horrorfield Multiplayer Horror is a solid option. Similar to global hit Among Us in many respects, the aim of the game is to either kill or escape being potentially killed. The survivors are in groups, while the killer has to try and track them down as they try and escape to safety. Essentially like a game of hide and seek, but in the virtual world, this immensely tense product will leave you on edge no matter what role you take on.
Dead by Daylight
If you're in need of a hair-raising mobile gaming adventure, then look no further than Dead by Daylight. A much-loved product, this multiplayer horror masterpiece clearly took inspiration from a number of classic slasher movies. As a result of this, the game's offering is excellent, with players either taking on the role of a survivor or a killer. Featuring some of the most famous serial killers in movie history, such as Michael Myers and Ghost Face, the game is a challenge. Survivors have to find a way to escape unharmed, while killers have to find a way to kill without being caught. Overall, especially when you factor in the impressive graphics and impressive story-based gameplay, Dead by Daylight is a great mobile game.
Into the Dead 2

When making a general assessment of this particular genre over the years, zombie-themed products are certainly some of the most favoured options around. One of the best of the lot, though, is Into the Dead 2. A first-person shooter, players have to survive against the odds as they aim to see off hordes of zombies in a post-apocalyptic world. Serving up a strong dose of violence and plenty of blood, you'll enjoy massacring your way to success in this one. It's worth noting that there are a number of different endings to the game, though, making it a title you can continuously session.
Other options include Limbo, The Room: Old Sins, Eyes, and Forgotten Memories.