Cookie Pop and Candy Pop have shared some Halloween recipes with Horrornews.net for this 2002 Trick or Treat Season.
Popcorn Ghost: (also fits the pumpkin and vampire ball with slight modifications):
Ingredients:
1 Bag of Oreo Cookie Pop
10 oz Mini Marshmallows
1/4 Cup Butter
1 Bag of white candy melts
1 Bag of candy eyes
Instructions:
Place the popcorn in a large bowl.
Melt the mini marshmallows and butter in a large pot over medium heat, stirring occasionally.
Pour the marshmallow mixture over the popcorn and stir with a spatula until the popcorn is coated.
Use butter or olive oil to grease your hands and form the mixture into popcorn balls.
Place the balls on a baking sheet lined with parchment paper (Allow the balls to cool completely).
Melt the candy melts according to the package instructions.
Dip the tops of the popcorn balls into the melted chocolate and return to the baking sheet. Allow the chocolate to set for 1-2 minutes before adding eyeballs.
Allow the chocolate to set before serving.
*Take liberty and make all sorts of creations with the same concept. We tried vampires and pumpkins as well!
Popcorn Mix in decorated themed Mummy container: – Mummy Popcorn Mix with Oreo Cookie Pop
Ingredients:
1 Bag of Halloween Oreo Cookie Pop
1 Bag of your favorite Halloween-themed candy (we used candy corn)
12 Paper popcorn party containers
24 Orange or black buttons
4 Rolls of medical gauze
One bottle of Elmers school glue
Instructions:
Start by adding glue to all sides of the popcorn container.
Gently wrap the gauze around the container, starting from the top. Once you've made it all around until you reach the bottom, wrap and glue the end.
Glue 2 buttons to one side of the container and allow all to dry for 1-2 hours.
Fill each container with a mix of Oreo Cookie Pop Popcorn and an assortment of Candy Corn or your favorite holiday candies.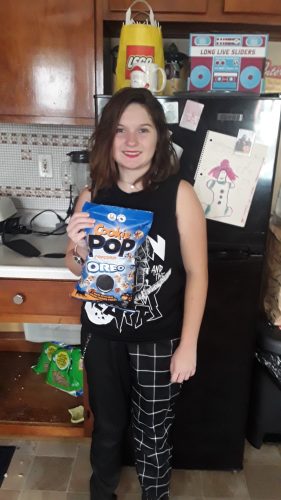 Cookie Pop & Candy Pop Haunted House
Ingredients:
Graham crackers
Black and Orange Frosting
Candy corn
Orange M&Ms
Pumpkin Candies and gummies
Your favorite Cookie or Candy Pop
Instructions:
Prepare your frosting by adding each color to separate Ziploc bags and cut off one of the bottom corner tips.
Decorate the walls and roof of the house before you assemble; it's easier to add details to your haunted gingerbread house when it's lying flat.
Once you've decorated the walls and roof, it's time to assemble!
Frost the bottom edges of your walls before securing them to stick to the foundation.
When assembling your walls, position the pieces so that the side walls are between the front and back pieces.
Assemble your roof once the walls are dry (about 15 min). Frost the top edges of your side walls and place your roof pieces on top in your desired shape. Make sure those top edges are frosted so the pieces stick together.
Decorate the front yard with pumpkin candies and Cookie and Candy pop popcorn!