Some people play first-person shooters, others prefer to play free slots, but perhaps everyone loves horror games. Games in the horror genre are gaining popularity literally before our eyes. We can argue about the reasons for this popularity, but it is due to the fact that the atmosphere of fear does not need advanced technology and exorbitant requirements for hardware. You can learn more about this genre of game here.
The less the player observes on the screen, the more the imagination is inflamed, which will draw pictures of the level of horror, which no artist, no matter how talented he is, is capable of. For example, the game Blind Survivor, where there are no graphics as such – we play as a completely blind man who survived the zombie apocalypse. The only thing the screen will show us is complete darkness.
Thanks to the low requirement of horror games, many of them can be played directly in the browser. We present to you the top of the best horror games for browsers that will help you really scare your friends:
| | |
| --- | --- |
| 1 | The Last of Humans: Awakening |
| 2 | SCP 096 Modest |
| 3 | Backrooms |
| 4 | Filled with freedom |
| 5 | Five Nights at Freddy's |
| 6 | Nightmare On Elm Street |
| 7 | How to Make a Cup of Tea |
| 8 | A Slide In The Woods |
| 9 | Creepy Granny Scream |
| 10 | 9 Masks Of Fire |
The Last of Humans: Awakening
The game is one of the most popular post-apocalyptic games. When you regain consciousness in an abandoned hospital building, you find yourself the only living creature in the building. Or on Earth? However, the first note you find will indicate that loneliness is not the worst thing you have to fear. You will have company, but you won't like it.
Your opponents will be the classical slow zombies. Unfortunately, the dead compensate for their slowness by their quantity, so you won't have to relax. Not only enemies, but also various obstacles that you will have to overcome with the help of your wits, will prevent you from advancing to salvation.
Pros of the game:
plot dedicated to the zombie apocalypse;
original stylistics;
clever puzzles;
voice acting.
SCP 096 Modest
The game is dedicated to the SCP universe, incorporating the best of urban horror. The subject of SCP 096 Modest is a humanoid creature about 10 feet tall. Despite its imposing stature, it does not look threatening at all, as it is obviously malnourished, as evidenced by its low proportion of muscle mass, poor hair and almost complete lack of pigmentation. However, the supposed weakness and harmlessness evaporates in an instant when someone sees the creature's face – it makes the latter in indescribable rage, it can not be stopped by walls or doors, nor armor of any thickness.
Playing SCP 096 Modest, you find yourself in the role of a secret laboratory guard and get the message that object 096 has escaped. From that moment on, your life is in great danger and your survival is solely in your hands.
Pros of the game:
popular universe;
atmospheric sound design;
good graphics.
Backrooms
This game is dedicated to the popular "creepypasta" about the underside of our world, called backrooms. It is based on a fictional urban legend that has been shared in the thematic communities.
Legend says that if you are in a certain location and/or perform certain actions, you can "tear up" the fabric of reality, finding yourself in its underside. Backrooms are an endless series of so-called liminal spaces – corridors, stairwells, parking lots, warehouses… The backrooms stretch endlessly, but if there is an entrance, then there is also an exit. Everyone who dares to play the browser game Backrooms will have to survive in this uncomfortable and inhospitable world by finding his way home.
Pros of the game:
procedurally generated world – each game experience is unique;
based on the popular Creepypasta;
the appearance of a hostile creature is unpredictable.
Filled with Freedom
This game is not aimed at scarecrows, but at a mysterious story and deep atmosphere. At the end of a long journey you find yourself in the ancestral home of your ancestors. Now it is yours entirely – with all the terrible secrets and "skeletons in the closet" that conceals the old mansion.
The game is made in the retro style of pixel horror games from the first Residen Evil and Along in the Dark. Technically, this is a first-person quest for objects, but it's a great game that won't let you or your friends get bored.
Pros of the game:
stylish graphics – pixel retro;
enchanting music;
interesting quest.
Five Nights at Freddy's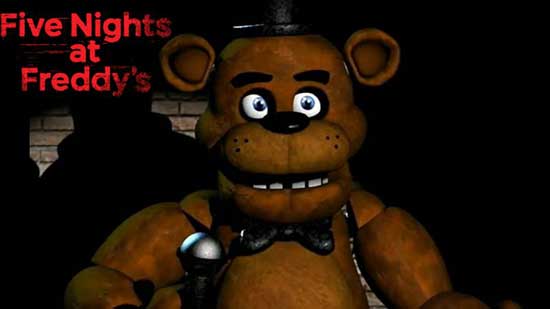 The game Five Nights at Freddy's was created by one man – Scott Cawthon. You will take the role of a security guard in the fictional Freddy Fazbear's Pizza in his creation, your task seems simple: to sit up until morning. However, you do not have to do crossword puzzles and read the news on the Internet: it will soon become clear that you are not alone in the room. When night falls, the animatronic growth dolls are activated, and they have very bad plans for your person.
Pros of the game:
a true indie, one-man authoring game;
revolutionary gameplay;
great graphics.
Nightmare On Elm Street
Nightmare On Elm Street is not a vintage stylization, but an adaptation of one of the old horror games 90s. Can the game that scared your parents scare your friends? Run it and see for yourself!
Technically, the game is a scroller. At first, you move down the street with the view from above, and after you enter the house, the projection changes to the side. In addition to Freddy himself, other nightmare creatures will try to harm you. You'll have superpowers to counteract them, because you can become anything you want in your dreams.
Pros of the game:
real classic horror;
unusual mechanics;
charming Freddy.
How to Make a Cup of Tea
This game can hardly be called scary or frightening, rather it is… strange! Everyone who wants a unique gaming experience should check it out. All you have to do is make a cup of tea. What could be easier?
Only the kitchen and the objects in it look unusual and will get "weirder and weirder" with each repetition. You'll never guess what you'll see behind the door when you open it again.
Pros of the game:
the most unusual game in the top;
unconventional plot;
unexpected ending.
A Slide In The Woods
What could be scary about a children's slide? Launch A Slide In The Woods and see. There is an ordinary children's slide in the middle of the trees. Is it ordinary? Once you emerge from the tube, you'll find that day has changed to night, a few more times – and the steps will be covered with bloodstains, and then … We don't want to spoil the experience, it's well worth it. Let's just say you'll never be prepared for what awaits you at the other end of the plastic pipe.
Pros of the game:
a really scary game;
graphics a la PlayStation One;
deep story.
Creepy Granny Scream
This next incarnation of a subspecies of games that have become classics on mobile platforms is now available in the browser! You come to your senses… How many games start out that way? However, this one is certainly worthy of your attention. Here you'll not only have to hide and run, but also solve tricky puzzles.
You will have to survive five nights and the difficulty of survival will only increase, so get ready to strain your reflexes and brains. And don't forget about your nerves, because the game knows how to scare for real.
Pros of the game:
good 3D-graphics;
interesting puzzles;
creepy atmosphere.
9 Masks Of Fire
Horrors are not only gloomy corridors and blood stained walls. After all, the main thing is the atmosphere, which the games of quite unexpected genres can create. For example, video slots free play, one of which is the game that closes our top.
It's hard to imagine that a slot machine can create a frightening atmosphere, but 9 Masks Of Fire copes with this task perfectly. Do you doubt it? See for yourself because 9 Masks Of Fire, as well as other free online slots with bonuses for fun, are available in your browser.
Pros of the game:
stylish symbols;
generous bonuses;
scary atmosphere.