SYNOPSIS:
On the run from a dark government organization, the enhanced superhuman Anna finds she must also contend with a fellow mutant – an enhanced serial killer intent on stealing the powers of others of their kind.
Director: James Mark
Writers: James Mark, Plato Fountidakis, Bruno Marino
Starring: Alanna Bale, George Tchortov
We seem to be in the midst of a strange era of genre cinema where there has been a shift from audiences enjoying fare with a lower budget than the blockbuster mill and towards ripping it a new one if it doesn't look immaculate.
Movies with a lower budget are often just as entertaining as big-budget flicks packed with cutting edge effects and name stars. Enhanced is exactly the sort of movie I mean, and yet there are reviews out there that rip this film to pieces for not being on a par with major studio output. This is majorly unfair, as it helps to turn people against what is a perfectly watchable and enjoyable sci-fi thriller.
Yes, it is awash with elements inspired by the X-men movies and non-franchise films like Push or Chronicle, but there are elements of Enhanced that are all its own. It follows the tense (and surprisingly cinematic) journey of central character Anna (Bale), a superpowered 'Enhanced', as she tries to stay ahead of both a government organization and a superhuman serial killer. The government want to capture her, while the sinister killer who is offing Enhanced people all over the place wants her for a very different reason.
James Mark's kinetic direction shows off his action and stunt work background very well. As such the action scenes are slick and impactful. He may not have as much flair with the more character-driven moments or sequences of exposition, but those sequences are still handled well. The cast, while not boasting anyone that could be described as a household name, do a solid job with the material. Lead Alanna Bale has to get a shout out for putting in such a relatable performance as Anna. She has a powerful mix of vulnerability and barely-contained anger that lifts the character – and the film – up beyond its low budget origins.
The film looks good, with some tasty cinematography that adds a bit of scale to proceedings by using the surrounding countryside well during the outdoor sequences and capturing the immediate violence of the action scenes. The villain has a plan and will stop at nothing to fulfil that goal, which gives lots of space for superpowered fight scenes, glowing blue eyes and some pretty cool gadgets. The serial killer angle is more compelling than the X-Files-lite nature of the government organization plot, but both work well to keep things interesting and moving along nicely.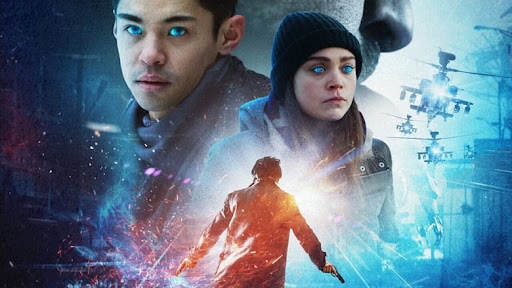 With a runtime of 99 minutes, Enhanced does what it needs to very well and in a space of time that won't have you quitting on it. The film has the feel of a mid to late nineties straight to video movie, albeit one with far superior visuals and performances. It won't change the world, but it's a great film to pass an evening with and gives you enough action and suspense that you can forgive them for a slightly rough script and the occasional rough effects shot. Classic? No, but it's definitely worth your time.