"The feature directorial debut of John Berardo, he co-wrote the film with Brian Frager (A Persistent Illusion) and Lindsay LaVanchy ("Scream: The TV Series"). LaVanchy also co-stars in the INITIATION along with Jon Huertas ("This Is Us"), Isabella Gomez ("Head of the Class," "One Day at a Time"), Froy Gutierrez ("Teen Wolf"), Gattlin Griffith (Green Lantern), Patrick Walker ("The Resident"), Bart Johnson ("High School Musical 3: Senior Year"), Shireen Lai, Kent Faulcon (Selma) with Yancy Butler (Kick-Ass 2) and Lochlyn Munro ("Riverdale")."
Hi Lindsay, I talked to John earlier about Initiation, and I feel like it's sort of our modern-day Scream. It was such a fun movie to watch.
Lindsay- Dude, that's a huge compliment.
I loved the movie and Ellery was one of my favorite characters. You also helped write this film. How did you get involved with the film?
Lindsay- Originally our title was Dembanger, and it changed to Initiation, and John and I did a short film in 2013, titled Dembanger. John had a class at USC called Media for Social Change, and so we heavily focused it on social media. It's amazing, if you haven't seen it. Through that as John was working on the script, he invited me to table reads throughout the years. I would always come back with ideas and notes so eventually John was like, just come and be a writer. John gave me the opportunity to write alongside him and Brian Frager, and that was awesome. As an actor I love stepping in to projects that are ready to go but I always do extensive backstory work. John and Brian really valued having a female write it with them.
The social media aspect is great but I often think about Scream. What if Scream (1996) had been made today. Scream also has this realistic sense with a killer that isn't supernatural. Do you think the social media aspect makes a huge difference for the film?
Lindsay- When I first saw Scream, it changed my relationship with the horror genre. I was too young to see it in theaters but I rented it on VHS when I was allowed to. I watched it and to me it was so real. I had been so attracted to vampire films or Alfred Hitchcock but it didn't feel modern-day. When I saw Scream and The Blair Witch Project, my mind was just blown. I think what was so impressive and new with those films was that, we felt like that could happen to us. I watched Unsolved Mysteries as a kid, that was scary and I thought, oh my gosh, that's a girl who looks like me and she's dead in a ditch. Why, why would the killer want to do this? With us bringing in the elements of social media and just something that you can't escape every single day, that's the true horror. We have some real solid slashing done in this film but there's so much more in it that's terrifying, and the same was true for Scream in the nineties. We love Scream, so we're tipping our hats to Scream.
How did you prepare to play Ellery? Ellery is funny, smart, she takes on responsibility. You sort of relate to the characters a little more in this movie.
Lindsay- In terms of preparation with indie films, you have to wear multiple hats. This was true with John and I, and multiple people. Normally, I'd be prepping as just an actor. A lot of my preparation came through the writing process, and I just had to remember who Ellery was in her core. She is a normal person. Girls are cool, we are so complex. Everyone is cool, but I just mean in terms of Ellery, she identifies as a girl and she loves it. She likes to go toe to toe with girls and dudes. She enjoys conversation and being around everyone.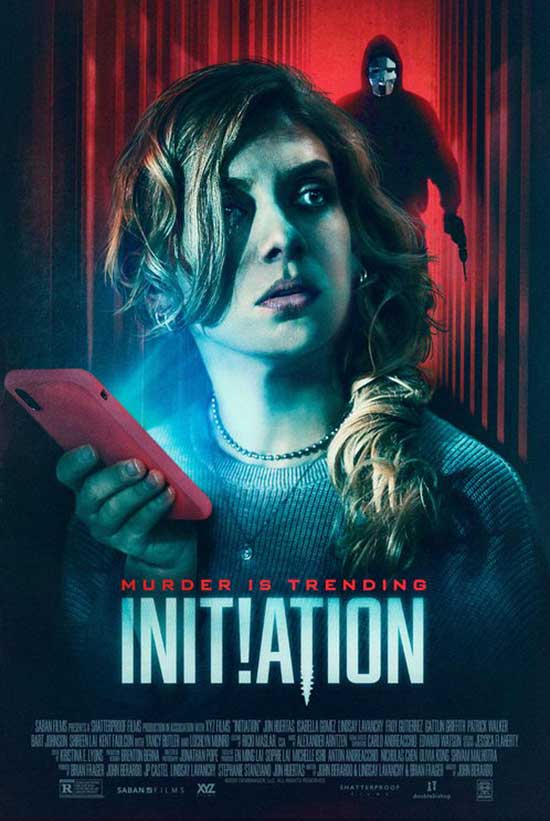 You could relate to these characters. It was great.
Lindsay- Oh good, I'm glad.
What was it like for you working with the cast and the director John?
Lindsay- We are so blessed; our casting director brought the big guns. The cast was so much fun, so kind, and hardworking. It was a blend of newbies and seasoned titans. I've been working with John for over ten years now. We met at UCLA Theatre School. The first thing we worked on together was a Tennessee Williams play, "A Streetcar Named Desire", and he directed me in that. We fell in love with each other, we can't seem to stop working together. I think that's because we have a mutual dedication to whatever we're doing.
Who did you get to play in "A Streetcar Named Desire"?
Lindsay- Oh, you know Blanche. Traditionally she's played by women who are a little more seasoned actors but women who are in a different time in their life than a young twenty something.
Do you take what you learn from theatre with you when you're making a movie?
Lindsay- Oh, definitely, I love theatre so much because you have a set but then the audience is right there with you, and you have to make them believe they're in this world. You don't have the camera standing in between you. It's a different way of working.
What do you want to say to everyone that will be watching Initiation?
Lindsay- I love that horror is a genre that continues to evolve. I love that it's the perfect playing ground to talk about horrors of the day, and things that are truly terrifying that people encounter every single day. I love horror because it's a genre that can operate so beautifully in extreme darkness versus light. I think our film is trying to talk about traumatizing experiences of people, that is the real horror of the day. I think you should be ready to have fun, and then ready to be like, oh shoot, that's what we're talking about. It's a rollercoaster ride. Go in with an open mind baby.
It's a fun movie. How did you feel when you first saw the mask?
Lindsay- It's so cool because the mask and everything changed over the years while we were writing it. I was so excited about the mask.
If there is a sequel, would you come back?
Lindsay- Oh, hands down. John, Brian, and I have talked about the possibility of a sequel.
What are you working on next?
Lindsay- Right now, I'm travelling through the south of this fine country. I am currently writing a sci-fi. That's what I've got going on now.
I thank you so much Lindsay. It was great to talk to you. The Initiation was so much fun. Thanks for taking the time to talk. And, I've been re-watching the Scream series because of my friend Mikey Aspinwall, he loves the Scream films. So, thanks for being awesome.
Lindsay- Yeah, thank you so much. This was a delightful conversation.
Lidsay LaVanchy www.imdb.com/name/nm3792864/?ref_=ttfc_fc_cl_t2