Bonnie Aarons is an actress, a writer, and some of her characters have scared the life out of people onscreen. She played the infamous demon nun in The Nun (2018). Bonnie portrays The Master in Jakob's Wife. It was directed by Travis Stevens and stars Bonnie, Barbara Crampton, Larry Fessenden, Jay DeVon Johnson, Robert Rusler, and Nyisha Bell. It was such an honor and a blast to talk to Bonnie about Jakob's Wife, her new film projects she has coming out and find out what she had to say about working with Barbara Crampton and much more.
Directed by Travis Stevens (Girl on the Third Floor), he co-wrote the film with Mark Steensland (The Special) and Kathy Charles (Castle Freak). JAKOB'S WIFE stars Barbara Crampton (Re-Animator, You're Next), Larry Fessenden (Habit, Stake Land), Nyisha Bell (Coming 2 America), Mark Kelly (The Hot Zone), Sarah Lind (Wolfcop), Robert Rusler (A Nightmare on Elm Street 2, Vamp), Bonnie Aarons (The Nun, The Conjuring 2), and Phil Brooks (aka CM Punk, Girl on the Third Floor).
Hi Bonnie, I'm so happy to talk with you.
Bonnie- Hi Janel, it's great to speak with you.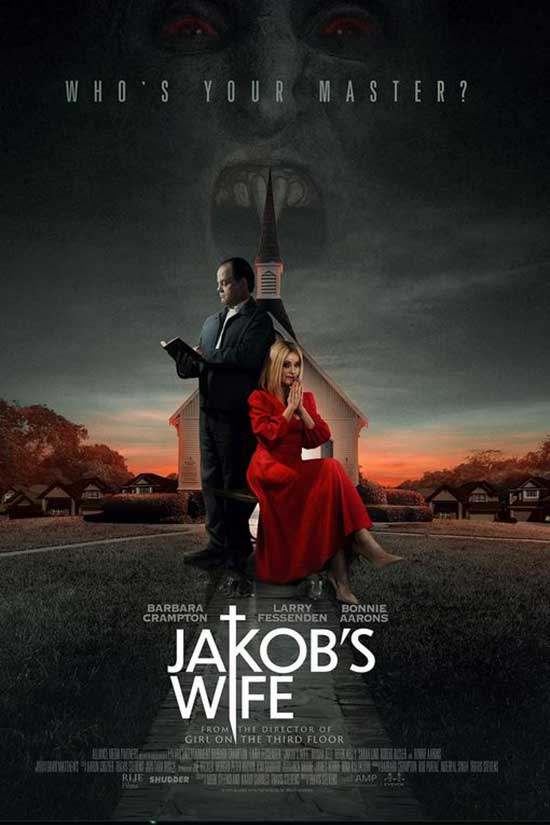 You are just a legend to the horror community and the acting world in general. You bring these awesome characters to life so thank you for that.
Bonnie- Thank you.
I watched Jakob's Wife and WOW! The Master is amazing. I feel like we have a modern-day Nosferatu. How did you get involved with the film?
Bonnie- Yes, I worked intensely with Travis Stevens, the director. It's such a phenomenal character with such a brand-new twist. It's fresh and new, right!
Yes, it is.
Bonnie- Nothing has been done like this before. It has an amazing message. I wanted to move in a certain way and I wanted The Master to be different.
How do you prepare for a role like this?
Bonnie- The make-up was pretty wild. It was beautiful right!?
Yes, I loved the make-up.
Bonnie- You have to just go with the flow and sometimes I'll get sort of jolted after something happens and Travis was so phenomenal to work with.
That was my next question. What was it like working with Travis?
(Laughing)
Bonnie- Working with Travis! Travis is incredible to work with. What a doll. He's very easy and calm. He worked with me for a while. He came over to my place and we discussed everything right at my dining room table, we discussed all the different was to create this character. You want to bring his vision to life.
The writing is beautiful.
Bonnie- The writers were incredible. It's a beautiful character and what a beautiful script.
How long did it take to do all the make-up for The Master? The detail is insane. The movements and the sort of tint in your eyes.
Bonnie- It took a long time. The make-up artists Marcus and Jessica, they designed it to go with my face. They didn't want to take out my facial features. They put it on and blended it in. It took quite a while. They didn't want to lose the movement.
What do you want to say to everybody that will be watching Jakob's Wife and to the horror fans?
Bonnie- It's a piece of artwork. It has such a strong message and an important message. The film is uplifting. It's an uplifting, exhilarating horror movie.
I loved it. I think it's fun and it is uplifting. I think movies have certainly helped us a lot. It's sort of cathartic.
Bonnie- It is. It's perfect timing to come out now. It's not rehashed. It's funny and there is a message. I think that everyone, fan or not a fan. I think anybody would enjoy this film. I thank you fans, it's an honor to entertain you all whenever I can.
What are you working on next?
Bonnie- I just did two things with a new artist coming out, Krsy Fox. We did this movie called, Frank and we did a short film called, I Live Alone. She wrote it about me.
That's so cool. I read a little bit about Frank; you play Mistress Eden?
Bonnie- That's correct, I play Mistress Eden.
What was it like working with Barbara Crampton? The two of you are just fabulous.
Bonnie- It was fun and fantastic. It's intense, The Master is an intense character and you've got to hold it together.
I think so too. I think The Master is so wild. It's so intricate too.
Bonnie- Thank you. It's a beautiful character.
Is there anything you can say about the sequel to The Nun?
Bonnie- I can say, I light a candle every day, I keep my fingers crossed. I love playing that character, she's fun to play. It's very simple and that costume is quite comfortable. I love playing that character.
Is there a horror movie that you just love?
Bonnie- I've got to say Nosferatu The Vampyre, everything about it is perfect. I love Night of the Living Dead.
Oh, me too. Without giving away spoilers, do you have a favorite scene from Jakob's Wife?
Bonnie- I the scene with Barbara but I love the scene with Barbara strolling with the grocery trolley in the store.
(Laughing)
Oh, that's a great scene.
Bonnie- Oh, she outdid herself. This is her best, she's phenomenal in everything.
She is amazing. But YOU are AMAZING! The Master is such a great character. Thank you so much for taking the time to talk Bonnie. You're awesome!
Bonnie- Thank you so much Janel.
Bonnie Aarons @bonnieaarons1 on Twitter and Instagram.
Bonnie's IMDB www.imdb.com/name/nm0007491/
JAKOB'S WIFE is available in select theaters, on demand and digital.