Tuesday, April 14th marks the 11-year anniversary of the passing of one of rock's most unique and charismatic frontmen. But, unless follow the metal or goth scenes, you might not even realize it. I'm speaking of the late, great Peter Steele: the mordant, towering, self-deprecating frontman of Type O Negative- one of heavy metal's most ingenious and underrated bands.
Emerging from the Brooklyn metal/hardcore scene of the late '80s (which also included contemporaries Life of Agony and Biohazard), the brilliance of Type O lay largely in their seamless and inimitable melding of two utterly disparate musical genres. Heavy metal- the tougher, more amplified extension of hard rock- emerged at the dawn of the '70s, pioneered by the mighty Black Sabbath. Throughout the '70s and '80s, the genre grew exponentially in both diversity and popularity, with both a thriving mainstream (defined by the glam/pop metal sound of Mötley Crüe, Poison, Ratt, and others) and a bubbling underground (represented by the burgeoning thrash scene populated by early Metallica, Slayer, Megadeth, Exodus, and Anthrax). By the time the '90s rolled around, the idea of what could be considered "heavy metal" had broadened significantly.
Not only had the movement broken off into numerous, sonically-diverse subgenres- including death metal, power metal, black metal, doom metal, and more- but it had also found a niche within alternative music, thanks to the mainstream acceptance of Seattle grunge and bands like Nirvana, Soundgarden, and Alice in Chains. Grunge, which itself owed much to the earlier innovations of bands like Jane's Addiction, Faith No More, and the Melvins, was instrumental in creating a place for heavy music within the realm of so-called "alternative rock" in ways never seen before.
Utilizing the sludgy, pummeling riffs of early Black Sabbath in combination with introspective and deeply-personal songwriting, the Seattle bands helped alter the public's perception of metal, allowing it to reinvent itself, broaden its appeal, and stand in contrast to the shallow and misogynistic excesses endemic to the '80s hair bands. Thus, by mid-decade, the definition of what constituted "heavy metal" could be extended to groups as diverse and eclectic as Pantera, Tool, Ministry, Helmet, Danzig, Sepultura, Rage Against the Machine, L7, Corrosion of Conformity, Godflesh, Primus, Korn, Rollins Band, Kyuss, Deftones, and White Zombie. Even stadium-selling superstars like Nine Inch Nails, Smashing Pumpkins, and Marilyn Manson unabashedly wore their metal influences on their sleeves. Nevertheless, it remains a commonly-held belief amongst metal traditionalists that the genre was somehow "dead" throughout the '90s due to grunge's overthrowing of glam and bands like Metallica pursuing a more "mainstream" direction. But the truth is, metal couldn't have been more alive.
It had just broadened its sound and broadened its appeal- infiltrating alternative rock, punk, hip-hop, funk, blues, goth, progressive rock, noise rock, industrial, world music, and everything in between. The unprejudiced musical landscape of the '90s did much to ensure that a band as multifaceted as Type O could prosper- and even experience a taste of mainstream success- alongside their similarly-innovative contemporaries.
In stark contrast to metal, gothic rock- which emerged during the early 1980s- was darker offshoot of punk- typified by a morose, gloomy atmosphere and lyrics which displayed a fascination with death, morbid romance, depression, the macabre, and the gothic literature of Poe, Hawthorne, Shelley, Stoker, Baudelaire, Lovecraft, and others. The first wave of goth rock groups, such as Joy Division, Bauhaus, Siouxsie and the Banshees, The Cure, The Damned, Killing Joke, and The Birthday Party, were primarily rooted in post-punk, art rock, and underground music, but by the mid-late '80s, much like heavy metal, the goth scene had broadened its reach.
The ethereal darkwave sound of Dead Can Dance, Cocteau Twins, and This Mortal Coil, existed simultaneously with the stadium-ready hard rock of The Sisters of Mercy, The Cult, and The Fields of the Nephilim. And while the inherent darkness of both heavy metal and goth rock seemed all but destined to collide at some point, the public's perception of both genres presented a major obstacle. Metal, according to many of its critics and detractors, was empty-headed, thuggish, and embraced by the lowest common denominator of dumb, misogynistic, aggressively-macho men. Goth, on the other hand, was aligned with poetic sensitivity, androgyny, and shoe-gazing melancholy. But again, thanks to the diverse musical stratum of the '90s, the stage was officially set for the emergence of "gothic metal".
While bands such as The Sisters of Mercy and Fields of the Nephilim had previously flirted with heavy guitar riffing, it was the legendary Swiss band Celtic Frost that most successfully melded the two styles on their 1987 studio album, Into the Pandemonium. Fusing Frost's innovative proto-death/doom/black metal sound with gothic atmospherics and ethereal female vocals, Into the Pandemonium had a profound influence on the Brits in the English death/doom scene. Cue the gothic-tinged extreme metal sound of Paradise Lost, Anathema, and My Dying Bride- who paired the gloom of The Cure, Sisters of Mercy, and Siouxsie with guttural vocals and crushing, doom metal guitars- and you have the true beginning of gothic metal as a distinct subgenre. Other innovators, primarily out of Scandinavia (Tiamat, Katatonia, Theatre of Tragedy, and others) also expanded the sound of gothic metal in their own individualistic ways throughout the early '90s.
But it was Brooklyn's Type O Negative that would become known as the sepulchral poster boys for this new and unique form of metal. Although they arguably didn't hit their stride until the breakthrough of Bloody Kisses, Type O should receive just as much credit as the English bands for pioneering the style, considering that their first record, Slow, Deep and Hard, was released in 1991, just as the guys in Paradise Lost, My Dying Bride, and Anathema began toying with gothic elements. Unlike their European contemporaries, however, Type O eschewed the extreme metal influences in favor of a drab witches' brew of doomy Black Sabbath-inspired riffing, Beatles-inspired pop songwriting (the Fab Four were one of Peter Steele's favorite bands), and the introspective sounds of goth, new wave, and shoegaze. There was also an healthy element of New York hardcore peppered in, particularly on the first few Type O LPs.
After all, prior to the success of Type O Negative and his subsequent goth stardom, Steele was primarily known as the deranged, controversy-stirring frontman of crossover thrash group Carnivore. Raucous and thoroughly-amusing, Carnivore specialized in ironic, anti-PC punk/metal songs with titles such as "Male Supremacy", "Race War", and "Jesus Hitler" that spanned two now-classic LPs: 1985's Carnivore and 1987's Retaliation. Never mind that Steele's shamelessly-macho posturing and incendiary lyrical themes were meant to be ironic and firmly tongue-in-cheek- critics, feminists, and audience members angrily attacked Carnivore (and Steele in particular), branding them as racist, bloodthirsty, woman-hating scumbags (an image Steele proudly played up to the press as a sardonic response to their clueless gullibility).
Shortly after the release of Retaliation, Steele disbanded Carnivore and formed a new group, Fallout, with guitarist Kenny Hickey, keyboardist Josh Silver, and drummer Sal Abruscato. Having already been signed to Roadrunner Records (also home to several of the decade's most prestigious metal artists, including Sepultura, Fear Factory, Machine Head, Life of Agony, and by the end of the decade, a little band called Slipknot) during his Carnivore days, the door was open for the band to rechristen themselves Type O Negative and release their first LP, Slow, Deep and Hard, in 1991.
True to its title, S, D&H was characterized by sludgy, glacial guitar feedback, hardcore breakdowns, and most uniquely, a definite and newfound goth sensibility. The album's autobiographical concept- written up by Steele in a single night of despondent, drunken misery- centered around a man who discovers his true love having an affair with another man. Livid and heartbroken, the man kills his girlfriend and her lover before retreating to the solitude of his home, where his regret drives him to take his own life. And indeed, Steele did attempt to take his own life shortly before writing Slow, Deep and Hard following an emotional breakup.
We should all think our lucky stars that he was unsuccessful, because otherwise we would have been robbed of six albums and an EP's worth of musical brilliance. Even with S, D&H's gothic and industrial overtones, from a songwriting perspective, Steele was very much in a Carnivore mindset, and tunes like "Unsuccessfully Coping With the Natural Beauty of Infidelity", "Der Untermensch", and "Prelude to Agony"- which gleefully simulated the central character's internal fantasies of torturing his unfaithful lover with a jackhammer- drew the ire of the same sorts of moral guardians that plagued Carnivore. They also caused Steele and Co. a great degree of trouble on their first European tour as Type O Negative, where audience members pelted them with objects and protest signs, under the impression that the band was legitimately made up of homicidally-misogynistic neo-fascists (an accusation which becomes more laughable when one considers that keyboardist Josh Silver was Jewish).
It was only after the band returned to the States in preparation for their sophomore follow-up that the brand and image of Type O Negative truly began to take shape. Following an EP/faux live album called The Origin of the Feces (consisting of re-recorded versions of songs off Slow, Deep and Hard), the band returned to the studio for the recording of their watershed record: 1993's legendary Bloody Kisses. The album couldn't have been a more drastic departure from the venomous, bile-laden rantings of S, D&H.
Steele summed up the change in direction perfectly in an interview for MTV following the release of Kisses, conducted by fellow goth-metaller Gregor Mackintosh of Paradise Lost: "I agree that this last album is more depressive, and the definition of depression is: anger turned within. This pain that I've felt in the past has seeped into me and I've turned it in on myself, which is where it belongs," he boomed. Peter's vocal style also changed significantly from S, D&H, going from a throaty, hardcore-inspired growl to a lovelorn, vampiric croon. Though there were moments where the band reverted back to the punky, provocative vibes of their debut ("Kill All the White People", "We Hate Everyone"), Bloody Kisses as a whole was smooth, sensual, and utterly crushing all at once. Singles like "Christian Woman" and the Seals and Crofts cover "Summer Breeze" immediately launched Type O into the forefront of the blossoming goth metal movement, and not unintentionally.
Steele had long held an affinity for and a tongue-in-cheek admiration of goth culture, especially for the women and music of the scene. During interviews, when questioned about the groups that had been most influential on Type O Negative, the towering frontman would cite The Cure, Depeche Mode, Cocteau Twins, and Dead Can Dance alongside Black Sabbath and the Beatles. The lead single from Bloody Kisses, and Type O's defining mainstream moment, "Black No. 1" was itself a witty, ironic ode to sexy goth girls (the song's title is a brand of hair dye favored by those within the subculture) and the unearthly spirit of Halloween. The black cherry on top of the entire package was the album's iconic, eye-catching cover art: a pair of goth women in the midst of an erotic embrace (on later represses of the album, the women are fully kissing). In one fell swoop, Type O were no longer the band fronted by the guy from Carnivore.
They were a wholly-defined, virtuosic goth metal machine, with songs that were brooding, memorable, and sarcastic all in one breath. Not to mention their exponentially-growing female audience. It helped that by this time, Steele had altered his appearance as well- going from Carnivore's primitive, Thermonuclear Warrior to a gothic heartthrob almost overnight. Standing nearly 7-feet tall, with vampiric features which perfectly complemented his vocal delivery, and a hardened physique carved from years of bodybuilding.
In short order, Peter's sex appeal became a major facet of Type O's image and marketability going forward. Between Bloody Kisses and its masterful 1996 follow-up, October Rust, Steele was even recruited to pose nude for Playgirl magazine. It was a move that won him legions of adoring female, and male, fans. Further still, the growing buzz around band's unique talents wasn't lost on other major groups. By 1996, the band had toured with Nine Inch Nails, Mötley Crüe, Danzig, Pantera, and even Ozzy Osbourne. And, in typical '90s fashion, the "Drab Four" had made their way onto several film soundtracks. The track "Blood and Fire" was re-recorded for the Mortal Kombat movie (1995), the group teamed up with Ozzy to record a cover of Status Quo's "Pictures of Matchstick Men" for the soundtrack to Howard Stern's comedy/biopic Private Parts (1997, Stern was a big Type O fan), and most memorably, the band's mournful "Summer Breeze" cover was used to chilling effect during the atmospheric opening credit sequence of the teen slasher film I Know What You Did Last Summer (1997).
By the time Type O entered the studio once again to record their third full-length, they had the benefit of a gold record, MTV buzz, and millions of adoring fans behind them on the strength and innovation of Bloody Kisses. On Mike Judge's infamous MTV sketch, Beavis and Butthead, America's two favorite animated, head-banging underachievers reviewed the video for "Black No. 1", with Butthead describing Type O's sound as "A cross between Danzig and my butt,", which I'm sure elicited a chuckle or two from the Drab Four. Additionally, the massive female audience the band had accrued revitalized Peter's belief in the promise of his band as well as his own personal self-confidence.
By Steele's own account, his awkward height had plagued his self-image growing up in school, and he struggled to summon up the confidence to approach women throughout his teen years. Steele's feelings of inadequacy and sexual longing are thoroughly expressed in numerous Type O tunes, which is one reason why the band was as relatable to their male followers as their female ones. Steele's newfound enthusiasm for romance and poetic songwriting heavily informed his next record which, in this writer's humble opinion, would be Type O's defining statement: the lush, autumnal, and thoroughly bewitching October Rust.
In hindsight, the band loved to downplay the majesty of October Rust in typical self-deprecating fashion with statements like guitarist Kenny Hickey's claim that the album was Peter's "pimp record", designed solely to attract as many women as possible. Whilst there is surely a degree of truth in this assessment, it still doesn't change the fact that October Rust is an atmospheric masterpiece- seamlessly melding doom metal, goth rock, shoegaze, and Steele's sharpening romantic pop sensibilities into a package that was utterly transfixing throughout its 72-minute runtime. Songs like "Be My Druidess", "Die With Me", and the gorgeous "Love You to Death" (arguably the greatest romantic metal song ever penned), wallowed in images of dark ecstasy and romantic splendor, whilst "Burnt Flowers Fallen", and "In Praise of Bacchus" mourned loves long lost.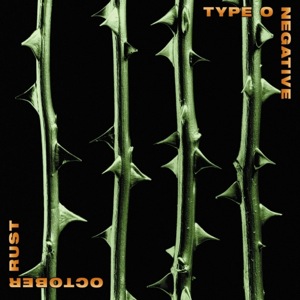 Steele's forlorn refrain of "She hates me," in "Bacchus" is particularly resonant; it's a sentiment surely shared at one time or another by any scorned and heartbroken heterosexual male. Meanwhile, the rest of the album wallowed in celebration of nature and the advent of autumn ("Green Man"), the pain of losing family members ("Red Water (Christmas Mourning)"), and, in one instance, a tongue-and-cheek ménage à trois fantasy ("My Girlfriend's Girlfriend"). And, just when one thought the record couldn't get any more goth, Steele and Co. chose to conclude it with two supernatural tales of morbid romance: "Wolf Moon", about a lover who opts to share his woman's lycanthropic curse by performing oral sex on her during her "moon cycle", and album closer "Haunted", a doom metal epic detailing a man's nocturnal visits from the spirit of his long-dead lover. Lastly, it wouldn't be a Type O record without a novel cover tune, and the band chose to tackle Neil Young's "Cinnamon Girl".
Howard Stern liked Type O's version of the song so much that he invited them on his show to perform it live. While October Rust wasn't as immediately popular as its predecessor, it eventually went gold. Aesthetically, it was also a more organic and complete vision than Bloody Kisses. Another world tour followed, which included bigger shows, MTV coverage, and promotion. One of the most memorable bits from this era was the 1996 MTV Halloween special, filmed in New Orleans, where Peter and new drummer Johnny Kelly (former sticksman Sal left Type O after Bloody Kisses to perform with Life of Agony) perched themselves cheekily outside of Interview With the Vampire author Anne Rice's mansion, trying to coax her into opening the door for "trick or treat".
Three years passed before the band returned in 1999 with their fourth record, World Coming Down- by far the most depressive album of their career, even by Type O standards. Lyrically and thematically, the album dealt with Peter's newfound struggles with cocaine, alcohol, and mental health ("White Slavery", "Who Will Save the Sane?", the title track), and his despondency over the loss of several family members in the years since October Rust ("Everyone I Love is Dead", "Everything Dies").
Sonically, the album eschewed the lush, sensual atmosphere of October Rust in favor of a far heavier, doom-ridden guitar sound which perfectly complemented the record's pitch-black vibes. In between songs, the band also opted to insert a series of unsettling soundscape tracks, which simulated each of the members succumbing to their chosen chemical vices ("Sinus", "Liver", "Lung"). Even for hardened doom fans, World Coming Down is an exquisitely miserable record, but one which feels cleansing and cathartic as reflection of lost life (it certainly helped me to cope with the loss of a family member a few months back).
But that's not to say that World Coming Down doesn't also contain hints of Type O's trademark gothic playfulness: "Creepy Green Light" and "All Hallows Eve" were two additional odes to the spookiest day of the year, "Pyretta Blaze" was a continuation of Steele's romantic musings on October Rust, and the album concluded with a medley of amplified Beatles covers, including "Day Tripper", "If I Needed Someone", and "I Want You (She's So Heavy). Possibly due to its suicidal atmosphere, or possibly due to the rising popularity of the "nu-metal" movement spawned by Korn and Deftones, World Coming Down unfortunately couldn't match the success of Kisses or Rust, despite receiving considerable critical acclaim. Nonetheless there are numerous ardent Type O fans who, to this day, consider World Coming Down to be the band's finest work. Steele, never one to publicly allow himself an ounce of credit, wrote the album off as being too vulnerable and emotionally-overwrought, and he had trouble performing many of the songs live because of their painful connection to a particularly trying time in his life.
After touring for World Coming Down, Type O embarked on another 3-year or so hiatus before returning once more with Life Is Killing Me, a much perkier (for Type O, at least), '80s new wave-influenced record which combined elements of the band's previous three. Opener "I Don't Wanna Be Me" was the closest the Drab Four ever got to recording a thrash metal song, "Todd's Ship Gods (Above All Things)", "Nettie", and the title track expanded on World Coming Down's themes of familial illness and death, and "…A Dish Best Served Coldly", "How Could She?", and "Anesthesia" saw Steele in familiar lovelorn territory.
Fun and catchy in places, plaintive and morose in others, Life is Killing Me wasn't as well-received by some fans as Type O's previous classics and is often regarded as the "black sheep" of their discography. I, however, am quite keen on Life is Killing Me, and while I don't consider it as abrasive as Slow, Deep and Hard, as groundbreaking as Bloody Kisses, as majestic as October Rust, or as emotionally raw as World Coming Down, I find it be be an underrated record and a good amalgamation of every facet of the Type O sound over the years. It's also the only Type O Negative record that's "upbeat" enough to do cardio to.
In 2005, following the Life Is Killing Me tour, Type O left Roadrunner Records after having fulfilled their contract and signed to SPV. As a joke, which was inadvertently taken at face-value by the press and millions of fans, Josh Silver posted an image to the Type O website of a tombstone engrained with Steele's name and the dates "1962-2005" (the year the band left Roadrunner).
This caused exaggerated, but eerily prophetic, rumors to circulate of Peter's untimely passing. Of course, the confusion was quickly remedied and the band began work on what would tragically be their final studio album, 2007's Dead Again. By the time Steele entered the studio to lay down his vocal tracks, he had yet another plethora of emotional trauma to expel. This was largely the result of the frontman's newfound attempts to stay sober and an incident with the law which forced him to do a few months' time in Rikers Island and a psychiatric ward after suffering episodes of what Steele termed "drug-induced psychosis". As a result, Dead Again sounds like Type O's angriest record since Slow, Deep and Hard, interjecting glacial doom numbers with uproarious hardcore-influenced compositions.
The introductory title track details Peter's inner torment at relapsing into substance abuse, "Tripping a Blind Man" is founded upon Steele's hurt and bitterness at being forced into psychiatric care by his family,  and "Halloween In Heaven" adds to the list of seasonal Type O staples, with a soaring chorus sung by Tara VanFlower, frontwoman of darkwave band Lycia (one of Peter's personal favorites). Elsewhere, songs such as "The Profit of Doom" and "These Three Things" dealt with mortality and Steele's embracing of his Roman Catholic heritage after years of devout atheism. Dead Again, despite containing elements of all five previous albums and everything that makes the band great, has an earthier sound than any of Type O's other records, partly due to the fact that there was a penchant for experimentation and a use of studio drums for the first time since Bloody Kisses. Rock-solid through and through, Dead Again would, unbeknownst to the band, remain etched in history as their final album as Type O Negative.
On April 14, 2010 Peter Steele died in his sleep of sepsis caused by diverticulitis. He was 48 years old. If the band's history of putting out an album every three-or-so years was anything to go by, then we would have been about a year away from a new Type O record (the band had indeed been planning on entering the studio shortly prior to Steele's death).
Following an earnest statement from surviving members Kenny, Josh, and Johnny, Type O was disbanded for good. Even if there had been a desire to move forward, there would have been no replacing Peter Steele. He was, purely and simply, one of a kind. After Peter was buried, fans dedicated an Oak Tree in Prospect Park, Brooklyn to honor his memory at what had been one of his favorite locations in life. The Hard Rock Cafe in NYC's Times Square displayed Peter's iconic Type O-green bass in a window facing the sidewalk. Fellow musicians Phil Anselmo, Henry Rollins, Trent Reznor, Cristina Scabbia, and others swiftly paid tribute through the internet and social media. But above all, the music world had suffered an enormous and irreplaceable loss; there would never be another band like Type O Negative.
I was born in 1994, and discovered Type O's music in high school after being well-acquainted with heavy metal. While metal had functioned as a means to vent my hormonal frustrations and built up anger within the solitude of my room, I needed something more maudlin and introspective to give voice to the sorrow, loneliness, and self-loathing I felt (and still feel from time to time). The difficulty I had in making friends, understanding women, and generally relating to others.
The self-doubt which arose from an urge to compromise my individuality in order to fit in. My heartbreak over failed relationships and anxieties over whether I would indeed ever find love. After I heard "Christian Woman" for the first time, Type O became that band for me. I only wish I could have seen them live- especially the Danzig/Type O/Godflesh triple-bill that happened the year I was born. In addition to being an emotional soundtrack, Type O opened my mind to exploring leagues of new music. I sought not only to acquaint myself with the gothic metal scene Type O helped define- the music of Paradise Lost, My Dying Bride, Tiamat, Theatre of Tragedy, Lacuna Coil, Cradle of Filth and others- but I gained an appreciation for gothic music in general. The Cure, Joy Division, Sisters of Mercy, Depeche Mode, Cocteau Twins, Siouxsie and the Banshees, Dead Can Dance, and so on, were all groups I came to know and love because they had been cited as influences by Type O and the bands they inspired. And speaking of bands Type O inspired, there are a litany.
Their sound can be heard in the mournful doom of modern bands like Swallow the Sun, Pallbearer (who covered "Love You to Death on their Fear and Fury EP), and Draconian. It's there in Ghost's gothy, poppy retro metal. The members of Lacuna Coil, the Italian gothic metal band that set the stage for the genre's radio-friendly second wave, popularized by H.I.M. and Evanescence (bands that are also indebted Type O's musical innovations), have openly cited them as a major influence.
Most recently, Type O's lingering, green shadow has left its mark on the music of Swedish goth/black metal band Tribulation, goth rock/folk/doom/experimental artist Chelsea Wolfe, and Danish atmospheric black metal songwriter Myrkur. Even teen dream-pop superstar Billie Eilish was photographed wearing a custom made Type O Negative sweatshirt a few Halloweens back, impressing guitarist Kenny Hickey (who shared the photo on the Type O Facebook page).
As for the rest of Type O themselves, Josh opted to leave the music industry following Peter's death in order to pursue a career as a New York paramedic. Johnny has played around in a few different bands, most notably Danzig (I was lucky enough to see Johnny play with Danzig's band in Charlotte, North Carolina back in 2015), but now drums for Silvertomb, a doom project which also features Kenny (who was always an underrated singer in his own right, his airy tones providing a perfect counterpoint to Peter's bass-baritone range) on lead vocals and guitar. Silvertomb released their first album, Edge of Existence, in November 2019.
As much as I miss Type O as a unit and lament the fact that we'll never get another album from them, I cherish the six brilliant records the band gifted us. Type O may be gone, but the impact they left on music, pop culture, and on me as an individual cannot be overstated. April 14, unbelievably, marks the 11-year anniversary of Peter's death. Amidst his endless self-deprecation, dissatisfaction with his talents, and ironic comments about how he and his band "sucked", the fact remains that Peter Steele was an enormously accomplished poet and songwriter. One need only give October Rust a spin to be convinced of this fact. And, though April may not be the most appropriate time of year to break out the Type O Negative discography, we needn't wait until the leaves start falling. Rest in peace, Green Man.