I wanted to do something special  to celebrate the women in Horror. I grew up watching horror movies and still I love Horror over most genres. I also found that some of the best onscreen heroines have been in horror films. It is 2020 and I do not want to get political but I know as a woman myself, I often battle with a lot.
The heroines, the scream queens, the final girls. What is a final girl? "The final girl is a trope in horror films (particularly slasher films). It refers to the last girl or woman alive to confront the killer, ostensibly the one left to tell the story."
I think women in horror have made such a strong impact. This was a difficult list and I may have wound up with more than 29 and included some honorable mentions. There are so many talented actresses, writers, directors, producers, crew, special effects, artists and more. So, here is to the women in horror.
This list in no particular order. These are women who have stood out in the horror industry. They have made an impact. 
29 Women in Horror. (It should be a lifetime of women in horror.)
Neve Campbell as Sidney Prescott in Scream. Written by Kevin Williamson and directed by the late Wes Craven, Scream stepped up the game. It is funny and smart but also dark and gory. It touched on stereotypical horror clichés and shined a big, bright light right on them. Sidney Prescott, in love with her boyfriend, she loses her mother, her friends are killed. The boyfriend has a traumatized past of his own. Sidney Prescott became of the ultimate final girls. She persevered and didn't take any crap from anyone. After a while, she went from being the hunted to the hunter. Notable performances by Drew Barrymore, Courtney Cox and Rose McGowan who played the quick-witted Tatum Riley. Sidney Prescott will always be one of the greatest.
Sigourney Weaver in Alien (1979). Sigourney Weaver as Ripley in Alien is one of the greatest roles of all-time. She plays this character with strength and tenacity unlike anyone else could ever do. Ripley is one of the originals. "In space no one can hear you scream." Alien (1979) was directed by Ridley Scott. Sigourney would also play Helen Hudson in Copycat (1995). This film was directed by Jon Amiel. Sigourney played an agoraphobic psychologist who went through a traumatic event after lecturing about serial killers. She had to overcome a lot and wound battling with the man who tried to kill her. Harry Connick Jr. would give a disturbingly good performance as serial killer Daryll Lee Cullum. Holly Hunter had a strong role, playing MJ Monahan. Sigourney has paved the way for so many.
Monique Dupree, Tha True Original Gata. Monique Dupree is such a force of nature. She is an actress, involved with wrestling, a mom to ten. She is involved in television, fashion, movies and so much more. She has created a brand for herself and has empowered other women. She is also a Scream Queen, one of the first in her right. She starred in quite a few horror films. She works in wrestling and has been quite an inspiration to many people. She is always evolving and breaking boundaries.
Julie Carmen as Regine Dandridge in Fright Night II (1988) and In the Mouth of Madness, she played Linda Styles. Julie Carmen portrayed Regine. Regine is the sister of Jerry Dandridge (Chris Sarandon) from Fright Night. Julie plays Regine as a smart, seductive and sinister vampire. She takes it to the next level. In the Mouth of Madness is undoubtedly one of the best films. Julie Carmen made these two characters so unique.  @JulieCarmen3 on Twitter.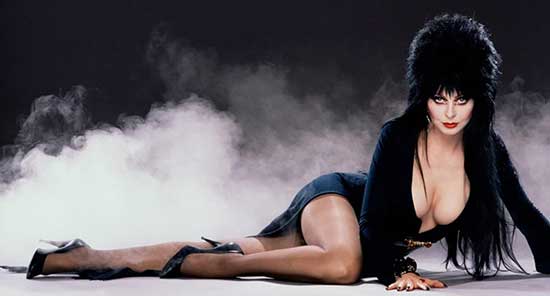 ELVIRA- A legend who is so well known. She is a staple in the horror community. She is the Mistress of the Dark. Cassandra Peterson is ELVIRA. Elvira has created such an incredible brand. She also means so much to the horror community. Elvira: Mistress of the Dark is a film I watch every single year around Halloween. She has made a ton of appearances in films and television. She has attended conventions and is always a class-act.
Jamie Lee Curtis in Halloween (1978), Jamie Lee plays Laurie Strode. She is another woman who has become a forever final girl. Strong and battling a killer. She is resilient and keeps pushing forward. Jamie Lee Curtis made such an incredible impact in the horror world She also starred in Terror Train, Halloween II, Escape from New York, The Fog, Prom Night, Halloween III, Halloween H20 and more. Laurie Strode helped pave the way for the Sidney Prescott's. Before Jamie Lee Curtis there was Olivia Hussey in Black Christmas (1974) Black Christmas was directed by Bob Clark and written by Roy Moore. Olivia played Jess. Olivia would star in Psycho IV: The Beginning.  
Kathy Bates – Annie Wilkes in Misery and Dolores Claiborne. Kathy Bates is so great in Misery. Annie Wilkes is a character that you never forget once you watch Misery. In Dolores Claiborne (1995) she delivered another strong performance along with Jennifer Jason Leigh who played her daughter Selena. Kathy Bates also delivered in American Horror Story.
Linda Blair – Regan in The Exorcist (1973). The Exorcist directed by William Friedkin is an excellent movie. Linda Blair delivers a superb performance as Regan and her possessed counterpart. Linda Blair (Savage Streets, Hell Night) was intense and The Exorcist scared the hell out of some people. Eileen Dietz was Pazuzu's face in The Exorcist.  
Dee Wallace– Dee Wallace is a legend. E.T. The Extra-Terrestrial, Cujo, Critters, The Howling, Supernatural, The Frighteners. Dee Wallace has portrayed so many different people. She plays these terrified women who fight and kick ass. She was the most adorable werewolf possible in The Howling. Her lighthearted moments are always wonderful. She might laugh or say something silly that sticks with you. Dee Wallace is a good soul. Whether she is Karen White or Mary, Helen Brown. She is one of the most legendary women in horror and women in film.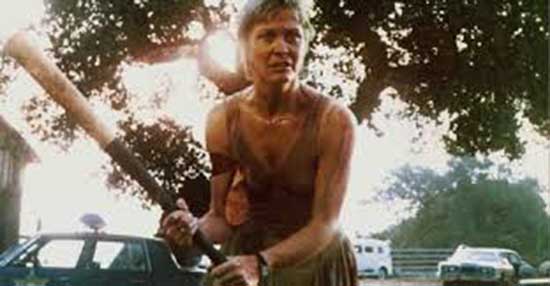 Lin Shaye– I remember Lin Shaye first from A Nightmare on Elm Street, she played the teacher. Lin has done theatre, television, and films. She would go on to star in quite a few horror-related films including Insidious, The Grudge (2020), Room for Rent, Gothic Harvest, 2001 Maniacs, Insidious: The Last Key and more. She is a vibrant light in this world. So much talent and she is never the same character. She did such an incredible job in The Grudge. Honorable mention to Tara Westwood.
Bette Davis– Baby Jane Hudson in Whatever Happened to Baby Jane (1962). Bette Davis delivered one of the most original performances as Baby Jane Hudson with Joan Crawford playing her sister Blanche. It is psychologically draining and frightening how good she is as Baby Jane Hudson. She torments the hell out of her sister. Joan Crawford and Bette Davis are great in this film. Bette Davis would also appear in Burnt Offerings (1976) with the one and only Karen Black. Hush… Hush, Sweet Charlotte (1964).
Mia Farrow– Rosemary Woodhouse in Rosemary's Baby (1968) This film is perfection. Mia Farrow goes from this happy woman who is so excited to start her life and family with her husband Guy Woodhouse played by the remarkable John Cassavetes. I watched this a few nights ago and I always spot something new. Ruth Gordon playing the nosy Minnie Castevet and Sidney Blackmer playing Roman Castevet with such panache and respect. His evil intentions are overlooked by his charm towards Rosemary. Mia Farrow takes us on a journey with Rosemary. Rosemary is smart and figures out what is happening. Mia Farrow made this film what it is. How she portrayed Rosemary. And Ruth Gordon played her role so well, she also appeared in Look What's Happened to Rosemary's Baby (1976), a TV movie.
Carolyn Jones – Our beloved Morticia Addams on The Addams Family (1964-1966) Carolyn Jones portrayed Morticia Addams' with grace and elegance. She would also play Ophelia Frump and Lady Fingers on the show.
Morticia: Think of Romeo and Juliet.
Gomez: They died!
Morticia: Oh, but what fun they had those last three days.
The Addams Family is such a great show and one of the main reasons is because of Carolyn Jones. She played Mrs. Addams with so much heart and you instantly love her. Lisa Loring did an amazing job as Wednesday Addams on the show and Marie Blake as Grandmama.
Yvonne De Carlo – Lily Munster on The Munsters (1964-1966) Yvonne De Carlo was another woman who made such an impact in television and film. She would play Ma in American Gothic (1987). If you have never seen that movie, go watch it! NOW! As Lily Munster, she was another woman who held a fun TV family together. They dealt with certain issues and Yvonne made Lily Munster who she was.
Adrienne Barbeau – Stevie Wayne in The Fog (1980) Now granted Adrienne Barbeau has been in everything from The Fog, Escape From New York, Tales of Halloween and more. She always does a great job playing these unforgettable characters. She appears in The Fog with Jamie Lee Curtis and Janet Leigh. She always delivers incredible performances and she remains a horror fan favorite.
Janet Leigh – Marion Crane in Psycho (1960). Janet Leigh would be considered one of the first, original scream queens. She would be a remarkable figure to the horror community. She would fall victim to Norman Bates and his kind ways. Anthony Perkins playing Norman Bates to perfection. There will never be a performance like his. Patricia Hitchcock also appeared in Psycho. Alfred Hitchcock's daughter. Janet Leigh would also play Norma in Halloween H20: 20 Years Later (1998). She would poke fun at her persona.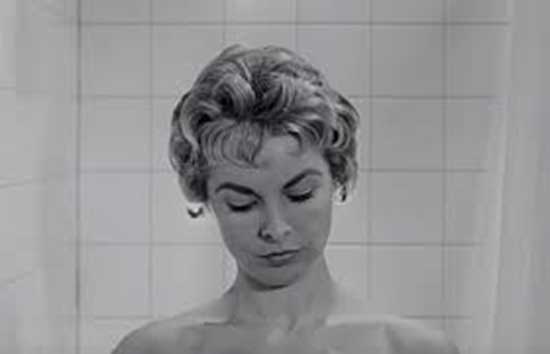 Tippi Hedren– Melanie Daniels in The Birds (1963). Alfred Hitchcock's The Birds continues to scare people. Ornithophobia is the fear of birds. Directed by Hitchcock, Tippi Hedren would play this role with heart and she gave such an intense performance.
Jessica Lange- Well, in everything. In Hush (1998), Jessica Lange played Martha Baring, a loving, wonderful mother who was just trying to look out for her son. As Leigh Bowden in Cape Fear (1991), now before I hear, it's not a horror movie. It is a suspenseful, psychological thriller to me. Robert DeNiro is superb but Jessica Lange is calm, cool and collected until the shit hits the fan. She was one of the many reasons to watch American Horror Story (2011-2018). She is one of a kind.
Olivia Hussey– Norma Bates in Pscho IV: The Beginning (1990) TV movie. Okay, I can hear people SCREAMING, BLACK CHRISTMAS. I agree but… if you've never seen her in Psycho: IV: The Beginning, you better check Amazon, Tubi, Crackle or DVD. (When I googled, it says it is available on Hulu and STARZ) It shows a little bit of the relationship Norma had with Norman. Olivia plays Norma while Norman calls a radio station to talk about killing his mother and "some other women." Olivia plays her with wrath, insanity and as this loving woman. Mick Garris directed this movie. And of course, love to Jess in Black Christmas. You can remake, reboot, reimagine. Do what you will but the actors who played the characters the first time around paved the way, set the ground, feet to concrete.
Danielle Harris– Jamie Lloyd in Halloween 4: The Return of Michael Myers (1988). Danielle Harris would go on to star in quite a few horror movies. She was also a guest star on the television show, Charmed. Danielle Harris would make an impact in films like Urban Legend (1998), Halloween 5: The Revenge of Michael Myers (1989) Rob Zombie's Halloween (2007), Hatchet II (2010) and more. Danielle Harris is part of the horror community.
Felissa Rose – Angela in Sleepaway Camp (1983) Felissa is legendary in the horror community. She leaves a memorable imprint in all of her films. Sleepaway Camp has become a cult classic. Felissa has producing, writing and even casting credits to her name. Felissa is one of the hosts of FANGORIA Presents: Casualty Friday with Kane Hodder and Tiffany Shepis (Another legendary woman in horror.) If you haven't listened to this podcast. You need to listen to it. It is available on Apple Podcasts Casualty Friday.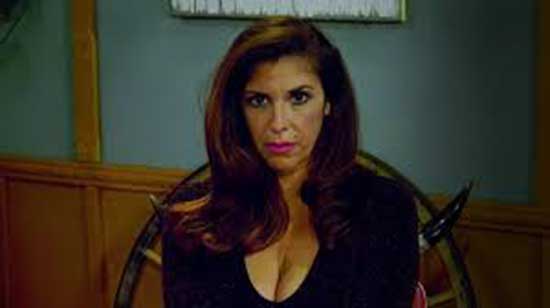 Maria Olsen – Killjoy's Psycho Circus (2016), The Covenant (2017) and so many more. Maria Olson is a brilliant actress. A character that disappears yet you know it's her. She has created so many memorable characters that stick with you. Rob Zombie's Lords of Salem (2012), I Spit on Your Grave: Déjà vu (2019).
Barbara Steele- Princess Asa Vajda –Black Sunday (1960) Barbara Steele has worked with everyone from Roger Corman, Vincent Price, John Kerr, David Cronenberg. Barbara Steele with grace appeared in everything from Shivers (1975), Piranha (1978) (along with the incredibly talented Belinda Balaski who also made quite a few legendary horror films.) Pit and the Pendulum (1961) Terror-Creatures from the Grave (1965), Castle of Blood (1964), Alfred Hitchcock Presents: Beta Delta Gamma (1961) episode. Barbara Steele has been in so many beautifully done films. She is a force of nature.
Caroline Williams – Vanita 'Stretch' Brock in The Texas Chainsaw Massacre 2 (1986). Caroline Williams is one of the original O.G. scream queens. She had roles in everything from Stepfather II (1989), Tales of Halloween (2015) and so many more. She is a presence in the horror community that continues to inspire and create.
Marilyn Burns– Sadly Marilyn passed away but the imprint she left on the horror community is lasting. Marilyn portrayed Sally in The Texas Chainsaw Massacre (1974). The image of her in the back of the pick-up truck has continued to inspire writers and directors. Helter Skelter (1976), Texas Chainsaw Massacre: The Next Generation (1995), Texas Chainsaw 3D (2013). She left us with memories and those who have met her have nothing but kind things to say. Her work speaks for itself. She also paved the way for the scream queens.
Sissy Spacek– Carrie in Carrie (1976) Sissy Spacek is a legend in her own right. She created one of the most memorable characters. Directed by Brian De Palma from Stephen King's book. Carrie conquered many issues early on. Sissy Spacek played Carrie so well. Her scenes with Piper Laurie and Nancy Allen are so powerful. P.J. Soles who is also a staple in many horror films including Halloween appears in this movie and the amazingly talented Betty Buckley. There are a lot of strong characters in this film.
Betsy Palmer– Mrs. Voorhees in Friday the 13th (1980). Where would Jason Voorhees be without his mother. Betsy would star in quite a few horror-related films. She always played a variety of characters and she was beloved throughout the horror community. Seeing her at conventions, she would talk to the fans and smile and hug everyone. She was incredible. She was one person who definitely made a permanent impact on all us.
Toni Collette– Annie in Hereditary (2018). Granted Toni Collette is just amazing in so many of her films. She made her way into the hearts of horror fans. She also appeared in The Sixth Sense (1999) and Hitchcock (2012). She is able to play any role, make it her own and kick ass.
Vera Farmiga- The Conjuring (2013). It was difficult to pick. She is one of the most talented actresses of all-time. Bates Motel (2013-2017), Orphan (2009), Annabelle Comes Home, The Nun (2018), The Conjuring 2 (2016) She played Norma Bates in the best way possible. She plays Lorraine Warren as if she inhabited her soul.
Honorable mentions:  
Linnea Quigley – The Return of the Living Dead (1985)
Nikyatu Jusu – Director and Writer of Suicide by Sunlight (2019). Nikyatu created this beautifully done film and she gave the horror community something unique. She would direct an episode of the Netflix show, Two Sentence Horror Stories. It was the Only Child episode.
The Graveyard Shift Sisters. www.graveyardshiftsisters.com/
One of the most excellent sources online for women in horror.
Amelia Kinkade – Night of the Demons (1988)
Heather Langenkamp – Nancy in A Nightmare on Elm Street (1984)
Sheri Moon Zombie- House of 1000 Corpses (2003).
Shauna Macdonald – The Descent (2005)
Catherine Hicks – Child's Play (1988)
Kristy Swanson as Buffy in Buffy the Vampire Slayer (1992)
Shelly Duvall – The Shining (1980)
Michelle Swope @RedHeadFromMars on Twitter, she is a fellow writer and so talented.
Kathryn Bigelow directing Near Dark.
Naomie Harris – 28 Days Later (2002) She played the bad ass Selena.
Asami Yamazaki -Eihi Shiina in Audition
Elsa Lanchester – Bride of Frankenstein (1935) as Mary Shelley / The Monster's Mate
Alice, Sweet Alice (1976). Paula E. Sheppard as Alice Spages.
Milla Jovovich in Resident Evil
Tiffany Shepis – Night of the Demons
Kate Beckinsale – Underworld (2003)
Halle Berry – Gothika (2003)
Jessica Lucas- Olivia in Evil Dead (2013). Jessica appeared in a few horror films and she made an impact. Cloverfield (2008), The Covenant (2006).
Jennifer Tilly- She is one of the greatest of all time. Not just in horror but in all genres. In Bride of Chucky (1998)