"Michael T. Lombardi is an award winning actor, writer, producer, and Emmy nominated director of independent film, television, and web-based entertainment. He currently owns and operates the independent production companies Michael T. Originals and Michael T Originals South. 
When Michael isn't writing scripts or directing/producing/acting in his own films, he does commercial voice-over work, hosts live events, and writes & acts in local television commercials.
Michael is a proud, long-time volunteer of the Special Olympics organization, where he has worked closely with his aunt Katie who has IDD. She has provided him with much inspiration and love over the years, and continues to do so. He is also a volunteer for the Best Buddies International organization, where he works in the community through their Citizens Program, and teaches performing arts classes to individuals with IDD. Additionally, Michael teaches an Acting for the Camera Workshop for kids & adults.
Michael is currently developing two new television series for 2019. Spaced Out! is a half-hour family/teen comedy series, and Ghost Junction is a one-hour suspense/thriller/drama series."
Hi Michael, Tell us about this project and how this idea manifested?
Michael- I've been an actor for twenty years. I used to live in Los Angeles and I am now based in Connecticut. I moved back to Connecticut ten years ago.   I started a small production company with the intent of making independent films here in Connecticut. It's giving opportunities to actors who would otherwise not have opportunities. We've been doing multiple film and television projects here in the state. My crew and I are big horror fans and in particular fans of John Carpenter's 1978 film. (Halloween) Just for fun last year we created a fifteen minute short-film entitled Shot for Shot Halloween. We released that last year and had such a good time doing that. One thing that we saw in common with all of them is that none of them took any chances. I had an idea to combine genres together. I wanted to do something that combines Halloween, Stranger Things, and Weird Science into one movie. It is about two teen boys who are on a deadline to finish a science project for school. Its due on Halloween and what they've come up with is that they are trying to create this teleportation device. They have these two Michael Myers action figures. One from 1978 and one from last year's 2018 film. The story focuses on those two along with two of their friends. They have to find a way to get these two Michael's from killing people. It is something completely different.  It also has a heavy comic book influence. These two kids are big horror fans.
Did you always know that you wanted to be in this industry?
Michael- Yes. From the time I was ten years old I was always performing little skits in my grandparent's living room. I did a lot of celebrity impersonations. I went to school for broadcasting. I wanted to be a news anchor and I did radio and TV stuff. I'm not a theatre person, I prefer being in front of the camera. I always knew that I wanted to do this. I just kind of followed it through. I've been doing this for twenty five years.
Do you remember the first role you had?
Michael- Yes my first big role in LA was working on a movie called, The Phantom (1996) with Billy Zane and Catherine Zeta-Jones. It was a comic book movie. It was actually Catherine Zeta-Jones' first movie.
You wrote and directed this film. This is a pretty wild concept. Two Michael's out here running around killing!
Michael- (Laughter) I did. I wrote, produced and directed it. I also play one of the Michael's. I play the 1978 version of Michael. I think people will think it's a brilliant idea or they will hate it!
Why did you pick these two version of Michael's?
Michael- My general idea was to have the 1978 version of Michael come up against Rob Zombie's Michael. What would it be like if you had two different versions of the same character in the same movie? How would that play itself out? It doesn't necessarily mean it's going to be Rocky versus Apollo in the ring.  We hope to be able to please the fans. I take a huge risk on how I tell the story.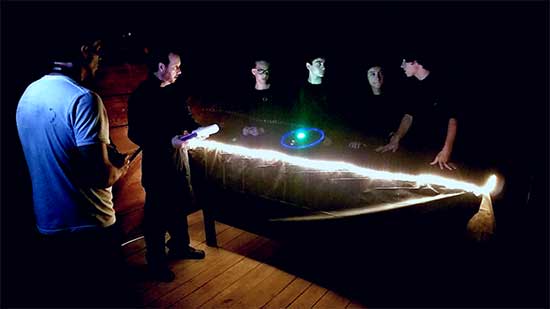 Where did you film and what can you tell us about the set?
Michael- I built the sets. I spend five weeks building our main set in a garage. It's actually a barn at my aunt's house. It's an old barn that I turned into our main set which is supposed to be the garages where the boys hang out. It's also where they built the experiment. I spent five weeks in there by myself and because I'm driven.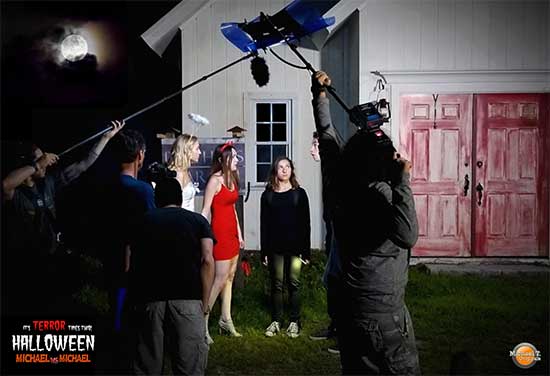 What do you want to say to the fans?
Michael- I just want them to know that all of us that worked on this production are big fans of John Carpenter's original Halloween. We love and respect the movie. It really defined the horror genre for this generation. All we ask is for people to share it and there is a lot of talent on this project.
Thank you so much Michael.
Michael- Thank you.