"Blood Runs Thick" Starring two Emmy winner soap stars (Matthew Ashford, Judi Evans )Emily Killian, Tom Sizemore, , Alexander Man ,Brooklyn Robinson , Isaac Rhino, Aaron Doh, with Special appearance by Lilian Lev, Anjelika Kaufman-Joyce-JP Joyce, , Ewart Chin, Karra Mane, Carolyn Dupree,
A beautiful young woman struggles with frightening hallucinations and a crumbling mental state after her husband goes missing.
Lucky strike Films studio LLC
Directed by Romane Simon
Written by Rhonnie Fordham & Romane Simon
Rent $7.99
24-hour streaming period
Buy $9.99
Stream + download anytime
Watch on iOS, Android, Apple TV, Roku, and Chromecast. Learn more
Hybristophilia – Starring: Quinton Aaron famously Known for the hit box Office movie The Blind Side which he co-starred with Academy Award actress Sandra Bullock
The film also stars… Massi Furlan ("The Dark Knight Rises"), Jenna Willis ("The People vs. O.J. Simpson") Sadie Katz ("Wrong turn 6", "Chavez", "Cage of Glory") Lilian Lev "Mr. & Mrs. Smith" / The Series), Iyad Hajjaj (Madam Secretary, Dream I never had), Brooklyn Robinson (amazing kid who at only 7 years of age, has appeared in 3 feature length films, shot several short films, TV pilots, National TV commercials, Alexander Man won best actor for the movie Life of Gia which also was written & directed by Romane Simon, Special appearance by Alexis Nichols,J.P. Joyce, Anjeliqua Joyce, Pelisse Graves,Deanna Pak Phakeovilay, Erik Merrill and Armenia performer Hovhannes Babakhanyan
Synopsis
An ambitious news team arrives at a secluded farmhouse for an exclusive interview with an at-large serial killer known as the Sleepy Stalker, a murderer known for attacking "sleepy" small towns. The news crew includes a hotshot young female reporter as well as the team's guest expert: a psychologist noted for her expertise in psychopaths. They all soon discover that the farmhouse was the site of a grisly murder-suicide thirty years earlier and is now believed to be haunted.
Rent $7.00
24-hour streaming period
Buy $9.99
Stream + download anytime
Watch on iOS, Android, Apple TV, Roku, and Chromecast. Learn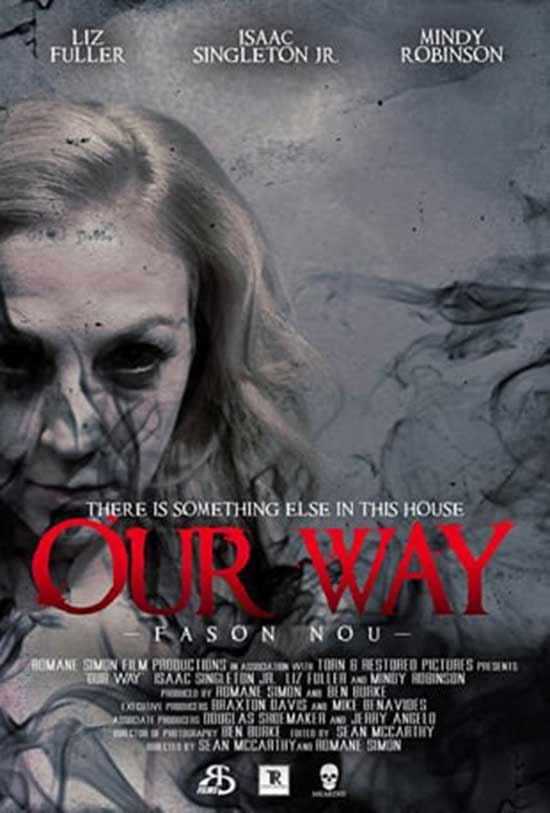 Everyone is driven to madness as two families on a weekend retreat are haunted by ghosts who have their own terrifying agenda.
A Romane Simon Production in association with Torn & Restored Pictures present
OUR WAY (Fason Nou) The Movie
-SYNOPSIS- A weekend retreat between the families of an interracial couple takes a dark turn when they discover their house is haunted by ghosts.
DIRECTED BY Sean McCarthy & Romane Simon
WRITTEN by Romane Simon & John Watson
PRODUCED by Romane Simon & Ben Burke
STARRING Isaac Singleton Jr., Romane Simon,Liz Fuller, Lucy Golden, Mindy Robinson, Vanessa Ross, Shelley Starrett, Rich Rossi,Tony C. Blondell, J Kristopher, Nafisa Ford.
Rent $1.99
72-hour streaming period
Watch on iOS, Android, Apple TV, Roku, and Chromecast. Learn more