Everyone's entitled to one good read!
Or in this case, six. Having previously done a list of personal favourites and then my best horror adaptations, this year I thought I'd jump the line and do a 'best of 2019' in time for your Samhain fireside reading. That way when everyone else is compiling their lists in time for Xmas, you can dazzle them with this selection of sequential grot!
ROAD OF BONES – WRITTEN BY RICH DOUEK, ART BY ALEX CORMACK, LETTERS BY JUSTIN BACH, PUBLISHED BY IDW
As both a writer and a fan, I always appreciate a mini-series. There's something about keeping a tale finite that appeals to my sensibilities and arguably serves the horror genre that much better. They are to comics what the ninety-minute movie is to cinema. But where the short, sharp horror seems to be making a comeback on the big screen, thankfully they never really left the comic rack.
Set in a Russian labour camp in 1950, Road of Bones follows three men who manage to escape following a riot, only to face a trek across a frozen wasteland in search of freedom. The story follows Roman, interned in the camp for telling a joke about Stalin, he's a superstitious fellow who leaves food out for a Domovik, a creature from Slavic folklore who protects and guards the sanctity of one's home. Roman escapes alongside Sergei and Grigori, but what Roman doesn't know is that he's only there to provide them with a meal along the way. But Roman may not be as vulnerable as he fears, because creping around in the dark is one of the very same creatures his Granny told tales of back when he was a boy, and it isn't fussy about what's for dinner either.
The art by Alex Cormack is beautifully cruel, with the desperation and madness of the predicament coming to bear on the central characters faces, worsening with every few pages. He also handles the colour amazingly, smashing you in the face with the contrast of stab wound red on pure white snow during the day, followed by nocturnal brutalities just barely lit by the embers of a campfire.  The script is concise and clever, with Douek's nuanced use of the environment and the monstrosities within it working as an extension of Stalin's regime, and their attempt to escape coming at a time when the Russian Gulag was in its throes.  Road of Bones is that rare thing in horror – subtle, savage and intensely satisfying, and all done in four issues. One to take hiking this winter.
THE WALKING DEAD – WRITTEN BY ROBERT KIRKMAN, ART BY CHARLIE ADLARD, LETTERS BY RUSS WOOTON, PUBLISHED BY IMAGE COMICS
Yes, yes, I know that The Walking Dead is anything but new, but in the last couple of months the comic was able to do that which I had come to fear might never transpire… it ended!
I have read this book since it's very first issue in 2003, and way before Game of Thrones made an art out of killing off its cherished protagonists, Robert Kirkman had already nailed it in glorious black and white. Rick Grimes and his cohort of survivors spent 193 issues dicing with death at the hands of creatures often more repugnant than a wandering corpse. Along the way there were ups and downs in the narrative, and I confess that at points toward the end I was still reading as much out of duty as fun. But one thing The Walking Dead did better than any other comic I've ever read was shock the living piss out of me, and in July it managed to do that to everyone who read it, simply by coming to an end. Without spoiling anything, the book managed to do just that by keeping its finale under wraps, even going to the lengths of soliciting fake covers for future issues. The ending was everything the entire run had been; horrifying, tragic and just on the daring side of hopeful. No artist I can think of has captured the emotion of horror and loss better than Charlie Adlard, and say what you will, but Kirkman took a familiar premise and populated it with people who endured such unfathomable but oddly relatable awfulness that we didn't just care for them, we genuinely empathised. Until of course the inevitable moments when we mourned them.
If you follow the TV show, I can assure you that the book isn't just better, at this point it's barely the same property. The entire story will by now be collected in giant oversized compendiums, so do yourself a favour and shoot the TV in the head, amputate the infected box set, and get some Walkers on your shelf this Halloween.
DCEASED – WRITTEN BY TOM TAYLOR, ART BY TREVOR HAIRSINE, COLOURS BY RAIN BEREDO, LETTER BY SAIDA TEMOFONTE, PUBLISHED BY DC COMICS
When it comes to the Big Two publishers, it's always been DC whose crop of characters best lend themselves to horror, at least for my money. With mini-series DCeased (see what they did there) they've side stepped continuity to tell a seven-part horror tale, but there's no Swamp Thing, Spectre or Phantom Stranger to be found here. Instead our focus is the staple core of JLA members and its supporting cast.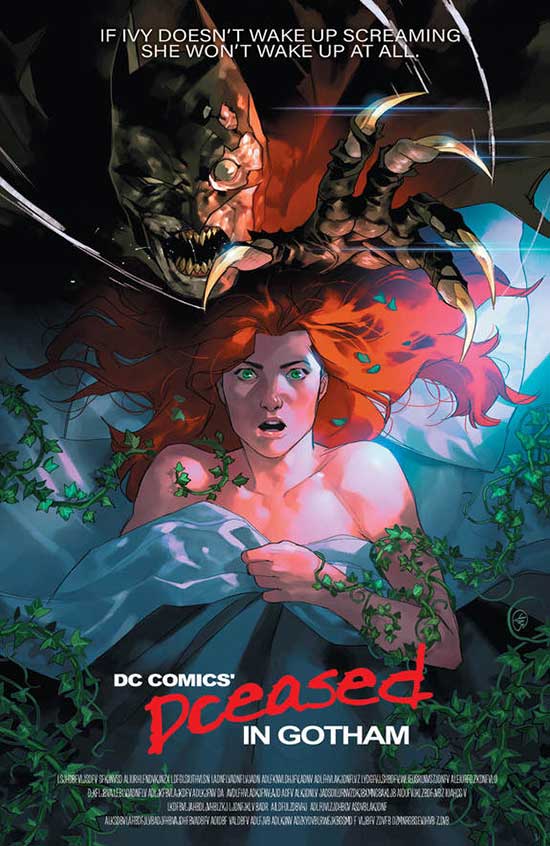 The story opens with Omega bastard Darkseid's latest invasion being foiled, but not before Cyborg's body is made host to a techno-virus version of the anti-life equation that turns pretty much everyone, meta human or otherwise, into flesh eating maniacs. Like a lot of DC event books there's a somewhat convoluted narrative running through an otherwise simple premise, but every few pages bring gleefully gruesome sights, spectacularly rendered by Trevor Hairsine, one of the most underrated comic artists around and henceforth, master of the superpowered flesh eater. Whether it's an infected Aquaman turning the ocean red as he slices through his guards, Nightwing taking a chunk out of Batman's neck, or Superman going full Ash Williams as he locks a ravenous Pa Kent in the cellar, the artwork effortlessly blends the classic images of the zombie and superhero genres.
This series is filled with things I never knew I wanted, and is a deft example of a genre mash up that shouldn't work, but by the fiery pits of Apokilips it sure bloody does. A perfect bonus for horror & comic fans comes from the movie poster variant covers which pay homage to flicks like Nightmare on Elm Street, The Conjuring and even Critters. Yes, that's right, Critters. This may not be one for the superhero purists, but if you don't mind your Birds of Prey feasting on humans, and you're okay with the idea of Alfred blowing Batman's brains out with a shotgun, I'd say crack open a bottle of Hobgoblin (sorry, wrong publisher) and give DCeased a bash.
EDGAR ALLEN POE'S SNIFTER OF TERROR – ART & STORIES BY VARIOUS CREATORS, PUBLISHED BY AHOY COMICS
The legacy of Edgar Allan Poe is hard to ignore. Even if you've never read any of his work, you've certainly seen a film or read a book that honours it in some way. Well, Snifter of Terror takes a slightly different tack and doesn't so much doff its cap to Poe, rather it launches a custard pie straight in his face.
The book acts as an EC Comics or House of Mysteries style anthology introduced by the man himself, usually wallowing in some disreputable drinking hovel, pickled with booze or addled by opium, wallowing in destitution and melancholy; and let's be fair, that sounds like a pretty fair description of Poe, even in this caricatured form. Throughout the first six issues he introduces us to retellings of classic tales such as The Murders in the Rue Morgue and Ligeia, as well as more bizarre offerings like Le Duc De L'Omelette and Dark Chocolate, while not based on an original, does feature the cast of a certain selection of American horror themed cereals.
The whole thing is bafflingly fun and with a list of creators so diverse that not one story looks or feels like the next. There are poems and shorts in each issue, so you certainly get your moneys' worth, and the covers incorporate Poe into some classic movie images such as Jaws, Psycho and Attack of the 50 Foot Woman.
There's little here to take seriously, so it's a good thing they take the complete and total piss with both skill and reverence, perhaps to the point where even a soul as dour and lamentable as Poe's may glance in from the nether world and crack a smile, even if it's just a little one. Happy Halloween Edgar.
BOTTOMFEEDER – WRIITEN BY STEPHEN ROMANO, ART BY PAT CARBAJAL, COLOURS BY JAVI LAPARRA, PUBLISHED BY EIBON PRESS
Eibon Press have created their brand around adaptations of Lucio Fulci movies, even managing to out gross the Italian maestro along the way. Based on an un-filmed movie script by Eibon co-owner Shawn Lewis, Bottomfeeder is the kind of horror story they just don't make anymore This book declares the years old move script as 'un-filmable', but unlike many failed screen projects that use the comic book medium as the more easily realised lesser cousin, here it's embraced for everything a movie could never be.
The story revolves around a gouged-out cop named Joe Angell as he patrols the back alleys and polluted beaches of San Lucifer. But as depraved and doomed as Joe and the locals may be, something far worse is killing its way through the fetid back alleys, and maybe only someone as monstrous as Joe can stop it. This book is not pleasant, in fact it's wilfully un-pleasant. The characters have very few redeeming features and the violence is as in your face as anything I've ever read; but that's the point. The Eibon creatives live and breathe this genre, and they're clearly very conscious of creating something provocative, plunging the depths of nastiness in pursuit of something genuinely horrific. This is a comic pretending to be a movie but revelling in a budget limited only by the writer and artists imaginations. Lieutenant Angell is based on recently departed actor Joe Pilato (he of Day of the Dead) and Maniac star Joe Spinell features as the corrupt scumbag Mayor, so it's very easy to read this and imagine yourself sat in a grimy movie theatre way after midnight sometime in the early eighties, probably with a pickled pimp just across the way vomiting into his stash.
With that in mind, this book won't be for a lot of people, and if you consider yourself easily offended by the kind of bygone political incorrectness that was once the hallmark of genre movies, then stay the heck away from Bottomfeeder. But, if you can contextualise your horror, appreciate the desire and craft that goes into capturing something in a very specific style, then this is a hell of a lot of fun. Repulsive fun.
SINK VOLUME 2 – WRITTEN BY JOHN LEES, ART BY ALEX CORMACK, COLOURS BY ALEX & ASHLEY CORMACK, LETTERS BY SHAWN LEE, PUBLISHED BY COMIX TRIBE
I first wrote about Sink a few years back and stand by the assertion that its first issue is the most genuinely terrifying comic I've ever read. Set in the freaky Glasgow estate of Sinkhill, the book acts as a type of portmanteau of nightmares, each focusing in on an individual, area or degenerate nocturnal proclivity. Comprising another five issues, this second volume brings back the blue van and its god-awful clowns, gang initiations gone terribly, deliberately awry, one of the best comic book origins in recent memory, and a love story that petty much creates Glaswegian Giallo with bells on.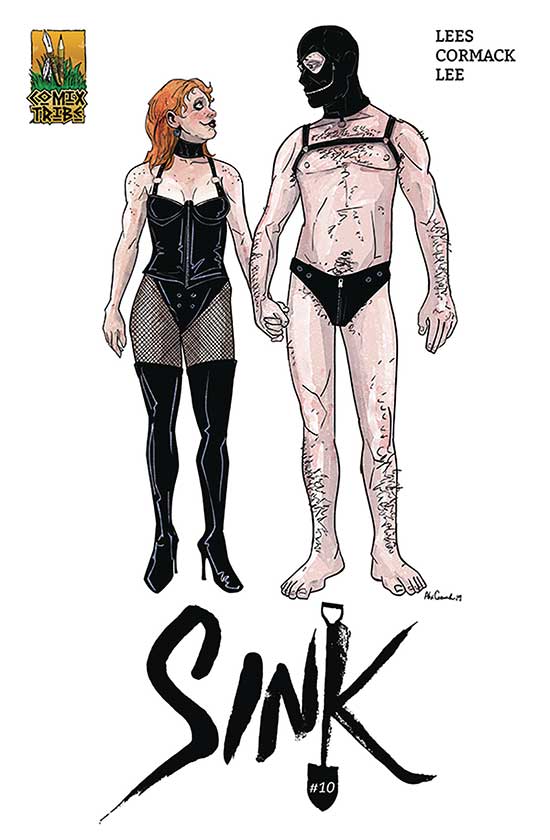 Creating an original backdrop for a horror story is no mean feat, but in managing to weave so many specific tropes of the wider genre into each individual story, John Lees has cemented himself as one of the finest writers in horror. These are genuinely scary comics that challenge your perspective situationally and morally. Artist Alex Cormack has two entries on this list, and that's because I can think of nobody better to draw my worst fears dragging me away to ruin. There's a palpable sense that these things could, and just might happen in isolated, self-contained corners of the world where infrastructure and opportunity have abandoned the people left sat in the darkness. All it takes is one wrong bus ride and you could find yourself there this very evening. But ideally you won't… just buy these books and frighten the pants off yourself instead.
HAPPY HALLOWEEN KIDS!