It's about time… there is an online option for horror fans to find love.   The Slasher App is launching and Horrornews.net has the exclusive!  We have found out that a dating section will be a major feature that will be highlighted.   It will be available on Android and iOS devices.
Single horror fans no longer need to turn to mainstream dating apps, where finding another horror fan is like finding a needle in a haystack.   The Slasher App gives you the tools to search out that special someone who loves watching slasher movies or maybe a paranormal fanatic.   You can now find your undead lovin' counterpart and spend the rest of your days battling zombies together.   The possibilities are endless.
This is going to be a premium feature, but will be totally free for the first 30 days after Slasher is released.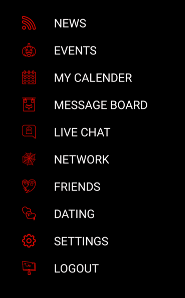 For the first time ever, the horror community will be able to connect in unique and exciting ways. This NEW social network will bring an all inclusive horror experience right to the palm of your hand. Horror fans should expect the unexpected in features that haven't been available within the community until now.
For more information:
Damon Della Greca
pr@slasher.tv
Related:
Web: www.slasher.tv
Facebook: www.facebook.com/theslasherapp
Instagram: @TheSlasherApp
Twitter: @TheSlasherApp