Everything's better when you're made to jump with fright and squeal like a little girl. That's why we love horror movies and force ourselves to watch them at night. Even though we know we won't be sleeping that night, or won't be able to move from one room to another without turning on every light switch in the house.
Movies like Poltergeist, Halloween and The Fly, are just some examples of classic horror movies that are still popular today. In fact, some even consider being able to watch these movies till the very end, to be sort of a "rite of passage". When I was younger, every kid would boast about having been able to watch one of these movies all on their own while their parents were out.
Horror has been the inspiration for many great things. For starters, it was basically the starting point for a completely new genre of music in the 70s. That's right, we're talking about heavy metal music. All the great metal icons like Black Sabbath, Megadeth, and Iron Maiden, composed eerie and ominous songs – even the lyrics would shake you to your core!
A lot of video games have also been inspired by horror, or even horror films, like Amnesia: The Dark Descent, Silent Hill, and Resident Evil. It comes as no surprise then, that some of the most popular online slots are horror-inspired too.
So, without further ado, if you love horror as much as we do, stick around because we're sure you will love these terrifying slot games.
1.  Immortal Romance
At number one we have one of the top favourites amongst players, and you've guessed it, this slot is all about vampires! Vampires have had a great comeback in recent years, mostly due to popular movies and television series. In fact, in some ways, this slot game reminds us of the Twilight movie, and even more perhaps, of The Vampire Diaries series.
Whilst maybe on the lighter side of horror, the slot has a unique feature that makes it more captivating than other slots. Rather uniquely, this game comes with character backstories and an intriguing plot line that continues to unfold as you progress throughout the game. Spoiler alert: some vampire hearts get crushed if you know what I mean.
2.  House of Doom
Just like its name, this game feels like it's coming straight out of hell. Everything about this game screams "demonic". The symbols in the game are everything you would associate with hell and doom.
You've got skulls, pentagrams, and flaming roses. Even the letters in the game are gothic-style. And in case you were wondering, that heavy metal music with screeching guitar solos playing in the background is none other than the Swedish 'doom metal' band, Candlemass. If you're into metal, you have got to check these guys out, they're insanely good.
3.  Wicked Circus
For those who are absolutely terrified of clowns, we have good news! That's not a clown staring at you with its big red eyes, and wide grin, but a joker! Although, this one's as equally terrifying as any other clown.
But what will certainly give you the creepers, is his wicked laugh that will pop out of nowhere during certain intervals, that is guaranteed to send shivers running down your spine. I don't know what I love better in this game, the graphics or the fast-paced menacing music.
4.  Lucky Halloween
Of course, how can we talk about horror without mentioning that time of the year when we celebrate the "Day of the Dead"? With pumpkins and scarecrows, witches and black cats, the eve of Halloween is what we all eagerly wait for every year! And this slot certainly doesn't disappoint as it has everything you would associate with this day.
5.  DR. JEKYLL & MR. HYDE
This slot game is inspired by the 19th-century gothic novella, The Strange Case of Dr. Jekyll and Mr. Hyde, by Scottish author Robert Louis Stevenson. The novel, published in 1886, tells the story of a lawyer named John Utterson who starts to investigate strange occurrences that involve one Mr. Hyde, who is accused of murdering people. In particular, however, Utterson is worried that his very good friend and scientist Dr. Jekyll is being blackmailed by the evil Mr. Hyde. But what Utterson later finds out, is something straight out of a nightmare.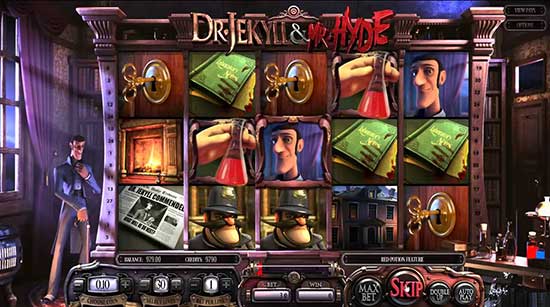 In the game, we find ourselves in Dr. Jekyll's lab/library, as the scientist paces to and fro, from one side of the reels to the other, checking his potions as you spin. But if you really want to know why this story is so terrifying, here's a little spoiler alert: In the end, Utterson finds out that Mr. Hyde was Dr. Jekyll's alternate personality, brought into existence by drinking a potion!
And that concludes our list of horror-themed slots! We hope you've found some of these slot games spooky as much as we have! Let us know which one's your favourite in the comments below.