The last twelve months had their fair share of horrific highs, and it's been great to see how many of them have come from the good ole comic rack. If you're looking for something to stuff in the stocking of your most beloved horror nerd, or maybe you just missed out on some of the years sequential stunners, then fear not! Here is a handy list of the best horror comic books of the epoch that was 2017.
PESTILENCE – STORY BY FRANK TIERI, ART BY OLEG OKUNEV, PUBLISHED BY AFTERSHOCK
There is more than one zombie comic on this list and the reason for that is the innovation with which those stumbling, rotten buggers are written. PESTILENCE roles with the concept that the Black Death – the 14th century plague which wiped out most of Europe – was in fact history's first zombie apocalypse. The tale follows a sort of special ops unit called the Fiat Lux, (think the cast of Predator but with mead and chain mail) sent by the Church to investigate this strange pandemic. Uncovering a church conspiracy along the way, they cleave their way across medieval Europe looking for answers. The pace of this book is sleek and always fun, and artist Oleg Okunev brings his ex-Disney stylings to a world of fetid warriors and decomposing priests with such relish you'll be ogling the page long after you've finished it. Revisionist history we can all get behind.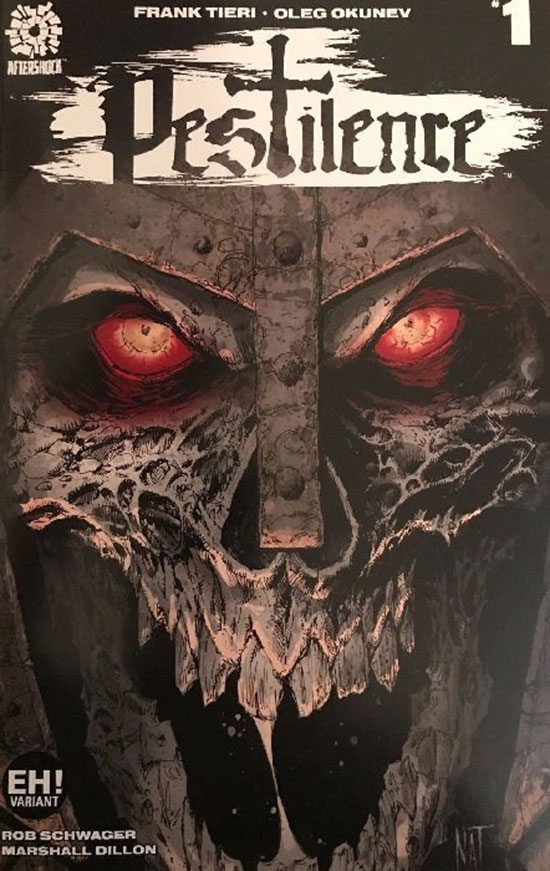 PLASTIC – STORY BY DOUG WAGNER, ART BY DANIEL HILLYARD, PUBLISHED BY IMAGE
Edwyn is a retired serial killer looking to settle down with Virginia, his newfound love and the force for good that keeps his psychotic urges at bay. A romantic road trip is ruined when a Louisiana billionaire kidnaps Virginia, forcing Edwyn back into his murderous ways in order to secure her freedom. Oh, and one thing worth mentioning is that Virginia is a sex doll! What ensues is one of the most outrageous, beautifully weird revenge thrillers in any media. Edwyn is the kind of monster you'll really want to root for, and the sincerity of his preternatural adoration is so well written you'll be left wondering if a man really can love an inanimate latex fuck buddy. And the covers and variants for this mini-series were the best of the year. The perfect gift for your special someone/sexual play-thing.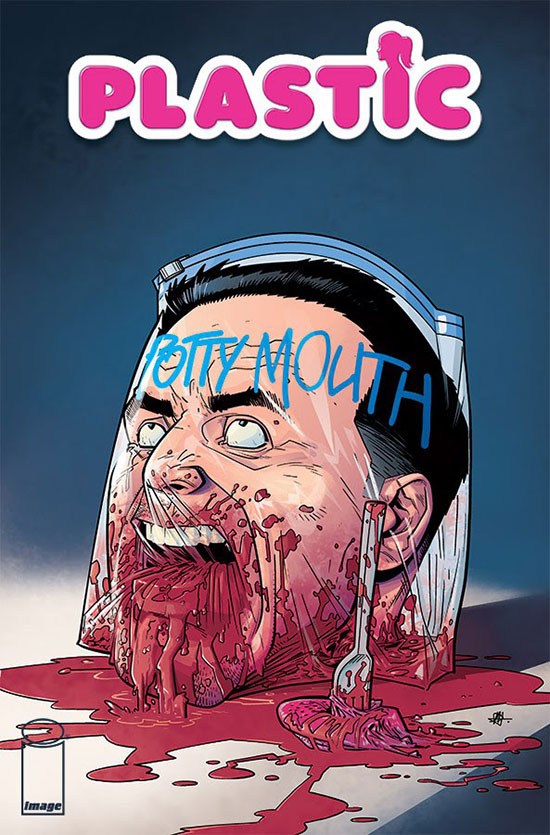 SINK – STORY BY JOHN LEES, ART BY ALEX CORMACK, PUBLISHED BY COMIX TRIBE
They say you never forget your first. SINK was the first book I reviewed for HNN and it has remained seared onto my brain in the worst (best) kind of way. Following a walk home through the wrong side of a Glasgow housing estate, a young man's night descends into the kind of nightmare that touches every nerve and shreds most of them. More of a connected anthology series than a traditional ongoing, #2 deals with a freelance 'cleaner' whose latest job may not be as expired as advertised. Only these two books have been released at the time of compiling this, but SINK is horror that transcends lists and leaves scars. Still waiting on those action figures…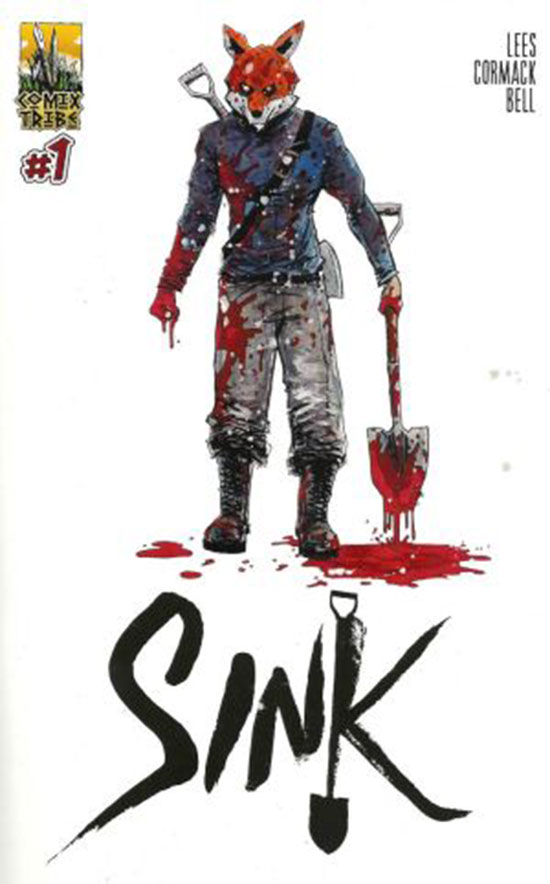 REDNECK – STORY BY DONNY CATES, ART BY LISANDRO ESTHERREN, PUBLISHED BY IMAGE
Vampires have got their cajones back in recent years, and you could argue that's in no small part to a strong portrayal in comics. REDNECK brings a worthy addition to the ever expanding stable of blood suckers in the shape of the Bowman family. They drink cow's blood, run a BBQ joint and mostly keep themselves to themselves, vampires by lineage more than design. A local death upsets this particular apple cart exposing the Bowman's to the prejudices of the locals, as well as the assumptions about their own kin and their place in the world. REDNECK uses vampire mythology to explore some pertinent themes, but does so through well crafted characters whose foibles and fears are rooted in provincial attitudes we should've grown past a long time ago. And it has the best freaky Grandpa since Texas Chainsaw Massacre.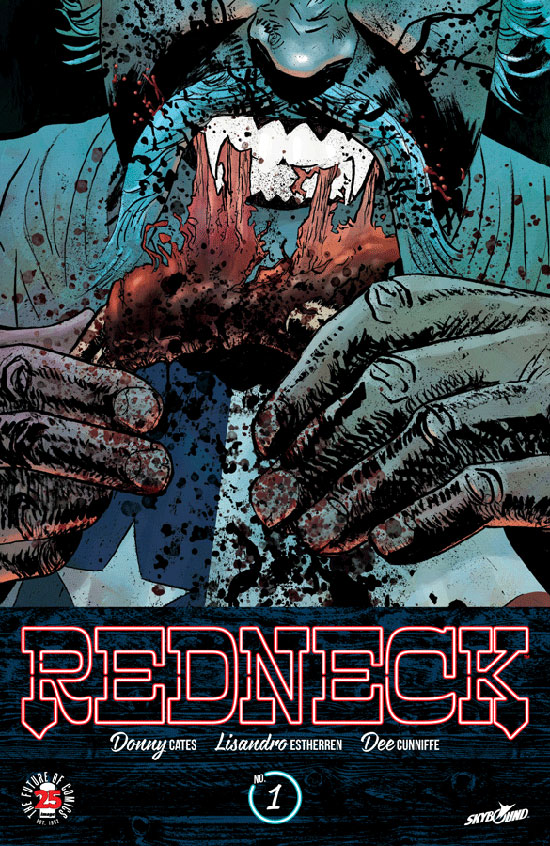 ZOMBIE – STORY BY STEPHEN ROMANO, ART BY PAT CARBAJAL, PUBLISHED BY EIBON PRESS
Anyone who's read any of my features knows my enthusiasm for old school movie adaptations is as unapologetic as an axe to the face, and they don't come better than this adaptation of Lucio Fulci's ZOMBIE. This fifth issue in particular sees the story move beyond the end of the 1979 movie and into the centre of Manhattan. No PTSD for intrepid heroes Peter West and Anne Bowels, instead they indulge in fine dining while Times Square is swiftly laid siege by the undead. Not only that but Fulci himself appears as a crazed Green Beret while back on the cursed island of Matool, Dr. Menard is reborn as a true video nasty ready to take his place among the best maniacs of the era. As wonderful as the initial four part adaptation was, this issue sees Romano and Carbajal let well off the leash, and the results are disgustingly glorious. As they say on their site, this will eat you alive. Take my word for it, you'll definitely want seconds.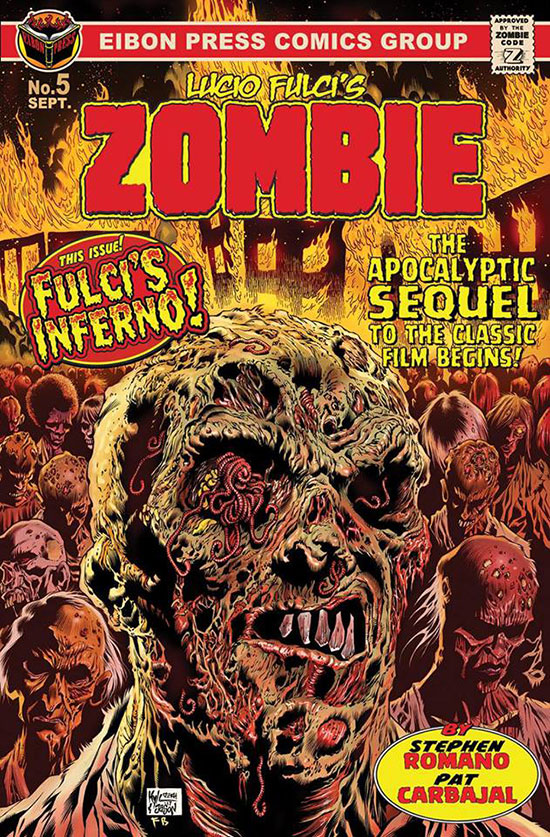 BABYTEETH – STORY BY DONNY CATES, ART BY GARRY BROWN, PUBLISHED BY AFTERSHOCK
Donny Cates is rapidly becoming THE MAN in comics, with top drawer stories as varied as they are numerous. This is his second comic on my list, the best of all his books, and for me the best modern horror comics has to offer. Being a pregnant sixteen year old comes with enough negative stigma without adding Satan into the paternity tests. Sadie's baby is the Anti-Christ, and will probably grow up to tear the earth asunder, unleashing a flaming plane of pain and misery into our placid permanence . This is a slow burn, something the best writers are starting to realise is only prohibitive if they don't know where the story is going. Whether we know as readers is irrelevant, it's getting there that's all the fun; and that's what BABYTEETH does so exceptionally well. Told as a sort of flashback narrative from Mother to child, Sadie deals with her predicament as one might imagine a real teenage girl would; with confusion, blind acceptance, and the fierce instinct to love and protect her baby irrespective of whether it prefers blood to breast milk. The nightmare of parenting has never been so cool.