As comic publishers trend towards endless reboots and universe redefining events, I think about the long lost movie adaptation. I was hooked by comics at the age of thirteen, and while I loved Mutants and Kryptonians as much as the next guy, it was the adaptations of Child's Play 2 and Freddy's Dead: the Final Nightmare, that did the hooking. These were films I was way too young to see (no R rating here in the UK, either you're 18 or you're not getting in!) so a comic book version was the next best thing. What was so great about these books were the subtle changes. Sure, these were fully realised translations of the movies, but you had the bonus of seeing the artist reimagine a three dimensional character as a comic book monster.
There was the addition of scenes that wouldn't end up in the movie, or alternate takes that differed from what you saw in the trailer. If, like me, you lament the loss of such books, then Eibon Press will feel like it was created just for you. And it probably was.
The brainchild of author/screenwriter Stephen Romano and Rotten Cotton owner Shawn Lewis, Eibon Press launched in 2016 with an adaptation of Lucio Fulci's 1978 masterpiece, Zombie. Under the sub-imprint of Fulci Comics, Eibon have released four issues of Zombie covering the entire movie. The Romano scripts adapt the film perfectly, even going beyond the plot and filling in blanks that really flesh out the characters. Before the infamous splinter impaling, we get a scene of Paola in the shower, desperately trying to make sense of her husband's choices and the dreadful events that have overtaken the island. This adds a huge amount of depth to a story that could otherwise be all about the gore. But it's not just the book itself that provides those little extras. In most genre fandom, there is always potential for huge crossover to the comic book medium, and oh my do these boys get this. Each book comes packaged in an Eibon Sleeve, essentially a vinyl album cover for your comic. These sleeves come with exclusive art, and a whole bunch of goodies inside, from stickers of Wormhead, to bookmarks of key scenes, trading cards, and there's the option to buy more limited edition versions that come with variant covers, mini-prints and posters.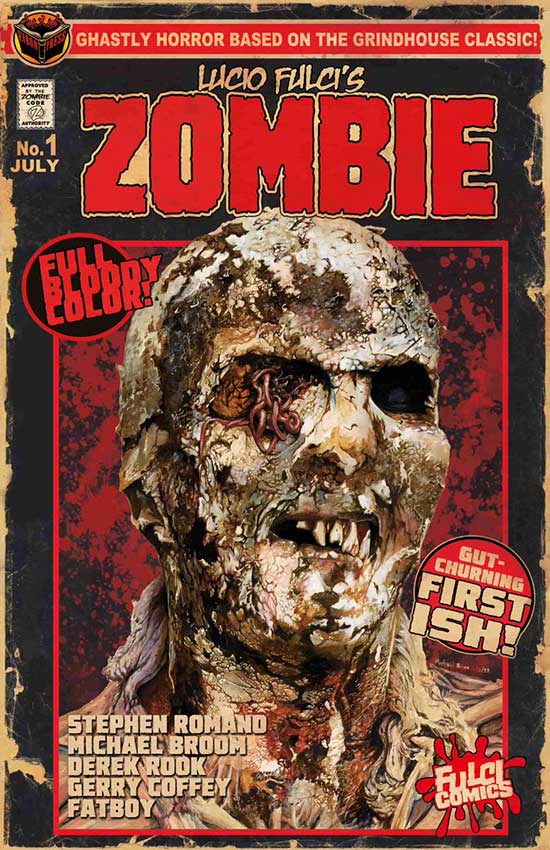 The art in these books is sickeningly suited to the subject. Michael Broom clearly relishes every opportunity he gets to reimagine the carnage, unbound by budget or considerations of excess. But it's not all just shark wrestling and voodoo, the inks by Derek Rook and colours by 'Fat Boy' really push these books into a bracket all of their own. These are about the sexiest comics you could imagine, and every aspect of their design has been carefully considered to make sure there's nothing else quite like them.
Not content with one superb adaptation, Eibon have also released a fifth issue of Zombie, carrying on the story as Romano imagines it would have unfolded, taking the nightmare to New York. And if that weren't enough there are the first two issues of Gates of Hell, adapting the 1980 Fulci flick City of the Living Dead (wait till you see their version of Father Thomas!) and October will see the launch of their VHS comics imprint, starting with adaptations of cult classics Maniac and Laserblast, both written by Romano and drawn by new house artist Pat Carbajal.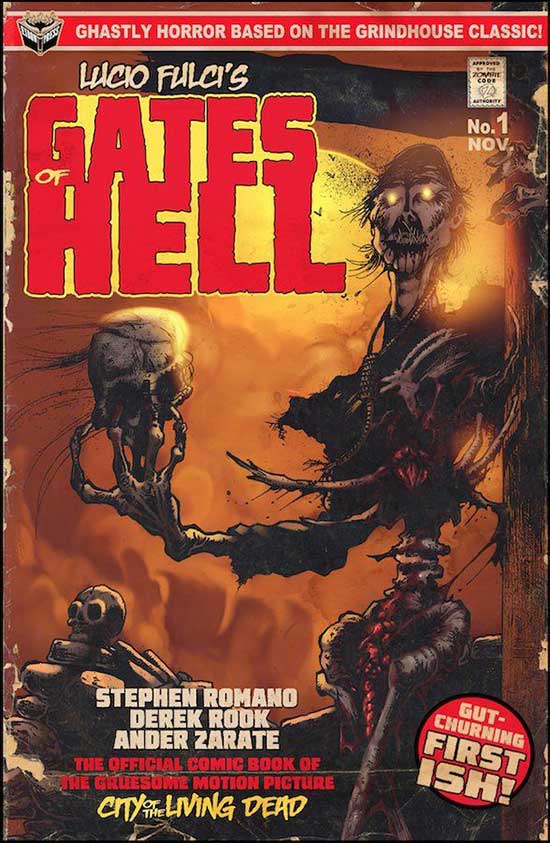 I realise this makes me sound like I'm on the Eibon payroll, but the thirteen year old that still resides in significant parts of me does cartwheels every time one of these new books hits my letterbox. As a writer of pretty niche comics myself, I know the value of doing something because you wish it was out there for you to buy. The trick comes in showing reverence to your subject matter where you could easily slip into parody, but also adding something to the mythology. If there's a text book way to do this properly, Eibon Press have nailed it like an eyeball to a broken door.
All the comics mentioned here are available exclusively from Eibon Press.com.