Scream queens: those beautiful, blood-spattered actresses who build a career and fanbase in horror. These ladies appear in film after film, becoming as iconic as actors as Jason or Freddy are as actors. Everyone knows the scream queens of yesteryear; Jamie Lee Curtis, Linnea Quiqley, Langenkamp, etc. But how many of you know names like Tristan Risk or Jessica Cameron? Well, rest assured, we'll remedy that now. Check out these seven amazing modern scream queens!
01- Tristan Risk
Tristan is probably still best known for her first major role, that of Beatress Johnson from the cult-hit American Mary back in 2012. Since then, she has been non-stop full throttle averaging 5-6 indie horror roles a year appearing in some amazing movies like Harvest Lake, Fetish Factory, and Frankenstein Created Bikers.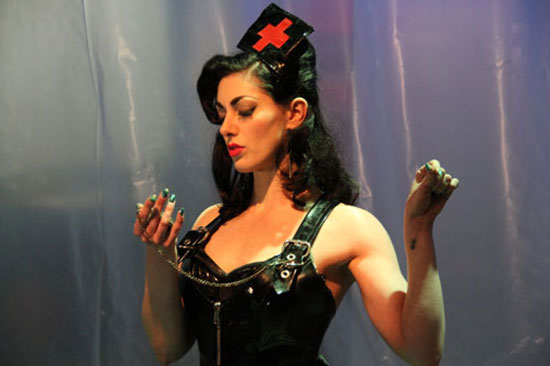 02- The Soska Sisters
Most scream queens are in front of the camera, not behind it. The Soska Sisters, twins Jen and Sylvia, are first and foremost directors. While they usually have small acting roles in their films, most of their time is spent directing such awesome movies as Dead Hooker in Trunk, American Mary, and See No Evil 2. And of course they spend quite a bit of time in front of the camera as the hosts of the horror gameshow Hellevator.
03- Jessica Cameron
If you were to pinpoint Jessica's first big role, it would probably be as Julie in the cult-hit Mr. Hush in 2010. In the 7 years since, Jessica has had about 70 roles for an insane average of about 10 roles per year. In addition to roles in awesome films like Truth or Dare, she has also produced films like Mania.
04- Genoveva Rossi
Most films with noteworthy modern scream queens are independent. Hollywood just doesn't put this kind of film in the theaters anymore. That said, Genoveva's films are still a bit more obscure comparatively, but she's very talented and 90+ roles in 5 years is… well, THAT's a scream queen.
05- Ellie Church
Ellie would be the complete inverse of Genoveva. Far fewer films with have drawn a lot more attention. Ellie's films tend to be a bit more experimental, with her starring in extreme horror like Headless and art horror like Harvest Lake and Plank Face. She's extremely talented and I've yet to see an Ellie Church film that disappoints.
06- Felissa Rose
This name might be familiar to some of you. Felissa and the next scream queen are both blasts from the past, their first films releasing back in the golden age of screams queens. Felissa, for example, will probably always be best known as Angela Baker from her first film, the classic Sleepaway Camp. In fact, if you meet her as a con, she will gladly do the pose from the final scene of the film for your picture. What not as many people might know, however, is after almost 2 decades without hardly any roles, Felissa is back and killing it with roles in the new Hatchet film Victor Crowley, the highly-anticipated Death House, and even reprising the role of Angela in Return to Sleepaway Camp!
07- Danielle Harris
Danielle is honestly my favorite scream queen of all time. You probably know her as the young Jamie Lloyd from Halloween 4 and 5. After those roles, she spent the 90's busy doing more family friendly work such as Save Willy and voice acting for the Nickelodeon cartoon Wild Thornberrys. Interestingly, it was Halloween that brought her back to horror with Rob Zombie's Halloween and Halloween 2 where she played the role of Annie Brackett. She's been non-stop since then with starring roles in amazing horror films like Hatchet 2 and 3 and See No Evil 2. She even made her directorial debut with a film called Among Friends.
Who is your favorite modern scream queen? Did I name them or is it someone I didn't put on the list? Sound off in the comments!