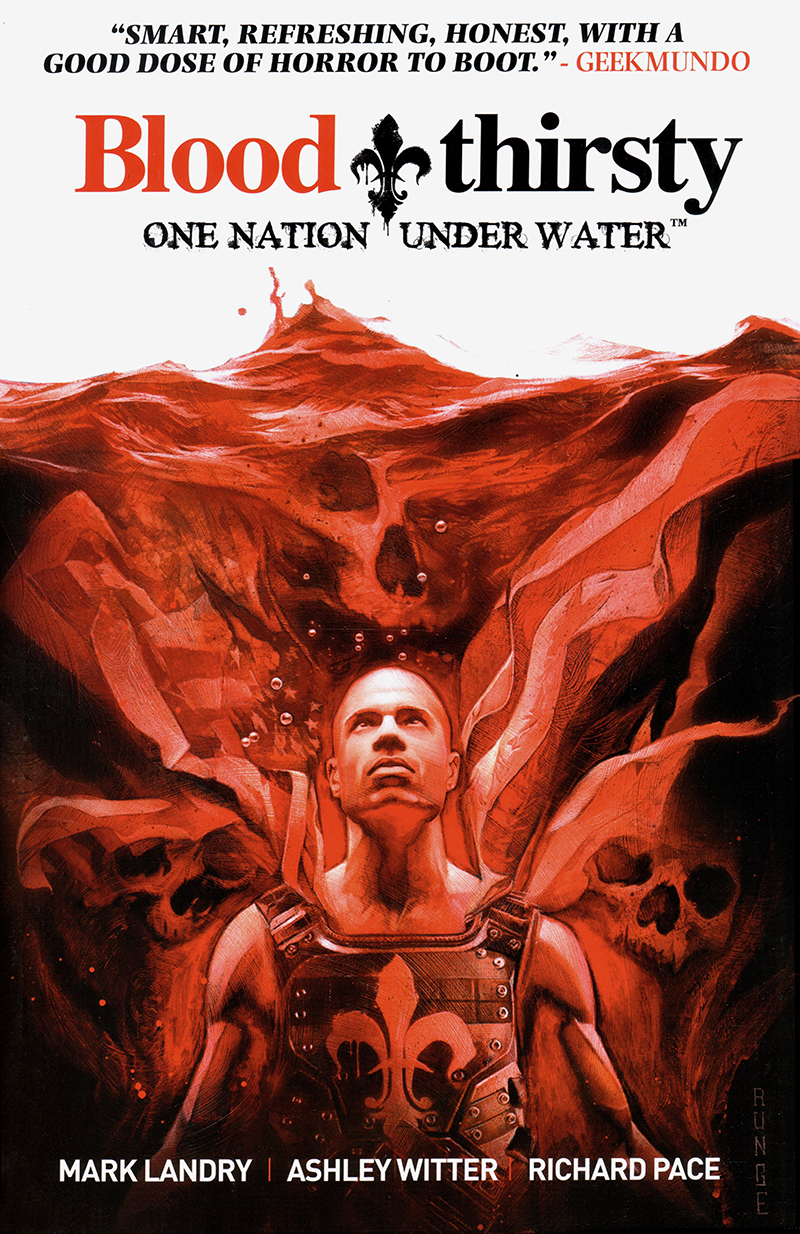 The reviews are in, and it looks like the newest graphic novel from Mark Landry is primed to be a big hit! Read on, and discover why you might be interested in picking this one up for yourselves!
Titan Comics' original graphic novel, "Bloodthirsty: One Nation Under Water" is now available on Amazon and Barnes & Noble. This is an amazing project written by Mark Landry, with artists Ashley Marie Witter ("Interview With The Vampire", and Richard Pace ("Batman: The Doom That Came to Gotham") serving as illustrators.
"Bloodthirsty: One Nation Under Water" is a visceral revenge thriller that merges the real-world hopes and horrors of a post-disaster community with an engaging thread of political corruption, class divide and blood-curdling terror!
The 144-page trade paperback features a stunning cover by "Star Wars" cover artist Nick Runge, as well as interviews with the real-life heroes of the Katrina rescue effort – US Army and Coast Guard personnel.
Haunted by the catastrophe that tore his city apart 10 years ago, Coast Guard veteran Virgil Lafleur struggles daily with the hardships of a post-Katrina New Orleans. But when his younger brother's murder leads him into a vortex of intrigue, corruption and violence, Virgil becomes obsessed with bringing the killers to justice and exposing the horrific secret hiding beneath the Mississippi.
ISBN-10: 1785851098
ISBN-13: 978-1785851094
"This is an exciting, well thought out and extremely well executed story that will keep you guessing and coming back for more." – Reading with a Flightring
"The Bloodthirsty series is a perfect example of the high quality of work that is done outside the juggernauts of Marvel and DC." – Pop Culture Uncovered
"Bloodthirsty has it all… shadowy organizations, human sacrifice, and a protagonist who in my head is played by a slightly less bulked up Dwayne 'The Rock' Johnson." – The Pullbox
"An outstanding job of rendering New Orleans in all its mystery and noir-ish glamour." – Geek Mundo