The Independent Filmmaker's Guide to Writing a Business Plan for Investors
By Gabrial Campisi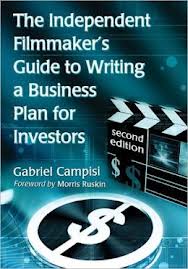 Part One: Funding The Film
1 Taking the Next Step
2 Investors
3 Due Diligence
4 The Executive Summary
5 The Production Company
6 The Movie Projects
7 The Movie Industry
8 The Movie Market
9 Movie Distribution
10 Investor's Plan
Part Two: Expert Advice
1 Interviews
Appendix A: A Sample Business Plan
Appendix B: Resources
Are you a filmmaker? This book is essential reading. I'm reviewing for Horrornews.net, but I'm learning lessons and gaining knowledge at a personal level. As a filmmaker who has been networking and making industry connection for several years now, I honestly wish I read this book before I started my own personal journey. If you are a novice in this business, this book takes you by the hand and it guides you step by step. If you are know what your doing or think you know what your doing, please read the 2nd half of the book as it's chalked full of brilliant advice from industry professionals. You can't help but learn something while reading through these pages.
I especially like that they made a sample business plan at the end of the book. It provides real insight on what investors and studios are looking for in a business plan. It's complete with a realistic budget summery and filmprofit projection reports. Lastly, this books "resources" section lays out all the websites, phone numbers, and addresses that you will possibly need to take things to the next level.
Gabriel Campisi was recently Executive Producer on Buddy Hutchins and Schools Out. Both movies directed by our good friend, Jared Cohn. The guys at Traplight Media knock it out of the park with each of every movie they make. You couldn't learn this business from anyone better than Gabriel Campisi. His book, "The Independent Guide to Writing a Business Plan for Investors" will give you the tools to bring your dreams to fruition.
For more information, please visit his websites
http://www.gabrielcampisi.com/
http://www.traplightmedia.com/
https://www.facebook.com/pages/The-Independent-Filmmakers-Guide-to-Writing-a-Business-Plan-for-Investors/164358196987344