Hey there Fiends! Rob Delamorte back with another edition of the coolest offerings in horror. First off, I just want to thank everyone who has supported me from day one, from the Facebook page to Horror Talk itself. This has been absolutely nothing but a nightmare come true, so once again, to everyone. . thank you!  And a huge thanks to Dai Green who made this all very possible. You have helped bring my dreams to life, and I love you for that. I miss talking to you, my muse, please drop me a line sometime. Okay, with all of that sunshine out of the way, I can feel the darkness envelop my soul once again. . alright everyone, let's get down to some horror business!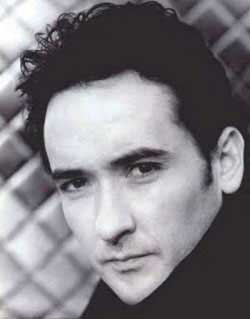 First, there is tons of movie news this time around, so let's start with some wicked info to report from the awesome but yet unfilmed list. John Cusack announced he will portray one of the most important figures in horror literature, and my personal favorite, Edgar Allen Poe in V For Vendetta director Jame's McTeigue's The Raven. This will be McTeigue's version of Poe's last days in 1850's Baltimore, which are completely fictional. The film will involve a serial killer who is using Poe's stories as his calling card, so it's up to the author extraordinaire to find him before he kills again. So, will this movie score? This columnist gives a resounding Nevermore! No shoot or release dates as of yet, stay posted, maniacs!
 
Next up is an import from Down Under, mates. Damned By Dawn, directed by Australian director Brett Anstey, wil be released in the States by Image Entertainment, one of the largest independent home entertainment distributors in North America. The story involves the main character Claire receiving a gift from her dying grandmother, only then to take her boyfriend home to meet her family who live in an isolated property in the countryside. The reunion goes well until Claire becomes uneasy with her grandmother's continuous babbling about a banshee coming for her during the night. Later on, on that same strange, portentous evening, the family is wakened by shrieks, and Claire's fears become a real nightmare as the screaming banshee and her army of undead return to unleash blood spattered rage on them all. The lighting and mood is highly reminiscent of classic Hammer horror, and the campiness and gore should make fans of the Evil Dead series happy as well. No release date has been given, but keep posted.

 Lastly, we have Buried starring Ryan Reynolds, in practically a one-man performance. The story involves a United States contractor working in Iraq who comes to from a drug induced stupor only to find out he is buried alive inside a coffin. Armed with only a lighter and a cell phone, its a race against time to escape his death trap. There are voice actors throughout the film including Salem's Lot's Samantha Mathis, but Reynold's performance is the only one that appears on screen. This thriller directed by Rodrigo Cortes has won many awards including the coveted Sundance award. The movie has been described as something Hitchcock would be proud of! Escape with Buried when it hits theaters from Lionsgate on September 24th.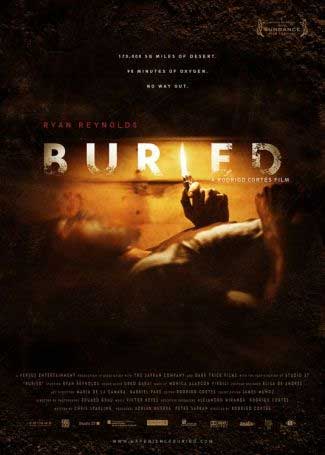 Also, be sure to check out my lovely friends, Victoria Paege and Deneen Melody in their projects as well! Deneen is soon to be in As Night Falls and Victoria is now in Piranhas 3D, and both are featured on the web series soon to be released, the apocalyptic WesternX! These gals are amazing, and you will not be disappointed, trust me!

Looking for some new music to prepare you for the coming chill of Fall? Well, I have some great music to warm the demon inside you, and I also have a very special guest once again!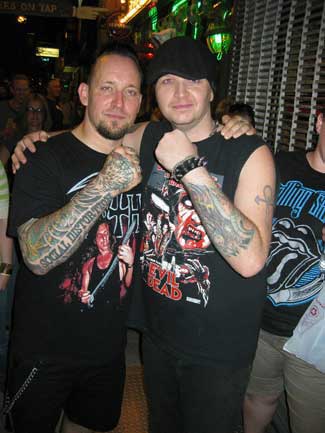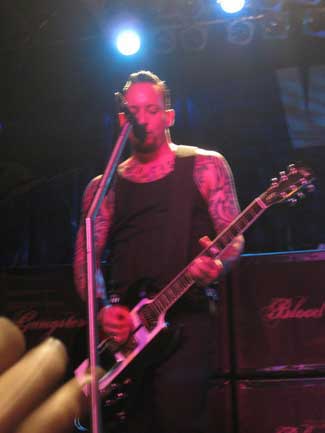 Volbeat's new album Beyond Hell/Above Heaven will be released this month. The band's new album which includes songs inspired by such styles including rock and roll, rockabilly, metal, thrash, country, and punk will continue the storyline from Guitar Gangsters And Cadillac Blood. I had the supreme pleasure of meeting vocalist Michael Paulsen and drummer Jon Larsen outside their show at The Trocadero in my city of Kill-adelphia not too long ago. The show itself was absolutely incredible with every song performed to a t. Paulsen's incredible vocals thundered throughout the room, causing the crowd to literally become frenzied animals! Michael and Jon could not have been nicer and thankful as well. Ya know, it must be something about Denmark. . who knows. Another extra special treat for me was the fact that Jon was also a true grit balls to bone horror fan, with a Leatherface T-shirt to prove his devotion to the genre. What a bunch of kick ass, extraordinary gentleman! See Volbeat before they head back home for their European tour, and be sure to pick up their album from Mascot Records on September 10th. Check web site for remaining U. S. tour dates and to purchase the new disc.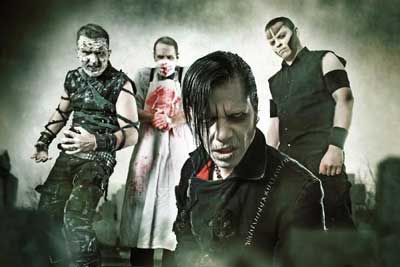 Next up is another find from Europe, Germany to be exact, the horror punk band The Other. The band's new masterpiece New Blood is due next month when it is finally released in the States. Formed on Halloween in 2002 after a few successful years as a Misfits (hell yeah! )cover band Ghouls, The Other have now themselves been labeled Europe's most popular horror punk group. The Other is Rod Usher on vocals, Sarge Von Rock on guitars, Dr. Caligari on drums, and Migore Drake on bass. This absolutely legitimate band also have an E. C. style comic book, pretty cool! Check out what the howls are about when New Blood is released this month on Steam hammer/SPV Records.
 
Looking for some comic psychotherapy? Well, I have tons of evil from the world of pen and ink.
 
First, Batman takes a horror style turn in the Batman:Confidential series. The story arc is called Batman Vs. The Undead, and this tale has Batman fighting alongside the vampire Dimeter to stop a horde of reanimated corpses. When Dr. Herbert Combs escapes from Arkham Asylum, he travels to New Orleans in an attempt to raise the Louisiana lifeless. See your beloved Dark Knight turned Zombie Hunter in the series available in comic shops now.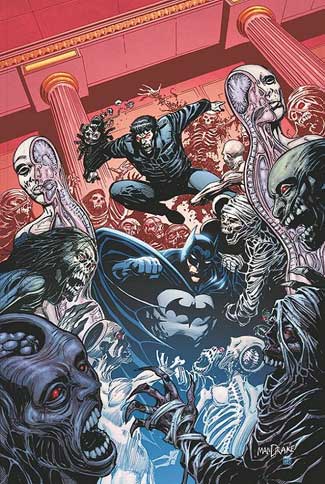 Next up is some amazing Argento news! Stefan Hutchinson and horror art master Jeff Zornow are being paired by distributor Arrow Video once again to take on Dario Argento's Demons. Demons and Demons 2, produced by Argento and directed by Lamberto Bava, will finally receive the DVD treatment along with a two part comic sequel aptly named Demon 3! The original story takes on Nostradamus's visions of the demons entering our world. Can he stop them before it is too late? Find out in this all new epic tale of dismemberment. Release dates will soon be announced for the DVD release.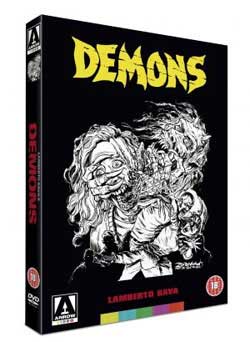 Looking for a great tie-in book to help scratch your itch until the season premiere of one of the greatest shows on television? Well, look no further than than Jeff Lindsay's new book Dexter By Design. It's brutal, dark noir at its finest once again when after his surprisingly glorious honeymoon in Paris, life is almost normal for our favorite killer. But old habits die hard, and Dexter's work as a blood spatter analyst never fails to offer new temptations, and his Dark Passenger wants nothing more than to hunt once again. The discovery of a corpse (artfully displayed as a sunbather relaxing on a beach chair) naturally piques his interest, and Miami's Finest realize they have a new serial killer on the loose. After this revelation, Dexter of course is back in business doing what he does best. Ride alongside the monster when Dexter By Design slashes bookshelves this month from Orion Books.
 
Are you searching for horror on television? Well, here's a few things that deserve mentioning.
 
First, commercial land has given a nod to the slasher thanks to the people at Mountain Dew. Yes, the commercial features a chainsaw wielding ferret chasing down a couple in the woods. The announcer states that ferrets have a higher attack rate than bears. Check this out if you because this is f*cking hysterical!
If you watched The Emmys you'll remember that many genre related shows were snubbed, including True Blood and Dexter. The real horror winner of the night though had to be The Human Centipede! In a pretaped nominee video, the awesomely funny Stephen Colbert lauded his team as "the greatest staff in the world. These people think together, they move together, they act as if they're one living creature. Or they soon will, once I make them a Human Centipede. "As a capper, the text "100% Medically Accurate" appeared on screen as Colbert's staffers rushed away in terror. So congrats to Tom Six and my friend, Ashlynn Yennie. . it was hopefully an honor to be name dropped on safe Primetime television!
 
And finally, The Walking Dead will officially premiere on Halloween night on AMC, nothing to say about this but bring it on! !
 
Lastly, if you're searching for some macabre merch, do yourself a favor and purchase this nasty nicknack.
 
This piece is the Delamorte Deadly Delight, incidentally because it is from one of my favorite zombie movies of all time! The Return Of The Living Dead's Tarman action figure features ball jointed neck, shoulders, opening jaw, and base with Trioxin canister and piece of bitten brain. The figure is beautifully detailed and is the first R. O. T. L. D. figure ever! Contain this stiff when the Tarman is released soon from Amok Time. Order yours now on HOUSEOFMYSTERIOUSSECRETS. COM!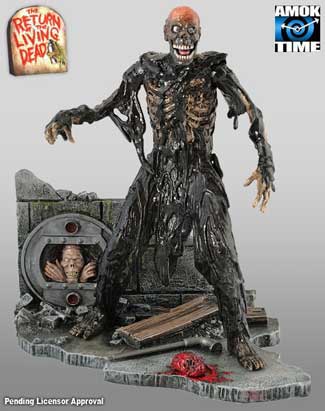 So, there you go! another list of the sick and twisted you should know about. Please tune in next time for the amazing interviews that I have lined up including the highly important Jovanka Vuckovic, who has just announced the filming of her short film, The Captured Bird, executive produced by the awesome Guillermo Del Toro! Please help her out by checking out THECAPTUREDBIRD.COM, and remember, donating a little gets you a hell of a whole lot! Until next time my Fiends, remember the motto, the only thing that can impale your dreams is your own negativity. Thank you all once again, I have an eternity to know your flesh so feel free to explore. . the best in horror.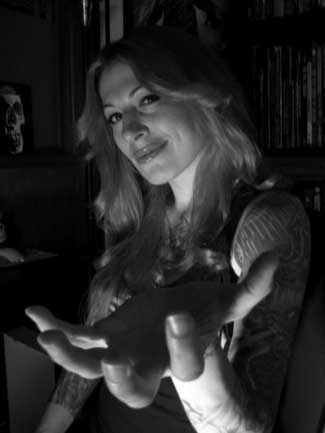 P. S. heard a little bit of information about Clive Barker, all I have to say is get well sir, I love you to death, and my best wishes go out to you and your family.
 
Sweet Nightmares and Pleasant Screams!  
SIN-cerely, Rob Delamorte