We've covered alot of subjects here at HNN in regards to the horror genre. I was asked awhile ago if we'd do a lil' research on musical productions focusing on a horror themes. So as to not disappoint, we came up with a number of musicals being produced over the years to popular crowds that base their foundation on well known films and themes (if not as films themselves). While some might be harder than others to track down, you can rest assurred each is a delightful presentation to theatre, play, film, and music lovers. Without further ado, we present "Top 14 Horror Musicals"
Feel free to comment below on titles we may have overlooked, so we can up the roster!
01 – Dance of the Vampires
Vampires and musicals are just about as popular a combination as vampires and movies, so there are plenty to choose from. This one, however, is based off the1967 film The Fearless Vampire Killers, Or: Pardon Me But your Teeth are in My Neck. It has gone through many productions worldwide, but is known stateside for being one of the costliest failures in Broadway history because they tried to make a horror comedy even more comedic, there were innumerable cast troubles, and both the composer and a producer were fired.
02 – Evil Dead: The Musical
I'll admit, I wanted to hate this when I heard it was being put into production but this is actually a piece of musical theatre magic. It highlights all the right elements from the trilogy and was produced with the blessings of both Bruce Campbell and Sam Raimi.
03 – Buffy the Vampire Slayer: "Once More, With Feeling"
This as ranked #14 on TV Guide's "TV's Top 100 Episodes of All Time." Yeah, that's how cool musicals by Joss Whdeon are. What makes this work is that in normal musicals songs are usually solo outings revealing each characters' deepest thoughts. The same is true here, but everyone can hear the song, not just the audience. So that secret you wanted to keep? Everyone just heard it.

04 – The Rocky Horror Picture Show
The one, the only – quite arguably the best. And Tim Curry starred in both, making drag a staple in one London theatre for almost forty years.

05 – Dracula: the Musical
This one is just awful. Don't even try to look it up because if you don't know the book (which, let's face it, most people don't) then you won't understand it.
06- Carrie

Yes, they made a musical of this, in 1988 – and after nearly killing the lead (literally) it went over budget by close to $8 million, making it one of Broadway's biggest flops.

07- Repo! The Genetic Opera
Darren Lynn Bousmann followed up his Saw films with this musical. It has a huge cult following but really it is just terrible.
08- Poultrygeist!: Night of the Chicken Dead
Here's the lowdown, from IMDB: When the American Chicken Bunker, a military-themed fried-chicken chain, builds a restaurant on the site of an ancient Indian burial ground, local protesters aren't the only ones crying fowl! The previous tenants, fueled by a supernatural force, take "possession" of the food and those who eat it, and the survivors discover that they must band together before they themselves become the other white meat! Film lovers have been starved for sustenance. The relentless diet of predictability and pretense Hollywood has been serving up just doesn't cut it. Poultrygeist is hearty food for thought. In Poultrygeist, Troma takes on the the fast-food industry-skewering the soulless restaurateurs-in the world's first horror-comedy film to feature zombie chickens, American Indians and a bit of singing and dancing! It's Poultrygeist!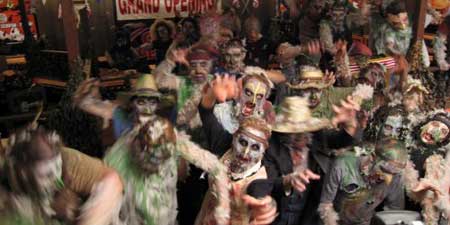 09- Young Frankenstein
After the surprise the success of The Producers, Mel Brooks quickly brought Young Frankenstein to Broadway in 2007. His main stroke of genius was making the musical interactive – the audience was encouraged to participate in much the same way you would with Rocky Horror. They also changed the ending to an extended sequence which implies that the good doctor was hanged and his monster revived him.
10- The Fly
Howard Shore, who wrote the original score for the film version, created an opera based on the material in 2008. Cronenberg directed it and the legendary Placido Domingo directed. This seems like one of the coolest musicals ever, but sadly there isn't much footage or sound recordings bearing witness to its awesomeness.
11- Jekyll & Hyde
There was a version of this starring David Hesselhoff. You're welcome.
12- Lestat
It's not surprising that Anne Rice's vampires made it onto Broadway (especially given that Lestat later turned into a rock star in the novels), but no one expected it to be written and scored by Elton John and Bernie Taupin. It was a huge hit in San Francisco but bombed on Broadway after some essential sequences were cut.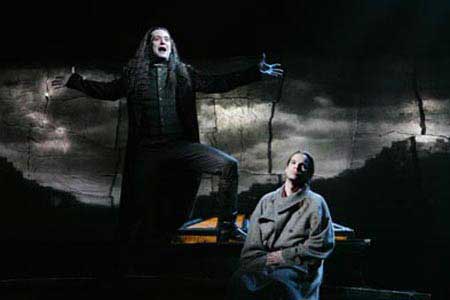 13- Sweeney Todd: the Demon Barber of Fleet Street
Angela Lansbury was originally Mrs. Lovett. That is awesome. Then Tim Burton came along and made Johnny Depp sing of film while slicing throats. That is even more awesome. Yes, this isn't particularly scary; but it's a musical, so people need to stop complaining.
14- The Phantom of the Opera
Last but of course not least, "The Phantom of the Opera" is one of the most celebrated, repeated, re-done, reinterpreted horror musicals on the planet. I suppose that the term "opera" questions whether it is a musical or opera, however research confirms that is indeed (and intended) to be a horror musical. The performance was made famous with its Andrew Lloyd Webber score and music of course inspired by the numerous films from its genre. The story was based on the novel Le Fantôme de l'Opéra by Gaston Leroux. Further research confirms that is indeed the longest running Broadway show to date. Originally "The Phantom of the Opera" musical was created off of Broadway and also boasts the surpassing of over 10,000 performances.